Eat Drink Film
Big Night (R)
5:30 p.m. doors; 6:30 p.m. dinner & movie |
$65 per person |
21 and over
Buy Tickets
Tickets on sale now!
About Eat Drink Film
This is a monthly Mission series featuring a movie based on a theme of food and spirits. Your admission includes food, drinks and a movie. Sit back, have a glass of wine or a cocktail, enjoy your meal and watch a fine piece of cinematography!
About our "Big Night" event
This wonderful film (and book) made theater-goers across the land hungry for well-made Italian food. On this night, enjoy Edgefield wines paired with the actual menu taken directly from the film (and book). Guests will sit at long tables (with seats set up so that you can watch the movie) and will be served this incredible meal family-style.
** Menu **
Paired with Edgefield Wines
La Zuppa
Consomme with pasta
I Primi
Beet Salad
I Primi
Trio of Risotto: Pesto, Parmigiano-Reggiano and Seafood
I Secondi
Roasted chicken with garlic and herbs, roasted asparagus and sautéed baby onions and grapes
I Secondi
Il Timpano -- a heavenly drum of pasta filled with penne, egg, sausages, salami, parmesan, mozzarella and fontina baked to golden perfection
I Dolci
Tiramisu
About Big Night (R)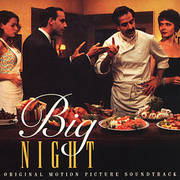 Primo and Secondo are two brothers who have emigrated from Italy to open an Italian restaurant in America. Primo is the irascible and gifted chef, brilliant in his culinary genius, but determined not to squander his talent on making the routine dishes that customers expect. Secondo is the smooth front-man, trying to keep the restaurant financially afloat, despite few patrons other than a poor artist who pays with his paintings. The owner of the nearby Pascal's restaurant, enormously successful (despite its mediocre fare), offers a solution - he will call his friend, a big-time jazz musician, to play a special benefit at their restaurant. Primo begins to prepare his masterpiece, a feast of a lifetime, for the brothers' big night...
imdb:




video:
Map & Directions
Tags for this Event:
Property > Mission Theater
Related content (tags):