Back to school in Bend!
700 N.W. Bond Street
Bend, OR 97703
Local: (541) 382-5174
Elsewhere: (877) 661-4228
Contact Us
JazzBros! Student Combo Night
Wednesday, March 27, 2013
7 p.m. |
Free |
All ages welcome
About JazzBros! Student Combo Night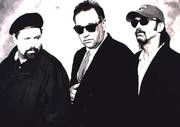 JazzBros!
with
Georges Bouhey - Drums & Keyboards
Jason Jackson - Bass & Flugelhorn
John Corona - Sax & Ewi
and featuring
The Bend Student Funk & Jazz Ensemble – Student Jazz Musicians from Cascades Academy, Bend, Mountain View & Summit High Schools.
with special guests
CROCK – The Student Rockers From Cascades Academy
The Bend Student Funk & Jazz Ensemble and CROCK are student combos coached by local music educator and clinician, Georges Bouhey. These and other student groups are developing as part of the effort being made by Bouhey, together with Marshall Glickman (executive producer of Bendroadband's Jazz at The Oxford Concert Series), his company G2 Strategic and BendBroadband to support the growth and education of student musicians in Central Oregon.
The Original Power Jazz Concept – This is no "Cool Jazz" quartet from the lounge or dinner theater. This is an exciting concert experience. A dynamic high energy fusion of passion and power. Tight arrangements – precise and articulate. Loose groove merchants. The music speaks for itself. It says "Listen and feel: The musicians live it – express it – interpret and embellish it – for they are the messengers of a greater spirit!
The Bros! are:
JOE ESPINOZA – Soulful, screaming, subtle, sensitive, sensual...Saxophone. Much of this music written just for Joe's approach... always reaching... always stretching... always making the music better. A total inspiration for us all.
WALKER B. TURNER – Born of the blues in the hot Texas sun. Even when he attended the famed New England Conservatory of Music and then studied with the greats at GIT in Hollywood, those deep blues roots were always close at hand. Feel the hot Texas sun in every blistering lick!
D.C. OLSON – Just listen to D.C. anchor the music with his smooth, effortlessly executed bass lines. Hear the thunderous roll of his early Pacific Northwest Rock days, fused with Jazz and perfected by years in the L.A. studios. Solid without a doubt. Yeh, just listen.
GEORGES BOUHEY– An accomplished producer and composer. His original compositions feature the unique techniques and diverse musical and cultural influences of each player. "Play hard, practice more, listen and don't be afraid to make mistakes" says Bouhey, "that's the essence of Jazz and that is the attitude that makes this music fresh and explosive."
And The Extended Family:
Gerry Rempel – Guitar
Joel Bouhey – Guitar
Mike Tracy – Harmonica (Into The Night)
Gaye Lee Russell – Vocals (Into The Night)
Mike Traithen – Engineer
Gary Brittain – Engineer
MOM – Personal Management
Map & Directions
Tags for this Event:
Music > Jazz
Property > Old St. Francis School
Related content (tags):