A truly remarkable destination.
2126 S.W. Halsey St.
Troutdale, OR 97060
Local: (503) 669-8610
Elsewhere: (800) 669-8610
Contact Us
Day one of...
St. Patrick's Day Celebration at Edgefield
Chris Marshall and the August Light
Prairie Dog Brain Trust
Geraldine Murrary & Nancy Conescu
Casey Neill Band
The Old Yellers
Andrew Calhoun
Whistlin' Rufus
River City Pipe Band
Seth & May
Red Light Romeos
Plus Irish dancers, balloon bending, face painting and Leprechauns with candy!
All day! Music begins at 2 p.m. |
Free |
All ages (except Winery)
About St. Patrick's Day Celebration at Edgefield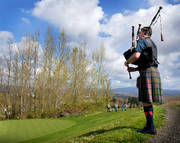 We do so love this particular holiday! At spots across the Pacific Northwest, we'll offer live music, bagpipers, McMenamins Irish Stout, Irish Coffee cocktails, leprechauns, Irish food specials and more.
** Schedule **
All events free & all ages unless noted
Saturday, March 16
12 noon: Seth & May · Loading Dock
1 p.m.: Red Light Romeos · Blackberry Hall
2:30 p.m.: River City Pipe Band · Roving
3 p.m. 'til 6 p.m.: Balloon Bending and Face Painting · Roving
3 p.m.: Irish Dancers · Loading Dock
3:30 p.m.: Whistlin' Rufus · Loading Dock
3:30 p.m.: Andrew Calhoun · Winery (21 & over)
4 p.m.: Old Yellers · Blackberry Hall
5:30 p.m.: Casey Neil Band · Loading Dock
6 p.m.: Geraldine Murray & Nacy Conescu · Winery (21 & over)
6 p.m.: Prairie Dog Brain Trust · Blackberry Hall
8 p.m.: Chris Marshall and the August Light · Loading Dock
Sunday, March 17
11 a.m.: St. Patrick's Day Golf Tourney · Pub Course
12 noon: Pine Hearts · Loading Dock
2 p.m.: Triur Amadan Band · Little Red Shed
2:30 p.m.: River City Pipe Band · Roving
3 p.m. 'til 6 p.m.: Balloon Bending and Face Painting · Roving
3 p.m.: Irish Dancers · Loading Dock
3:30p.m.: Seth & May · Loading Dock
3:30p.m.: Old Yellers · Winery (21 & over)
4 p.m.: Switchgrass · Little Red Shed
6 p.m.: Redwood Son + Tim Snider · Loading Dock
6 p.m.: Annalee · Black Rabbit Restaurant
6 p.m.: Jack Dwyer & Tim Connell · Winery (21 & over)
6 p.m.: Dodgy Mountain Men · Little Red Shed
8 p.m.: Cody Beeby & The Crooks · Loading Dock
See what's happening around our other locations...
About Chris Marshall and the August Light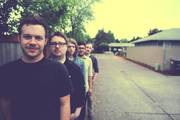 Chris Marshall is a performing songwriter and singer whose band, The August Light, plays an earnest brand of rock, folk, and country. Chris has spent several years crafting his voice in the Portland, Oregon music scene, and lately has been gathering a cast of collaborators to flesh out the spirit of his sound and songs.
Leading up to the release of his debut full-length album (the In Music We Trust Records-released "August Light"), Chris appeared onstage with notable national acts like Tift Merritt, Roger Clyne and the Peacemakers, Bill Mallonee, and Richmond Fontaine. During that same stretch, Chris began headlining shows of his own at landmark Portland venues like the Doug Fir Lounge and Mississippi Studios. Performing steadily both locally and nationally since 2008, Chris has honed a live performance noted for its musicality and tenderness by both The Oregonian and The Portland Monthly, the latter calling him "a sweet-voiced local country boy with some righteous gospel in his blood.
The August Light combines the lyrical palette of Chris' songs, marked intuitively by folk and country undertones, with a magnetic blend of postmodern, American rock and roll. The band released its debut EP, "Waltz", in 2012, a four-song collection that builds significantly on Chris' solo output with material honed in the live setting, and primarily recorded live at Type Foundry Studios in Portland.
About Prairie Dog Brain Trust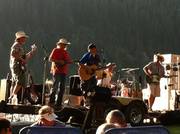 With the inspiration of good country living and the soul of the mountains, Prairie Dog Brain Trust brings their spicy version of Jamgrass/Hippie-Tonk. Powerful vocals, sweet harmonies and tasty instrumentals with a smooth back beat are just a few ways this band has been described. Drawing from their Deadhead-Country Boy roots these guys are all about having a good time and sharing good, fun music with good people.
About Casey Neill Band
Casey Neill has earned himself a large multi-generational following and a reputation for sharp songwriting and emotive performances. He has created a unique sound fusing country, punk, folk, traditional Irish, and bluegrass, with an indie rock sensibility. Over the last few years, Casey has busked with Pete Seeger in Grand Central Station, toured with Dead Kennedys frontman Jello Biafra, collaborated with many of the finest traditional Celtic musicians, and toured throughout the US, Canada, & UK. His 3 CDs on the Appleseed label have garnered rave reviews and widespread radio airplay on the cutting edge of the North American acoustic music scene.
About The Old Yellers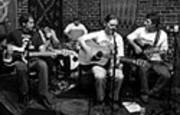 The Old Yellers are: Michael Berly on guitars, bass and vocals; Matt Voth on bass, guitars and vocals; Chester "Ddog" Stumps on guitars, vocals and any other instrument needed; Wayne Waits on washboard; Ned Folkerth on drums; David Lipkind on harmonica; and Tim Connell on mandolin, tenor banjo, tin whistle, melodica, flute, piano, jaw harp and possibly the kitchen sink. With three songwriters, the band has a large collection of fine original music, and they work their way through a solid repertoire of tried and true classic songs.
"The Old Yellers [American Roots Music] are something to behold. This band isn't just old timey, laid back, sweet country sounds of yesterday. No Sir! They are also foot stompin, rabble rousing, hootin and hollerin good time music of here and now. They have it all, great harmonies, tender ballads, and nothin but good times. You just get yourself down to catch them if you can." - Burlingame Review
About Andrew Calhoun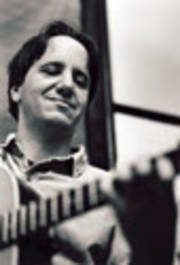 Andrew Calhoun writes with a paradoxical combination of incandescent intellect and unstudied magic. He is both a lightning rod for "the unconscious rightness of intuitive connection" and a perpetual student of songcraft with deep respect for both tradition and innovation. In the thirty-odd years that he has been a songwriter and performer he has created an impressive collection of songs from which he draws in live performances. On stage he is disarmingly unpretentious, spontaneous, insightful and darkly witty, as he weaves a tapestry that includes not only his original songs, but Scottish ballads that he has translated from dialect, and poems and songs by such exceptional writers as Dave Carter, Mary Oliver and Robert Frost.
At age seven, Andrew memorized W. B. Yeats' "Song of Wandering Aengus," thus earning a nickel from his mother. He got his first guitar in 1967 at the age of ten, and began writing songs at twelve. By the late seventies, he was performing in the Chicago folk scene. He has since toured internationally, performing at folk clubs and festivals, pubs and house concerts. He presents workshops on many topics: Creative Songwriting, Song Appreciation, Scottish Folk Ballads, and Music Theory for Guitarists. In 1992, Calhoun founded Waterbug Records, an artists' cooperative folk label which has grown to 70 titles, bringing some of the brightest singer-songwriters and folk musicians to an international audience. His own recordings have been released on Hogeye, Flying Fish and Waterbug Records.
Andrew Calhoun's vivid and inspired music is a companion for anyone who has ventured off the well-paved road to forge their own path in this world. Now living in Chicago, he recently released his tenth album, Staring at the Sun (Songs 1973-1981).
"One of contemporary folk's top songsmiths" - Chicago Tribune
About Whistlin' Rufus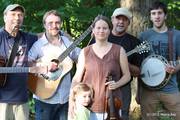 The Whistlin' Rufus musicians bring a lot of experience to the stage and have roots in Classical, Irish, Folk, Bluegrass, Rock and Roll and Jazz music. When you stir it all together combining their exciting knack for arrangements, their three and four part vocal harmonies, original ballads and toe tapping fiddle tunes, well, you end up with Whistlin' Rufus. The band has been together since 2003, celebrating their 10th anniversary this year.
Pat Connell- Mandolin, Guitar, Vocals - Founding member of Whistlin'Rufus, Pat also acts as the booking agent, web-guru, equipment manager, and press agent for the band. Pat has been performing in bluegrass and country rock bands for many years from Bend to Portland. Pat and Ritchie co-write much of the original compositions of Whistlin' Rufus.
Ritchie Wernick- Guitar, Harmonica, Vocals - Founding member of Whistlin' Rufus, Ritchie is the tunesmith, arranger, producer and resident happy face in the group. Ritchie learned his craft in numerous coffee houses on the East coast.
Natasha O'Neal - Fiddle, Vocals - Natasha hails from Wisconsin and her fiddle playing and high vocal harmonies are the highlight of a Whistlin' Rufus show. Nat stays fit by chasing around husband Seth and kids Finn and Eliza
Patrick Connell - Guitar, Vocals - Patrick joined Whistlin' Rufus last year after playing for several years with a Bluegrass band out of Ashland, "The Mighty Lonesomes". Patrick is the lead guitar player and his flat picking solo's are the centerpiece of the Whistlin' Rufus sound.
Zachary Banks - Cello, Vocals - Zach is the newest member of Whistlin' Rufus and completes the band with his amazing cello and high lonesome harmonies. A classically trained musician, Zach brings composure, youth and great good looks to the band.
Billy Failing - Banjo, Vocals - Billy is completing his senior year at the prestigious Berklee College of Music as one of a handful of students majoring in Banjo. At Berklee, Billy is exposed to the instructions of such banjo legends as Bela Fleck, Tony Trischka and Norm Pikelny. Whistlin' Rufus is thrilled to have Billy join us for many of our summer festival events.
About River City Pipe Band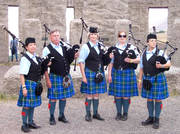 River City Pipe Band is a performance pipe and drum band. They exists to provide a supportive and constructive learning environment for its members to improve their craft through practice, performance, and individual and group competition.
About Seth & May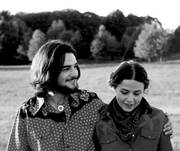 Michigan has, for some time now, been a deep resource for songwriters and roots musicians. Two favorites, Seth Bernard and May Erlewine, well-known to audiences as single acts, have been performing and recording together for almost six years.
Before they teamed up, each paid their dues traveling across the land playing their music and sharing stories with everyone they met. Now they are in constant demand playing festivals all over the country and at venerable folk institutions such as the Ark in Ann Arbor and Garrison Keillor's "A Prairie Home Companion."
Already seasoned songwriters with five solo records each and two duo albums to their names, Seth and May draw from a deep well of American folk, country, blues and soul music. May Erlewine plays guitar and violin and is a songbird reminiscent of Patsy Cline and Patty Griffin. Her songs have been recorded by artists across the country and sung in schools and places of worship. Samuel Seth Bernard has drawn comparisons to Woody Guthrie and Neil Young as a shape shifting folk rocker, community organizer, and communicator of ideas. They harmonize their voices and instruments beautifully, believing music can bring people together and proving so at every performance.
Like all the best folk musicians, they have the ability to get everyone's attention and still a room. With their band, they can captivate and electrify an audience and ignite a dance floor.
Seth and May's common belief in music to strengthen communities and to be a part of positive change has led to collaborations with numerous schools, farms and non-profit organizations. They partnered with best selling author and famed environemtalist Bill McKibben and contributed songs to the www.350.org movement for Climate Change action. They have also fostered the creation of the Water Festival, a series of events in the Great Lakes region dedicated to music and education about preserving water quality and universal access. The best way to find out what Seth and May are about is to listen to their music, either at www.earthworkmusic.com or www.sethandmay.com.
About Red Light Romeos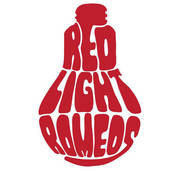 Acoustic classics from last century with 3-part harmonies, a wide variety of songs, and a great deal of musical talent and experience. Hits from bands like the Eagles, Crosby Stills & Nash, and Fleetwood Mac.
Map & Directions
Tags for this Event:
Events:
Holidays
McMenamins Celebrations
Music:
Singer/Songwriter
Rock
Americana
World Music
Property > Edgefield
Related content (tags):