at Crystal Hotel
303 S.W. 12th Ave.
Portland, OR 97205
Local: (503) 972-2670
Elsewhere: (855) 205-3930
Contact Us
Joe McMurrian
Woodbrain
Kevin Blackwell & Sassparilla
7 p.m. |
Free |
21 and over
About Joe McMurrian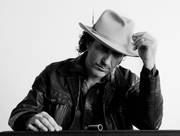 Joe McMurrian is a delta blues/roots songwriter based in Portland. His family is rooted in the hills of Oklahoma and the plains of Texas, and McMurrian grew up with America's old music deep in his ears. With the ability to infuse tradition with contemporary invention, he plays a rich amalgam of delta-style acoustic blues, roots, old-time, and original material -- all bearing his unique touch and delivery. He incorporates the delta slide over a fluid finger-style approach reminiscent of a Robert Pete Williams, Skip James or Bert Jansch with a rhythmic base out of R.L Burnside, Big Joe Williams and Roscoe Holcomb. McMurrian has been compared to such modern masters as Chris Smither and Kelly Joe Phelps, but he has a voice all his own and a bag of visions and sounds true to his own experience and delivery.
website:
About Woodbrain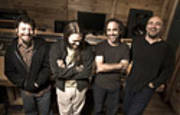 Recently signed to prominent Memphis Roots/Blues label Yellow Dog Records, Woodbrain (formerly the Joe McMurrian Quartet) brings a unique brand of high energy, modern delta blues rock jam sound to every show. Woodbrain features Joe McMurrian (guitar, banjo, vocal), Jimi Bott (drums), David Lipkind (harmonica) and Jason Honl (bass). The guitar-harmonica-bass-drums line-up might be mistaken for a typical blues collective -- at least until this fiery foursome begins to play, when it quickly becomes apparent they are potentially an evolutionary force in the genre. Or several genres at once. Woodbrain's energy is incendiary; their music deeply rooted in tradition. And yet their songwriting and improvisation pull those roots in all kinds of directions informed by the generations of Son House, Jimi Hendrix, and John Coltrane. Without sacrificing an iota of heart or soul, their sound effortlessly skirts boundaries to reach blues, rock, Americana, and jam scene listeners alike. Like fellow roots-based new music trailblazers Derek Trucks, Medeski Martin & Wood, and Widespread Panic, it is the exhilaration of making music within a profound tradition, and yet without boundaries, that keeps Woodbrain?s creative fires blazing. ?(new album)establishes this band as all that's right about the contemporary blues scene ....skillful, intrepid and full of more well-worn grooves than an old 78-rpm record. Woodbrain, for all its old-school, slow-smoked flavor, has definitely moved the genre forward in a fresh way. The band is..seamless, fearless and telepathic, laying miles of roots pavement over which McMurrian plies his gritty stories with a rough-and-tumble voice and monstrous guitar chops.? ~Don Campbell, Oregonian 2009 ?They?re extremely innovative with a sound completely their own... This quartet should be viewed as sculptors, or painters. They?re creating a new dimension of the blues within our dreams.? ~Cascade Blues Association http://woodbrainmusic.com/
About Kevin Blackwell & Sassparilla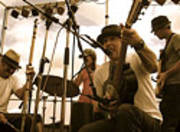 Sassparilla was fermented in the bold-dank regions of Chicago and Pittsburgh and spewed onto the sidewalk of Portland's 24th & Alberta from the mouth of a 5-gallon bucket, with homemade instruments in their clutches: a cigar-box guitar made from Granny's old jewelry box, a washtub bass given a severe beating with a stick, a polka dotted bucket drum kit with rusty break-drum & a hat-box bass. Adding to the mix is a smooth, lulling washboard's rat-tatting - articulated by a man named "Sweet Pea'" and a melodic and blustery fiddle/harmonica duo that dances and interjects like a muscular horn section. With passion, fury, speed, hustle and emotion, the whiskey rains like hellfire, the fingers fly over resonators, and this sextet muster their collective will to never play like cowards.
The result is a one-of-a-kind concoction of homemade, punk-infused, Portland blood-jug holler music.
Map & Directions
Tags for this Event:
Music:
Americana
Blues
Property > Crystal Hotel
Related content (tags):