An escape into the extraordinary
3505 Pacific Ave.
Forest Grove, OR 97116
Local: (503) 992-9533
Elsewhere: (877) 992-9533
Contact Us
St. Patrick's Day Celebration at Grand Lodge
Garcia Birthday Band
Star Anna
Danny Boy O'Haley
The Oly Mountain Boys
All day; music begins at 4 p.m. |
Free |
All ages welcome
About St. Patrick's Day Celebration at Grand Lodge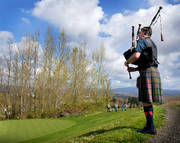 ** Schedule **
All events free and all ages
4 p.m.: The Oly Mountain Boys · Compass Room
5 p.m.: Danny Boy O'Haley · Pat's Corner
6 p.m.: Star Anna · Garage Door
7 p.m.: Garcia Birthday Band · Compass Room
We do so love this particular holiday! At spots across the Pacific Northwest, we'll offer live music, bagpipers, McMenamins Irish Stout, Irish Coffee cocktails, leprechauns, Irish food specials and more.
See what's happening around our other locations...
About Garcia Birthday Band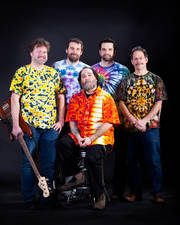 Garcia Birthday Band (GBB), based in Portland, Oregon, is a group of veteran musicians interpreting and celebrating the vast repertoire of the late Jerry Garcia and The Grateful Dead.
But this isn't a "tribute band!" Drawing on years of individual and shared experience, these players are able to craft and transform these tunes into something fresh and original. Solid chops, tight arrangements and fine harmonies all contribute to the band's musical travels and explorations of possibly the greatest and most diverse songbooks of all time.
Always sure to raise the roof and keep the dance floor rocking, hoppin' and shakin', the band's quickly growing "GBB Family" fan base finds the community spirit and kind vibes contagious.
Music-lovers with a wide variety of tastes enjoy this band's extensive playlist which includes classics from Bob Dylan, Smokey Robinson, The Beatles, Johnny Cash, Chuck Berry, Jimmy Cliff, Traffic, Dr. John, Merle Haggard, The Meters, Neville Brothers, Buddy Holly, Otis Redding, Warren Zevon, Rev. Gary Davis, Bruce Cockburn, and Peter Tosh, to name a few. If your musical tastes range from rock-and-roll, country, R&B, blues, bluegrass, folk, or Americana, you will dig this band. No need to be a Deadhead.
With musicians hailing from the likes of New Riders of the Purple Sage (NRPS), David Nelson Band, Kingfish, Cubensis, Buds of May, Ike Willis Band, Brothers Jam and LOOS3, this band is certain to provide high musical adventure!
Band Members:
Arthur Steinhorn - Drums
Scott Gillan - Bass & Vocals
Justin Pacuska - Guitar & Vocals
Jon Sokol - Guitar & Vocals
website:




facebook:




video:




audio:
About Star Anna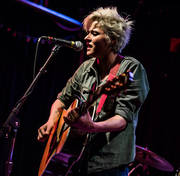 Star Anna is a singer-songwriter from a dusty old wind-swept rodeo town in the middle of Washington State called Ellensburg. It was there that Star first began playing music, first as a drummer in a punk rock band, and where she later found her true calling with her voice, words, and her acoustic guitar. Star writes music that comes from the heart, from hard and sometimes dark places, that grabs hold and burns like a snake bite. Once she established herself with her band, the group brought forward a truly unique brand of country-tinged lonesome rock and roll.
Star and her phenomenal band, The Laughing Dogs (Justin Davis, guitar; Frank Johnson, bass; Travis Yost, drums), have been traveling hard and spreading joy to crowds all over the western United States for a little over three years now. They are regularly referred to with some variation of The Next Big Thing (explicitly on the cover of the Jan 2009 issue of Seattle Sound Magazine) and are eager to let each new audience learn why. The shows are intense and powerful, the songs deep and true, the band is hot and Star?s voice will break your heart.
Star Anna and the Laughing Dogs released their most recent album ?The Only Thing That Matters? in April, 2009 and have since garnered international critical acclaim. As KEXP programming director Don Yeats writes: "Ellensburg?s Star Anna debuted last year with Crooked Path, a promising album of rootsy alt-country, and while the roots influence is still there on her 2nd album, Star and her band have cranked up the electricity, giving her emotionally scarred songs an additional rock ?n? roll punch. Her throaty, aching vocals sound better than ever, and the band earns their co-billing with tight, tough-sounding accompaniment. Crooked Path was a great beginning, but this one packs a mightier wallop."
website:
About Danny Boy O'Haley
O' Danny Boy Haley is the alias assumed by this versatile stalwart of the Eastside folk-pop scene. Dan Haley, who has relocated from Vermont back to his musical home of Portland, reveals his Celtic side. A musician's musician, Haley has picked up some tasty Irish licks to share on guitar and mandolin.
About The Oly Mountain Boys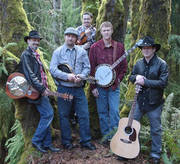 The Oly Mountain Boys began in 2008, playing the traditional music of Bill Monroe and the Stanley Brothers with reckless abandon. This music is still the backbone of the band's repertoire. Over the last two-plus years, however, they have incorporated a strong core of original bluegrass material, some of a traditional bent and others drawing liberally from folk-rock and Americana. Either way, the band combines bluegrass picking prowess and tight, three-part vocal harmonies, bringing a youthful vitality to one of America's original musical forms. The Oly Mountain Boys have performed everywhere from Pumpkin Fests and Farmers Markets, weddings and bluegrass festivals, to the smoke-filled, country-fried Grand Oly Opry, the Woodstock-styled Olympia Barter Faire, and many crowded, late-night bars. The band believes that the appeal of Bill Monroe and his music knows no bounds.
The Oly Mountain Boys released their first CD, The Oly Mountain Boys, in July 2010. The CD contains 12 songs, including seven original compositions, four traditional numbers, and a bluegrass adaptation of Neil Young's "Sugar Mountain."
CHRIS RUTLEDGE plays guitar and provides vocals. Although Chris hails from a blues and rock tradition, he has taken up bluegrass with a vengeance in the Oly Mountain Boys. Chris is from Shelton, WA and currently resides in Olympia.
TYE MENSER, on banjo and lead vocals, was born in Southern California but likes to point out (for bluegrass credibility) that his parents and entire extended family are from Western Kentucky. Tye learned to play bluegrass in Fairbanks, Alaska nearly a decade ago. Tye currently resides in Olympia and also provides electric banjo for the outlaw-country band Rodeo Kill.
DEREK McSWAIN grew up in Olympia, studied mandolin for a number of years, but only recently joined performing bands, formerly playing with the Bluegrass Renegades and now the Oly Mountain Boys. Derek's smooth, versatile, and improvisational mandolin style is one of the linchpins of the band's sound. Derek resides in Lacey, WA and also sings baritone harmonies.
PHIL POST, on bass, Dobro, and vocals, is the only member with bona fide Southern heritage, growing up in the Ozark Mountains in Missouri. Phil's distinctive high tenor singing gives the band its "high, lonesome" edge. Phil's musical journey began singing for a Springfield, MO church choir. He moved to the Pacific Northwest many years ago, studying jazz and composition, and has played number of instruments in a variety of regional bands through the years, currently bass with the Erev Ravs (klezmer) and pedal-steel with the Tilted Stilts (alt-country). Phil resides in Olympia.
JOSH GRICE was raised near Milwaukee, WI and moved to Olympia to work and stare at the mountains. He stumbled into a bluegrass jam in early 2009 and soon wound up a member of the Oly Mountain Boys. His bluegrass inspirations began with his dad's bluegrass treasury albums and extend to modern pickers like Bela Fleck and Chris Thile, and fiddlers like Jason Carter and Casey Driessen. He keeps his fingers limber by playing "violin" with the Olympia Symphony Orchestra.
Website:
Map & Directions
Tags for this Event:
Events:
Holidays
McMenamins Celebrations
Music:
Americana
Groove/Jam
Rock
Property > Grand Lodge
Related content (tags):