"Cult Records Tour"
The Virgins
Har Mar Superstar
C.O.L.O.R.
7 p.m. doors, 8 p.m. show |
$12 advance, $15 day of show |
All ages welcome
Buy Tickets
Tickets on sale now!
About "Cult Records Tour"
Cult Records, the creative imprint for Julian Casablancas' Phrazes for the Young, will put out its first official record release early in 2013 with an exciting new LP from New York natives The Virgins. The band will be touring to support the record and announcing dates shortly. Also look out for a unique new band from Los Angeles called C O L O R with an EP out soon. Founded by Casablancas, Cult Records is focused on quality over quantity and is pledged to the highest standard for every song on each record it puts out.
Twitter:




Instagram:




Website:




Facebook:
About The Virgins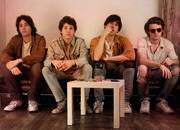 The Virgins' second LP STRIKE GENTLY will be released on Cult Records on March 12. To get you up to speed:
- Frontman Donald Cummings was born in NYC and lived with his parents over the liquor store his father owned on Canal Street.
- After his parents split up he moved around and eventually went to Florida withhis mom. After a year in Florida, at age 15, he moved back to NYC by himself.
- He dropped out of high school and began taking part in the NYC nightlife.
- At age 20 he made several zines of poetry and was published in art
magazines such as Permanent Food, K48, MADE, and others. Also, at this time Ryan McGinley published his first book which featured Donald on the cover.
- Donald starred in the Sundance winning short film "Bug Crush", and worked as the Director of Photography for the acclaimed documentary "Billy the Kid".
- At 22 he also began recording songs in his bedroom on a 4-track under the name The Virgins, some of these tracks went on to become the band's debut EP.
- After extensive touring on the first album, Donald experienced a spiritual crisis that led to a four year gap between the first and the new records...
You lived in Florida when you were younger and now you live in New York. But you've also got a hay farm in British Columbia?
One strange thing from being in the band, even from the beginning, was I never had money leading up to that. And we were fortunate enough to make money and I did a lot of stupid things with it. And yet somehow I miraculously had enough money to buy this hay farm. I really was like this wonderful thing that I'd never thought about. It just happened. We're an hour away from any town or other people, there are lots of animals, and you drive around at night and there are cows on the road and there are coyotes on the bluffs, it's just beautiful... It's nice to go somewhere without all the extra stimulation. We don't really get internet there. It took me a lot of learning that going inside yourself you can find so much more than looking outside, especially when you're doing creative things and looking for inspiration.
For a second record, things usually progress in terms of luxury and style but you recorded this LP in an East Village underground sweatshop...?
We made it in the basement of what used to be Brownies, the venue, and now it's the East Village recording center. There's one little room with a bunch of gear packed into it and we did most of it live. There's no vocal booth, it's all one room. There's a lot of bleed. You can hear different takes going on in different things which is kind of rad, it had a cool vibe.
Were there any changes to how you approached this record from the last?
I just had a much easier time writing this record, it just flowed. I could write a song in the morning, we could go play it in the early afternoon and then go record it in the evening and be yeah, maybe, maybe-not..." But it had an immediate vibe.
How did you come to have new band members?
We toured the first record a lot and by the end of that I was not in a great mind state, and I just didn't know what to do about it; I couldn't write songs. It just became a really painful process. And around that time, just for fun, I would get together with friends playing a lot of country covers, we'd get together just to play. When I got to the place again where I was like "I want to do The Virgins again, I want to play some shows." So many things had changed within the band, we'd all grown in really different directions, and we all wanted to move on to new things. I found that the band needed all new members. So I brought in the guys I'd been playing the country songs with and it felt seamless, it just felt great.
You toured a lot on the first LP. What is it you like about touring?
Being on a new stage with a new group of people, especially when you're a few shows in and you're tight and it's this automatic thing and you can feel the energy of the crowd reacting. You get to make things happen on stage that you don't get to do on a record. And if you should fuck up then that's gonna happen too, or you can make little successes and triumphs. It's really visceral and that's cool.
Outside of the band you paint, right?
Yeah, I paint, I write a lot. With writing songs...I was always writing little short stories, screenplays, and always writing poems. Putting music under it is a really great way to get it out to people and have an interaction that's not so much like "I need you to sit down and read this." I just figured out at one point, I'd make a song, I'd play it, they'd listen to it, and that was it. "
About Har Mar Superstar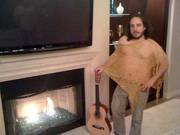 "I like to inspire confidence. I feel people are too self-aware and worried about their looks or their gut or whatever and I feel if I go onstage and go "who gives a fuck?" it really inspires people and helps them throw those inhibitions out the door."
Bye Bye Seventeen by Har Mar Superstar was written in New York City and recorded in Austin, TX. The ten songs are soulful glimpses into a world of hedonism and heartache.
Poised to break free from the claustrophobic confines of the underground club scene after many years of wild shows and after hours adventures with strangers, Har Mar Superstar will soon be touring extensively to support his strongest record yet.
Sean Tillmann named his flamboyant alter-ego after the Har Mar mall in St. Paul where he spent his youth watching movies and writing songs about passers-by in the food court.
"Har Mar Superstar used to be a different person. It used to be my excuse to get away with the more fantastic things in life ... It was easier to get onstage as this other guy and be outrageous and have it be glorified. I guess the confidence I got from being Har Mar Superstar translated into my real life so now we're one and the same."
For this new LP, Tillmann was inspired by the excitement and the isolation of New York City, and crafted the songs for Bye Bye Seventeen there, occasionally collaborating with writers like Fab Moretti ("Mountain Jew"), Kelly Gately ("Failure in Long Sleeves"), and Ryan Olson ("Golden Retriever"), before deciding to permanently relocate to the East Coast from Los Angeles.
"Just walking around NY and seeing people constantly being together alone is, I think, a huge influence on the whole record. I was influenced by the city in general because I wrote most of the songs here before I even lived here. And I just didn't want to leave. That's why I moved. It's a very New York record."
Tillmann co-produced the tracks with Jim Eno (Spoon) at his Austin studio with a full live band before finishing work and remixing the album at Cult Records' New York studios. Focusing this time more on his voice, Tillmann says, "I was listening to a lot of Otis Redding and Sam Cooke at the time, and I've always been obsessed with those guys... "Mountain Jew," "Failure in Long Sleeves," "Golden Retriever," and "Dog the Bounty Hunter (instrumental)" came out of people playing together, but the rest were just like me in a room, gettin' weird, by myself."
Bye Bye Seventeen will be released by Cult Records in North America on April 23rd.
Website:




Twitter:




Facebook:
Map & Directions
Tags for this Event:
Property > Crystal Ballroom Property
Related content (tags):