Come have fun in school... for once...
5736 N.E. 33rd Ave.
Portland, OR 97211
Local: (503) 249-3983
Elsewhere: (888) 249-3983
Contact Us
The Stolen Sweets
Thursday, February 14, 2013
7 p.m. |
Free |
All ages welcome
About The Stolen Sweets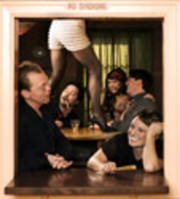 The Stolen Sweets formed in 2005 with the intention of reviving the songs of 1930s sister act The Boswell Sisters. Comprised of vocalists Jen Bernard, Lara Michell and Erin Sutherland, guitarists Pete Krebs and David Langenes (both of whom sing) and double bass player Keith Brush, The Sweets' repertoire has expanded to include material from the 1920s -1940s. Their arrangements are still inspired by the Boswells' tight 3-part harmonies, frequent tempo changes and "knowing shrugs and raised eyebrows," as noted by the Oregonian's A&E.
Unlike the original Boswell arrangements that featured piano, clarinet, and horns, the Sweets incorporate gypsy jazz accompaniment, reminiscent of Django Reinhardt.
The Boswell Sisters were popular harmony singers in the late '20s and early '30s, keeping company with the likes of the Dorsey Brothers, Bunny Berigan, Eddie Lang, and Benny Goodman -- partnerships that provided the jazz world with some of its most influential recordings. The nature of the music was auspicious and good-humored, providing a ray of hope to listeners during a truly dispiriting economic depression.
The Sweets recently traveled to New Orleans to headline the Boswell Sisters Centennial commemorating the birth of the most famous Boswell Sister, Connee, born in 1907. They had the honor of playing at legendary jazz club Snug Harbor, the Louisiana Music Factory and on the steps of the Cabildo in Jackson Square, where the Louisiana Purchase was inked.
In March of 2008, the Sweets took their maiden voyage to Europe, performing their unique brand of vintage jazz in the Netherlands, Belgium, France, Italy, Germany and Slovenia. A wonderful time was had by all, and they can't wait to return.
website:
Map & Directions
Tags for this Event:
Property > Kennedy School
Related content (tags):