Back to school in Bend!
700 N.W. Bond Street
Bend, OR 97703
Local: (541) 382-5174
Elsewhere: (877) 661-4228
Contact Us
Golden Sparrow Fresh Hop 2013 Firkin
O'Kanes Cask Series Release
Wednesday, September 25, 2013
5 p.m. 'til beer is gone |
Limited-edition beer tasting at happy hour pricing all night |
All ages welcome
About Golden Sparrow Fresh Hop 2013 Firkin
A light bodied and very easy drinking golden ale. The Sparrow has a nice malt flavor that is complemented with a mellow hop feel. Fresh hops were picked by hand from the hop vines at the D&D Ranch in Terrebonne. These hops were added towards the end of the boil to release mild bitterness and flavor of the fresh hops. Conditioned in our Firkin keg, this allows the mellow hop flavor to fly around your taste buds like a sparrow. Enjoy a pint of this once a year style of ale as well as in a unique way of conditioning and pouring the drink. A fun day of picking hops in the afternoon of late summer was all that a brewer could ask for. Throw in the singing of the sparrow and the day was almost perfect!
Malts: GWM Pale, GWM Pilsen, GWM 2Row, GWM Munich and Franco Belges Caramel Pilsen
Hops: Nugget, Brewers Gold, Fuggle (Fresh) and Mt Hood (Fresh)
OG: 1.050 TG: 1.010 ABV: 5.2 IBU: 45 SRM: 4
Buzz words: Light, mild hop flavor and Soaring delightful!!
About O'Kanes Cask Series Release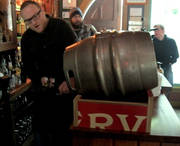 Join us once a month as Mike 'Curly' White unveils another of his firkin handcrafted ales.
Talk to the brewers, ask beery questions, enjoy happy hour pricing all night long on these limited-edition pints and more.
And when the beer is gone, it's gone.
Map & Directions
Tags for this Event:
Events > Beer, Wine, and Spirits
Property > Old St. Francis School
Related content (tags):