Back to school in Bend!
700 N.W. Bond Street
Bend, OR 97703
Local: (541) 382-5174
Elsewhere: (877) 661-4228
Contact Us
Whiskey Widow
O'Kanes Cask Series Release
Wednesday, October 30, 2013
5 p.m. 'til beer is gone |
Limited-edition beer tasting at happy hour pricing all night |
All ages welcome
About Whiskey Widow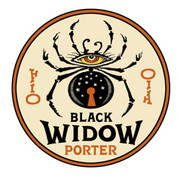 Whiskey Widow
Here at OSF we have a special treat for the patrons at OKanes. We have specially set aside a keg of Black Widow Porter in our Firkin! A traditional way to pour beer on a night with an eerie tradition of asking for tricks or treats! Which will you get tonight? Each deep-black goblet of Black Widow is packed full of the robust notes afforded by generous amounts of black and roast malts and further spirited with ethereal wisps of caramel and licorice. On top of it all the Widow has infused a wicked amount of Oak Spirals that have been soaked in our Hogshead Whiskey for over 2 weeks. The sweet whiskey flavor and oaky finish meld well with the bold malts and licorice of the Black Widow! Get your special treat this Halloween at Okanes.
Malts: British Pale Malt, GWM Munich, Flaked Barley, GWM Wheat, Baird's 135/165, Baird's Black and Roast.
Hops: Chinook and Sterling Additional Ingredient: Licorice Root
OG: 1.073 TG: 1.018 ABV: 7.1 IBU: 39 SRM: 42
About O'Kanes Cask Series Release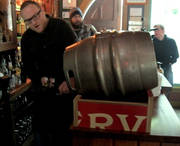 Join us once a month as Mike 'Curly' White unveils another of his firkin handcrafted ales.
Talk to the brewers, ask beery questions, enjoy happy hour pricing all night long on these limited-edition pints and more.
And when the beer is gone, it's gone.
Map & Directions
Tags for this Event:
Events > Beer, Wine, and Spirits
Property > Old St. Francis School
Related content (tags):