4045 N.W. Cornelius Pass Rd.
Hillsboro, OR 97124
(503) 640-6174
Contact Us
Roadhouse Lager Celebration
Honey Steam Lager
Nehalem Lager
Silvercone IPL
6 p.m. 'til the beer is gone |
Limited-edition beer at happy hour pricing all night |
All ages welcome
About Roadhouse Lager Celebration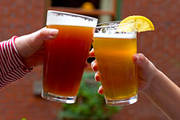 Sample and enjoy these three unique lagers at this limited-edition beer tasting and celebration. Talk to the brewers and ask beery questions. Happy-hour pricing on these limited-edition beers, all night long!
About Honey Steam Lager
We used our lager yeast to ferment this brew but at a higher temperature as if employing an ale yeast. The result is the same clarity you expect from a lager but boasts slightly more body and malt flavor. The perfect choice on a hot summer day, watch it vanish!
Malts: Superior Pilsen, Honey Malt, Flaked Barley
Hops: Sterling
OG: 1.048 TG: 1.006 ABV: 5.42% IBU: 20 SRM: 4
About Nehalem Lager
Paying homage to Northwest Oregon's beautiful, meandering Nehalem River, this lager has the bright hop presence characteristic of a Pilsner, but with more complex, floral character courtesy of a blend of U.S. Golding and Centennial hops. Flavorful and balanced, we hope this lager reminds you just how good we have it in this lush corner of Oregon.
Malts: Superior Pilsen Malt, Munich, Flaked Barley
Hops: Centennial, Golding
OG: 1.047 TG: 1.007 ABV: 5.16% IBU: 24 SRM: 3
Buzz words: Crisp, Bright, Floral
About Silvercone IPL
Voted best beer at this year's Hillsdale Brewfest, Silvercone India Pale Lager is the latest testament to our love of hops. In choosing a strain of lager yeast that ferments exceptionally clean, we allowed the spotlight to fall squarely on the hops. The resinous, multi-layered aroma wafting up from your glass and tongue-tickling citrus notes flirting with your taste buds combine with a crisp lager finish to quench your thirst like no ale can. So hoist a pint to the blessed vine, for the love of hops!
Malts: Superior Pilsen, Flaked Barley, Crystal-15L
Hops: Centennial, Simcoe, Citra
OG: 1.063 TG: 1.013 ABV: 6.45% IBU: 83 SRM: 4
Buzz words: Bright, Quaffable, Hops in the nude
Map & Directions
Tags for this Event:
Events > Beer, Wine, and Spirits
Property > Cornelius Pass Roadhouse
Related content (tags):