Saloon & Hotel
836 N. Russell St.
Portland, OR 97227
Saloon: (503) 282-6810
Hotel: (503) 335-8900
Contact Us
Matthew Lindley Commission
The Lonesomes
The Blackberry Bushes Stringband
Friday, February 22, 2013
9:30 p.m. |
$8 in advance, $8 day of show |
21 and over
Buy Tickets
Tickets on sale now!
About Matthew Lindley Commission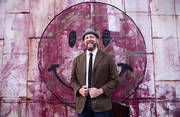 Since the Spring of 2008, Matthew Lindley and Troubadour Deluxe have brought their brand of Americana fueled rock to the Portland area. With a sound that has been described as an audio marriage between Wilco and Drive By Truckers, MLTD have blended strong songwriting, stellar musicianship and an up-beat live show to entertain audiences through the Portland scene. Even though they have already been afforded many opportunities, from opening for nationally known acts and playing the cities bigger venues, to being included on local compilation CD's. Matthew Lindley and Troubadour Deluxe show no signs of stopping and they move toward bigger and better things in 2010.
About The Lonesomes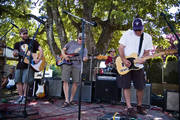 Amazing new CD that contains shining elements of The Byrds (jangly 12-string guitars and a trumpet solo a la "So You Want To Re A Rock & Roll Star"), Tom Petty, Neil Young (the guitar solos), and the Allman Brothers (nice mix of Hammond and dual guitars) sprinkled tastefully throughout! When you think about The Lonesomes, there's the feeling of the old West, not just in the band's name but in their sound and feel - something that put you in mind of tan chinos, shoe boots with spurs, shots of rye at the local saloon, and lots of dirt. It has the necessary punk-slash-honky-tonk charm to qualify as an alt-country gem. And, despite all of the classic influences on display, they still manage to make music that sounds remarkably fresh. The 12 songs on There's No Denying Josephine represent all of their best elements - the songs keep you guessing what might come next, each one with its own little angle on the whole picture the band is presenting."
--Ray Gianchetti, Kool Kat Musik
ReverbNation:
About The Blackberry Bushes Stringband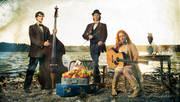 The Blackberry Bushes are a Northwest Alt-folk String Band. The Bushes' innovative acoustic sound draws from the deep roots of American traditional music to create a rich patchwork that shares threads with artists like Gillian Welch and David Rawlings, Sean Hayes, and Crooked Still. Jes Raymond's joyful singing and songwriting and is supported by carefully constructed soundscapes that feature the virtuosic fiddle of Jakob Breitbach. A longtime Northwest favorite, the band has developed into a national act, with recent tours across the US and Europe. Their live show is joyous and vibrant with an intention to move the audience in their hearts and out of their seats.
Jes Raymond first started singing in a church children's choir in her hometown of White River Junction, Vermont. Her parents were avid bluegrass fans, but it was in North Carolina where she was a music major at UNC that she found her own love for the "mountain sound". She picked up a used guitar, and has followed it wherever it has led. She is the recipient of the Jackstraw Productions Artist Award and the Seattle City Artist Award.
Jakob Breitbach first learned to play the fiddle when he was 3 years old with a paperback copy of "The Hobbit" and a wooden spoon. At 8 years old he was called onstage to play a tune with the grandfather of bluegrass, Bill Monroe. Jakob earned his degree in Jazz Violin from Cornish College of the Arts and continues to study with his mentor Paul Anastasio. In 2008 he toured with The Asylum Street Spankers out of Austin, TX.
"Their blend of traditional Bluegrass and Folk elements with more contemporary sounds has an appeal not seen since Nickel Creek or The Be Good Tanyas." (Joseph Kyle; The Big Takeover)
The Blackberry Bushes Stringband has performed at The Wintergrass Festival in Bellevue, WA; The Oregon Country Fair; Northwest Folklife; Swallow Hill Music Association, Yosemite's Strawberry Music Festival, North Carolina's Shakori Hills Festival, Berkley's Freight and Salvage and hundreds of other venues across the United States and Europe. It is a rare magic to artfully fuse elements from many genres into a sound that retains distinct threads of sonic color.
Daredevil, delicate, and like their thorny namesake, rooted and growing, growing, growing.
Map & Directions
Tags for this Event:
Music > Americana
Property > White Eagle
Related content (tags):