4th Annual PDX African American Film Festival
The World The Flesh And The Devil [1959]
Thursday, January 31, 2013
7 p.m. |
$5 per night; $20 for 4-day pass |
Minor with parent or guardian
About 4th Annual PDX African American Film Festival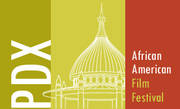 The non-profit PDX African American Film Festival provides a forum for African American film and filmmakers and celebrates their depth, contributions and history.
The PDX African American Film Festival was created by filmmaker Ron Craig, a lifetime Oregonian and the Executive Director and Founder of both Astoria Productions and the PDX African American Film Festival, has had a long love affair with independent films. It started with a visit to Paris as a young man of 21 in the spring of 1968. As he recalls, the students were after De Gaulle's head and they got it! Amongst all this chaos, Ron found his way to a number of independent film houses. These encounters changed his understanding of film as an art form, and inspired him to create his own film festivals. Ron's inspiration has taken him to produce three films to date, including, Searching for York, for which he received a 2008 Emmy nomination.
Astoria Productions realized a dream in 2007 of staging a world-class film festival on the northern Oregon coast: the Astoria International Film Festival. We now have the opportunity to share a new dream with the Portland community and beyond, with the annual PDX African American Film Festival.
website:
About The World The Flesh And The Devil [1959]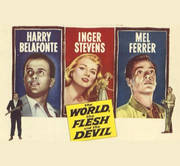 Ralph Burton is a miner who is trapped for several days as a result of a cave-in. When he finally manages to dig himself out, he realizes that all of mankind seems to have been destroyed in a nuclear holocaust. He travels to New York City only to find it deserted. Making a life for himself there, he eventually finds Sarah Crandall, who also managed to survive. They form a close friendship until the arrival of Benson Thacker when tensions rise between the three, particularly between Thacker, who is white, and Burton, who is black.
Map & Directions
Tags for this Event:
Events > History
Movie Types > All Ages
Property > Mission Theater
Related content (tags):