4th Annual PDX African American Film Festival
Julian Bond: Reflections from the Frontlines of the Civil Rights Movement [2012]
Dar He: The Lynching of Emmett Till [2012]
Wednesday, January 30, 2013
7 p.m. |
$5 per night; $20 for 4-day pass |
Minor with parent or guardian
About 4th Annual PDX African American Film Festival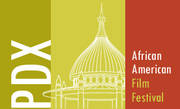 Introduction by Dr. Darrell Millner, Professor, Black Studies Department, Portland State University. Dr. Millner is an expert on the history of African Americans in the western movement and on Black cinema history and the development and perpetuation of negative racial stereotypes.
The non-profit PDX African American Film Festival provides a forum for African American film and filmmakers and celebrates their depth, contributions and history.
The PDX African American Film Festival was created by filmmaker Ron Craig, a lifetime Oregonian and the Executive Director and Founder of both Astoria Productions and the PDX African American Film Festival, has had a long love affair with independent films. It started with a visit to Paris as a young man of 21 in the spring of 1968. As he recalls, the students were after De Gaulle's head and they got it! Amongst all this chaos, Ron found his way to a number of independent film houses. These encounters changed his understanding of film as an art form, and inspired him to create his own film festivals. Ron's inspiration has taken him to produce three films to date, including, Searching for York, for which he received a 2008 Emmy nomination.
Astoria Productions realized a dream in 2007 of staging a world-class film festival on the northern Oregon coast: the Astoria International Film Festival. We now have the opportunity to share a new dream with the Portland community and beyond, with the annual PDX African American Film Festival.
website:
About Julian Bond: Reflections from the Frontlines of the Civil Rights Movement [2012]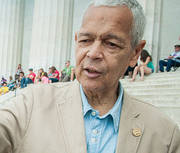 A Film by Eduardo Montes-Bradley, this enlightening portrait joins African American social activist Julian Bond as he traces his roots back to slavery. A leader in the Civil Rights Movement, Julian Bond was among the founders of the Student Nonviolent Coordinating Committee, a leader of the 1963 March on Washington, and a Georgia legislator for twenty years. Now in his seventies, Bond recalls the experience of growing up in the segregated south, where his parents' belief in hard work and education lifted the family out of what he describes as an apartheid system. An erudite, well-spoken man, audiences visit his classroom at the University of Virginia where he shares with a new generation the turbulent years of the Civil Rights Movement. Julian Bond's recollections chronicle several turbulent decades of American history, as society was evolving to allow more opportunity to African Americans. An essential documentary for African American Studies, American History, and Sociology courses.
About Dar He: The Lynching of Emmett Till [2012]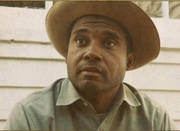 In an acting tour de force, one man performs 36 roles in the telling of the Emmett Till tragedy. Experience the story, trial, and unbelievable confessions of those accused of Emmett's murder in this riveting drama.
"His death was a spark that ignited the Civil Rights Movement in America."
– Ed Bradley, Emmy Award-winning journalist
Dar He: The Lynching of Emmett Till is the true story crafted from the public record: a transfixing, true dramatization of the historic interviews and events surrounding the murder that became a lightning rod for moral outrage and pivotal in inspiring a whole generation of young people to commit to social change in the 1950s.
The film was adapted from the acclaimed one-man play written and performed by Mike Wiley, similarly titled, Dar He: The Story of Emmett Till.
Map & Directions
Tags for this Event:
Events > History
Movie Types > All Ages
Property > Mission Theater
Related content (tags):