at Crystal Hotel
303 S.W. 12th Ave.
Portland, OR 97205
Local: (503) 972-2670
Elsewhere: (855) 205-3930
Contact Us
Kory Quinn w/
Brothers of the Hound
Tuesday, February 12, 2013
7 p.m. |
Free |
21 and over
What Kory says about his guests tonight:
"I met Will West one Thursday evening at The White Eagle Saloon. It was one of my first shows I attended upon my arrival. I was recommended by Eric John Kaiser to go check out his roommate's band. Turns out that Will's bass player at the time was Eric's roommate. Will and I very quickly got along and have ever since had a very close professional relationship. We are constantly putting together ideas, sharing bills, and helping out on conflicting dates when needed. This other project of Will's, Brothers of The Hound, includes Bob Soper, Drew Norman, and Julio Appling. The artistic perspective is more along the lines of Old School Country and Americana compared to The Friendly Strangers. It also turns out that all three aforementioned also sit in with me and my band on a consistent basis. This night is to commemorate the origin's of The Portland Chapter of The Comrades since it was through Will I met many of the musicians that I have been fortunate enough to grace the stage and studio with. In this and so many ways I am eternally indebted to Will for his never ending support of my music and art."
About Kory Quinn w/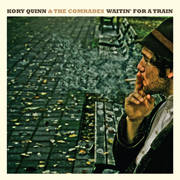 I suppose if one could pinpoint exactly what it is that separates good folk and roots-based music from mediocre schlock, everyone would be getting it right. Obviously, not everyone does-but Portland-by-way-of-Indianapolis singer/songwriter Kory Quinn is one of those whose music not only upholds well-worn traditions but also sounds fresh in the process. It might be a case of believability: Quinn's latest nine-song collection, Waitin' for a Train, carries on the tradition of wandering troubadours and train-hopping drifters, and if that's a romantic notion (it's not entirely fabricated-Quinn recently took a trip across the US by train, although it was funded by Kickstarter, so one presumes he wasn't hopping from boxcar to boxcar), it's one that Quinn imbues with authenticity. In a crowded field of local roots musicians, Quinn stands out as one who's got his bead aimed precisely at the truth.
"[VAGABOND AMERICANA] With his latest album, Waitin' for a Train, Portland troubadour Kory Quinn and his band, the Comrades, break forth with a firm, compelling sort of Americana that is at once hauntingly familiar and entirely Quinn's own. The songwriter's voice, both strained and tender, wafts through a soundscape speckled with sparse percussion and hammering harmonica, perfectly suiting somber lullabies such as the placid "In My Mother's Arms" and the raucous "Runaway Train" with equal vigor. Quinn offers timeless country folk infused with a hint of rock, the kind of music that has been listened to for generations and will remain relevant for decades. "
"Beyond that, the details of the Comrades are a mystery, but that's fine, because stark, haunting but brilliantly rendered songs such as "Shoes of the Dead," "You Ain't Coming Back," "Austin" and "Under the Gun" succeed because of their dark and twisted layers and the many lingering questions of that vaunted "old, weird America."" -Jim DeRogatis, Sound Opinions and The Chicago Sun-Times
"Train-Hoppin, Foot-Stompin', Hobo-Blues" --Rob Stroup, Eight-Ball Studios, Portland, OR
"Kory Quinn is a writer of personal experience and a singer of cross-country adventure, frequently woven into a prayer rug of justice. With a hobo twang as sharp as a 9-ball break, Kory Quinn effectively transposes the eternal troubadours like Woody Guthrie, Ramblin' Jack Elliot, and Bob Dylan into Two-Thousand-and-Ten. Since April, 2010 Kory Quinn has self-released one EP, "The Drifter" and one Album, "Bound for Glory" through his record label Ma and Pa Records and with the help of Rob Stroup of Eight-Ball Studios. He is set to self-release his second album on October 31st "Shoes of The Dead". There is also in the works a third Album "State of The Union" to be released in January. Kory is also co-founder of the Portland Field Recording Project. --Matt Kalinowski, Noctilucent PR
Bandcamp:




ReverbNation:
About Brothers of the Hound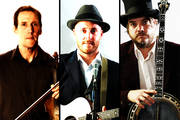 A new project featuring the fine musicianship of Bob Soper, Drew Norman, & Will West. Together they'll explore elements of Old-Time Folk, Roots, Bluegrass and Foot-stomping Acoustic Grooves. Positive energy with darker tones.
Brother Bob Soper will be featured on fiddle, vocals, percussion and large djembe'. Brother Drew Norman will be featured on banjo, slide guitar, lap steel & vocals.
Brother Will West will be featured on guitar, vocals, harmonica, kick-drum & looping station.
Each week The Brothers of the Hound will perform a wide range of originals, covers & traditional tunes. Their array of instrumentation creates a dynamic, fun groove with just enough of a "bite" to keep it interesting.
Be prepared for special guests and some fantastic surprises.
ReverbNation:




Facebook:
Map & Directions
Tags for this Event:
Music > Americana
Property > Crystal Hotel
Related content (tags):