4045 N.W. Cornelius Pass Rd.
Hillsboro, OR 97124
(503) 640-6174
Contact Us
Hopfest Roadhouse Beer Invitational
Stingerhead
Hop Lobster Red
Vulcan Black IPA
Hop Island ISA
Special Beer Tasting
Wednesday, August 28, 2013
6 p.m. 'til 9 p.m. |
Free admission; Limited-edition beer available 'til it's gone! |
All ages welcome; must be 21 to drink
About Hopfest Roadhouse Beer Invitational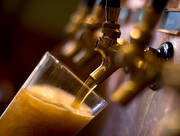 Join us to sample small-batch beer from McMenamins Cornelius Pass, Thompson, Vancouver on the Columbia, and Old St. Francis breweries.
Spicy bratwurst with hopped mustard available for pairing, plus full menu avaialable at CPR Imbrie Hall.
Stingerhead
Cornelius Pass Roadhouse Brewery
Brewers Chris Oslin
& Brady Romtvedt

A bee sting is never enjoyable but a Stingerhead surely is. While designing this recipe we thought of bees, honey, and the pollination of hops. Hops are the showcase so we "dry-hopped" kegs with a generous amount of fresh, local hops that will be revealed the day of the competition. For extra hop flavor and aroma we added Centennial-Type hop pellets to the fermenter to ensure the job is complete. Get buzzing with a Stingerhead!
Malts: Golden Promise, Flaked Barley, Honey Malt
Hops: Centennial, Citra

OG: 1.052 TG: 1.009 ABV: 5.55% IBU: 7 SRM: 36
Buzz words: Fresh hopped, Honeyed, Heavenly
Hop Lobster Red
McMenamins on the Columbia Brewery
Brewers Tega Chijavadze
& Matt Freeland
It's not a whale. It's not a dolphin. And not just a lobster, but a hop lobster, red and proud, and ready to rock! It has a sweet, full body and a pleasant smoothness due to generous amounts of red wheat. Smooth on front of the palate, it finishes with a hint of roast and chocolate flavors, balanced with a spicy kick of Chinook hops and Brewer's Gold. Enjoy and rock on!
Malts: Two-Row, Red Wheat, Amber Malt, C-75 and Chocolate
Hops: Cascade, Centennial, Chinook and Brewer's Gold
OG: 1.066 TG: 1.013 ABV: 6.8% IBU: 82 SRM: 16
Buzz words: Hoppy, Full Body, Spicy
Vulcan Black IPA
Thompson Brewery
Brewer Jen Kent
Space: the final frontier. What better way to travel the galaxy than with a pint of Vulcan Black IPA in hand as you command the Beership Enterprise! Your ale is as dark as the galaxies you voyage and your hop profile is as adventurous as transporting to the surface of a new planet! Raise a pint for the forever traveler of our worlds and may you live long and prosper!
Malts: Baird's Pale, Flaked Barley, C-15, Midnight Wheat and Black Prinz
Hops: Nugget, Sterling, Amarillo and Falconers Flight
OG: 1.065 TG: 1.014 ABV: 6.58% SRM: 38 IBU: 90+
Buzz Words: Black, Hoppy, Transporting
Hop Island ISA
Old St. Francis School Brewery
Brewers Mike "Curly" White
& Kevin Connell
Whether it is the middle of Summer or the dead of Winter a sip of the Hop Island will make you feel as if you are on a tropical island! Hop citrus and tropical fruit flavors dominate the first flavors of this beer. A light and mellow body allows all the hop goodness to reside on your palate. This easy drinking session style ale allows your days to be long and enjoyable! Dry hopped for an even bigger hop pleasure, be sure to have your hammock ready to sip on this tasty beverage! Just as if you were on an island surrounded by all that makes you hoppy!
Malts: TF&Sons Golden Promise, GWM Pilsen, Gambrinus Pilsen and Franco Belges CaraVienna 20L
Hops: Nugget, Centennial, Amarillo, Mosaic, Santiam and Crystal
OG: 1.046 TG: 1.008 ABV: 4.9 IBU: 57 SRM: 4
Buzz words: Fruity, Mellow and Island Fun!!
Map & Directions
Tags for this Event:
Events > Beer, Wine, and Spirits
Property > Cornelius Pass Roadhouse
Related content (tags):