Back to school in Bend!
700 N.W. Bond Street
Bend, OR 97703
Local: (541) 382-5174
Elsewhere: (877) 661-4228
Contact Us
Curly's Special Holiday "Beer Tasting Flight"
Friday, December 21, 2012
All day! |
$6 for three ales; special food pairings available |
21 and over
About Curly's Special Holiday "Beer Tasting Flight"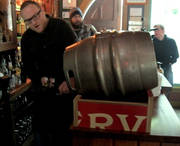 Join us tonight as Mike 'Curly' White unveils a special Holiday Season beer flight.... And when the beer is gone, it's gone.
Wonderland Taster
"This special beer flight came about during a conversation with some of the pubsters here at OSF. We had a few Winter inspired or even Christmas inspired beers and putting them all on one taster tray just seemed the appropriate thing to do so everyone could enjoy the merriment of the Season. Whether you like winter warmer style beers, big bold out of the ordinary brown ales or deep dark beers with spices you can't go wrong with this flight. If you are cold from the chilly wind or if you need your insides to be consumed with the feeling of Christmas than a taster of these three should do the trick.
As the New Year approaches I would also like to take the time to thank you all, first time visitor or everyday patron, for a wonderful year of beer enjoyment! It has always been my pleasure to create and present ales and lagers that everyone can drink and enjoy! I hope that I have not disappointed in my quest to provide beer of the highest quality and most importantly the enjoyment of sharing a pint with friends. Merry Christmas, Happy New Year and Cheers to you and yours!!"
– Curly
Winter Spiced Terminator Stout
We've taken our decadent Terminator and spiced it up with festive flair for the Holiday Season. Fresh cinnamon sticks, ground ginger, all spice and a touch of vanilla adds an amazing bouquet to our popular stout. Only one keg was created for this Winter Wonderland of flavor! Grab a pint tonight to warm your bones but to also warm your spirit as the Holiday spice will definitely get you in the Christmas Spirit!! This is a full bodied and flavor packed ale which draws its robust complexity from kiln-baked specialty grains.
Malts: Premium 2-row Malt, Munich Malt, 40L Crystal, and Black Barley
Hops: Chinook and Cascade
Special Ingredients: Cinnamon, ginger, all spice and vanilla
OG: 1.065 TG: 1.015 ABV: 6.45 IBU: 30 SRM: 35
Buzz Words: Roasty, Black, Christmas in a pint!
Kris Kringle
Just in time for the holidays, the busy-as-elves McMenamins brewers have created another wonderful gift for your taste buds this holiday season. The 2012 version of Kris Kringle is a hearty and robust ale with a big and bold malt complexity as well as an intense and flavorful hop profile. This "winter warmer" highlights the rich, toasty, aromatic and chocolaty malt flavors as its very sturdy foundation. Generous amounts of four different hop varieties were added in five different additions, which delivers a magnificent and massive hop assault. McMenamins brewers hope you enjoy this years' version of our old Holiday favorite, Kris Kringle. Happy Holidays and a Wonderful New Year!
Malts: Pale Ale, Munich, Wheat, 15L & 120L Crystal and Chocolate
Hops: Nugget, Centennial, Cascade and Santiam
OG: 1.068 TG: 1.015 ABV: 6.84 IBU: 83 SRM: 15
Buzz words: Robust, Hoppy, Festive
Parson Brown
As the weather changes from brisk to chilly to downright freezing, the Old St Francis School Brewery believes the beer you drink should reflect these changes. The Parson Brown is a Winter Warmer style brown ale that lets you enjoy the Wonderland that winter can be. Take a walk down the lane with sleigh bells ringing. Enjoy the glistening snow with the new bird singing a love song. Build a snow man in the meadow and pretend he is Parson Brown. Conspire by the fire the dreams you will make knowing that you're with loved ones in a Winter Wonderland! If this time of year resonates with you, the wonder which is winter, grab a pint of Parson Brown and stroll around savoring the experience of winter. Full malt flavors with touches of toffee and nuts (chestnuts on an open fire perhaps?) will please the palate. Yet unlike most brown ales the Parson has a hoppier kick. Floral hop flavor combine with earthy, mild aromas that leave a slight bitterness that dissipates quickly on the tongue as the pleasing malts come back for more. A fantastic pint of ale to warm your insides on a frigid winter's day! It makes you even warmer when a pint is shared with a friend or loved one! Cheers!
Malts: GWM Pale, GWM Munich, Flaked Barley, Franco Belges Caramel, Munich 40L, Baird's Crystal 70/80, Baird's Brown and Baird's Chocolate
Hops: Centennial, Nugget, Brewer's Gold, Cascade and Willamette
OG: 1.075 TG: 1.014 ABV: 7.9 IBU: 73 SRM: 19
Buzz words: Toffee malt, Hoppy and Wonderland of flavor!!
Map & Directions
Tags for this Event:
Events > Beer, Wine, and Spirits
Property > Old St. Francis School
Related content (tags):