A truly remarkable destination.
2126 S.W. Halsey St.
Troutdale, OR 97060
Local: (503) 669-8610
Elsewhere: (800) 669-8610
Contact Us
Michalangela
Thursday, January 31, 2013
7 p.m. |
Free |
21 and over
About Michalangela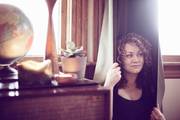 Michalangela, whose full name is Michal Angela Wilson, is a highly appealing and increasingly significant singer based in Portland, Oregon. Her style is based in jazz although she is also stretching out towards soul music. Her debut recording, Portland Rain, was a major step forward in her career.
Michalangela was born and raised in Moscow, Idaho. She sang from the time she was a child and her mother, a choir director, gave her piano lessons when she was seven. "I listened to the r&b and pop music that was on the radio while growing up, and I performed at talent shows. I discovered jazz largely through the Lionel Hampton International Jazz Festival which is held in Moscow, Idaho." As a young teenager, Michalangela began competing at the Hampton Festival as part of her mother's choir. "We learned jazz songs to take to the festival, went to the concerts and clinics at the festival, and saw and listened to the top jazz performers talking about what they do. I gradually fell in love with jazz." She competed each year in the group throughout junior high and high school, and as a soloist when she was in high school and college. She also had opportunities to work with and learn from singers Dee Daniels and Roberta Gambarini, drummer Jeff Hamilton, and pianist Tamir Hendelman at the festival.
The young singer studied classical voice at the University of Idaho's School of Music since they did not have a jazz program. A few months after she graduated, she moved to Portland, Oregon. Within a short time, Michalangela was part of the Portland music scene. She met the pianist Jonathan Swanson who not only became part of her group but had a recording studio that he offered her the freedom to use. The result was her first recording, Portland Rain.
"Portland Rain came together pretty organically," remembers Michalangela. "I wrote songs and learned a lot about recording, using some of the best players in Portland." In addition to writing "Portland Rain" and "Hello Mister," and co-composing "Change My Plans" with Swanson, she recorded her own fresh versions of such standards as "Dream A Little Dream Of Me," Alec Wilder's "I'll Be Around," "What A Little Moonlight Can Do" and "The Things We Did Last Summer." "I particularly like 'A Fine Spring Morning' which one of my favorite singers, Blossom Dearie, sang. She never showed off at all and instead simply sang the song and expressed the lyrics. That is what I always try to do."
Since recording Portland Rain, Michalangela has quit her day job in order to become a fulltime performer and follow her passion and dream. Her singing has evolved, she has become a more confident performer and a more daring improviser, and she has expanded into soul music while keeping her foundation in jazz. Singing with saxophonist Devin Phillips, Tyrone Hendrix (who is Stevie Wonder's drummer), trumpeter Farnell Newton and other major local players, Michalangela not only performs jazz and soul but r&b and gospel, inspired by Erykah Badu and Billie Holiday. She is in the early stages of recording her next CD, a project that will find her concentrating on recording her own originals.
In addition, Michalangela has followed in her mother's footsteps. "My mother, who is an incredible musician, never studied music other than some piano lessons, and is a huge inspiration for me. I direct choirs at my church. It is very important to me that everything that I do musically be a good representation of my faith in God."
For the future, Michalangela says, "My goal is to perform a great deal more, enjoy music, and give audiences lots of joy." Based on the music that she recorded for Portland Rain and her continuing dedication to singing, achieving this goal is a sure thing for the talented singer.
Map & Directions
Tags for this Event:
Property > Edgefield
Related content (tags):