4045 N.W. Cornelius Pass Rd.
Hillsboro, OR 97124
(503) 640-6174
Contact Us
Limited-Edition Beer Tasting
Hammerhog
Ruby-Dew
Terminator Stout Distiller's Coffee Edition
Wednesday, January 30, 2013
6 p.m. 'til the beer is gone |
Limited-edition beer at happy hour pricing all night |
All ages welcome
About Limited-Edition Beer Tasting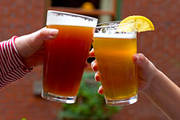 January will feature combinations of McMenamins classic ales and our distilled spirits: The Hammerhog, Hammerhead aged on Hogshead soaked oak; Ruby-Dew, Ruby with Morning Dew soaked vanilla beans; and a keg of Terminator Stout Distiller's Coffee Edition, our Terminator Stout infused with fresh ground McMenamins house-roast coffee and aged on our own coffee liquor-soaked oak.
---
Hammerhog
Our Hammerhead Ale aged on Hogshead Whiskey-soaked oak spirals. The barrel character from the wood mellows the hops edge and traces of Hogshead lend notes of spice and grass.
Malts: Premium 2-row Malt and 75L Crystal Malt
Hops: Cascade
Other: Toasted Oak Spirals soaked in Hogshead Whiskey
OG: 1.056 TG: 1.010 ABV: 5.93% IBU: 44 SRM: 11
---
Ruby-Dew
Our classic raspberry ale infused vanilla beans basted with Monkey Puzzle (our hopped and honeyed whiskey). The fruit moves into the background allowing the vanilla to fill the nose and notes of oak and honey to sound in the finish.
Malt: Premium 2-row Malt
Hops: Nugget
Fruit: Raspberries
Other: Vanilla beans, Monkey Puzzle Whiskey
OG: 1.039 TG: 1.005 ABV: 4.39%
---
Terminator Stout Distiller's Coffee Edition
The rich roastiness of Terminator Stout is complimented by sweet wood notes from the oak spirals soaked in our coffee liqueur and the fragrant coffee aroma comes courtesy of fresh ground McMenamins Coffee Roaster's Ethiopian beans.
Malts: Premium 2-row Malt, Munich Malt, 40L Crystal, and Black Barley
Hops: Nugget and Cascade
Other: Oak spirals soaked in McMenamins Coffee Liqueur, Coffee Beans
OG: 1.065 TG: 1.015 ABV: 6.45% IBU: 30 SRM: 35
---
Join us once a month to sample a new, small-batch beer, handcrafted by one of our brewers.
Talk to the brewers, ask beery questions, enjoy happy hour pricing all night long on these limited-edition pints and more.
Map & Directions
Tags for this Event:
Events > Beer, Wine, and Spirits
Property > Cornelius Pass Roadhouse
Related content (tags):