Amanda Navares
Thursday, January 3, 2013
8 p.m. |
Free |
21 and over after 10 p.m.
About Amanda Navares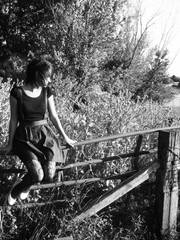 Originally from Olympia, Washington, Amanda has left her small but significant mark in a number of places. Her singer/songwriter career began at a young age, developing over time with the influence of beloved friends and lovers.
Starting as a backup singer with her best friends for a piano pop band named All of the Above, Amanda realized her love of writing songs. There were exactly zero performances, and exactly zero songs written collaboratively, given the average age of the band was about 10-12 years. Taste of Rain was next on the agenda, a band formed with friend Sally Bosshard. Again, no performances, however there was a song written. Both girls had just learned how to play guitar. Discouragement came about after coming to the knowledge that with the limited technical skills they had they would not be able to become the Sleater-Kinney-type band they wanted to be. During high-school Amanda joined forces with friend Cameron Jutte to create Forgotten News. Their time together was also short-lived, yet productive.
After improving her skills as a songwriter, Amanda took on the alias Ticklish Tuesday and performed around Olympia for two years as such. She recorded her first album, Ticklish Tuesday and Friends, with Austin Potter in his home studio.
In late 2008, Amanda relocated to Provo, Utah, where she worked with the band Burning Olympus for over half a year. During this time she began working on her solo project, Her Lovely Trees, and managed to record her first album under that name. As of this moment, she has again relocated to Olympia, Washington where she will be performing and releasing her new album.
Map & Directions
Tags for this Event:
Property > Spar Café
Related content (tags):