Saloon & Hotel
836 N. Russell St.
Portland, OR 97227
Saloon: (503) 282-6810
Hotel: (503) 335-8900
Contact Us
Vagabond and Tramp
Jacob Miller and the Bridge City Crooners
Shoeshine Blue
9:30 p.m. |
$8 in advance, $8 day of show |
21 and over
Buy Tickets
Tickets on sale now!
About Vagabond and Tramp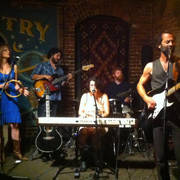 Tight harmonies and intelligent lyrics. Well-crafted arrangements from a collective of musical minds. Lady Vagabond and Mister Tramp tell tales with evocative images and a great stage show--duetting and sassing their way into your hearts and ears. They always get down and they don't mind jamming. One minute, it's floor-stomping, head bobbing country rock, the next it's a 90's time-warp, and then you're shakin' what your Mama gave you with a vintage RnB groove. You can't tell this story without New Orleans, Joshua Tree or San Francisco, or without the Beatles or Fleetwood Mac for that matter.
Facebook Page:
About Shoeshine Blue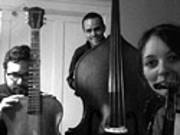 A lovely and literate lo-fi folk and blues act, Shoeshine Blue released a debut album (Talk Real Slow) which the Willamette Week claims "embodies the drive of garage, the ancient angst of the blues and the reflective coherence of folk," a mix one might expect from a group citing Muddy Waters, Andrew Bird and Flannery O'Connor as influences on its myspace page. The band uses vioin and double bass, in addition to guitar and drums, to create wistful melodic backdrops for songwriter Michael Apinyakul's evocative portraits of the trials and tribulations of rural life. Conjurer of heartland poetics, Shoeshine Blue is sure to become a Portland favorite. www.myspace.com/shoeshineblue
Map & Directions
Tags for this Event:
Music > Americana
Property > White Eagle
Related content (tags):