& Lola's Room
1332 W. Burnside
Portland, OR 97209
(503) 225-0047
crystal@mcmenamins.com
Sold out!
George Clinton & Parliament Funkadelic
Doo Doo Funk All Stars
8 p.m. doors, 9 p.m. show |
SOLD OUT |
21 and over
About George Clinton & Parliament Funkadelic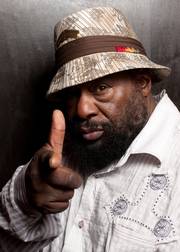 George Clinton is one of the foremost innovators of funk music, and was the mastermind behind the bands Parliament and Funkadelic. Clinton was inducted into the Rock and Roll Hall of Fame in 1997 with 15 other members of Parliament-Funkadelic.
Clinton started his career with the Parliaments, a barbershop doo-wop ensemble, which scored a major hit with "I Wanna Testify" in 1967. Clinton then began experimenting with harmonies, melody, and rhythm, and taking cues from the psychedelic movement, forever setting himself apart from the Motown era.
By the early 1970s, the group's tight songs evolved into sprawling jams around funky rhythms. They dropped the "s" from the band name and Parliament was born. Around the same time, Clinton spawned Funkadelic, a rock group which fused psychedelic guitar distortion, bizarre sound effects, and cosmological rants with danceable beats and booming bass lines. Funkadelic recorded a number of influential concept albums, including Free Your Mind and Your Ass Will Follow, Maggot Brain, and America Eats Its Young.
Parliament and Funkadelic captured 40 hit R&B singles, including No. 1 hits "Flashlight," "One Nation Under a Groove," "Aqua Boogie," and "(Not Just) Knee Deep." Clinton's collaborators included keyboardist Bernie Worrell, guitarist Eddie Hazel, bassist Bootsy Collins, saxophonist Maceo Parker, trombonist Fred Wesley. On stage, spectacle ruled the day, with an enormous mothership, outrageous costumes, and marathon performances.
In the 1980s, Clinton emerged as a successful solo artist. He released Computer Games with the No. 1 hit single "Atomic Dog," produced the Red Hot Chili Peppers' pioneering Freaky Styley, and signed with Prince's Paisley Park label. He also began to experiment with the urban hip-hop music scene, as a generation of rappers reared on P-Funk began to name-check him.
Clinton has become recognized as the godfather of modern urban music. Beats, loops, and samples of P-Funk have appeared on albums by OutKast, Dr. Dre, Snoop Dogg, Busta Rhymes, Missy Elliot, De La Soul, Fishbone, and many others. As Clinton has said, "funk is the DNA of hip-hop and rap." In 1996, Clinton released the solo album The Awesome Power of a Fully Operational Mothership, which reunited him with Bernie Worrell and Bootsy Collins.
In 1997, Clinton and Parliament-Funkadelic were inducted into the Rock and Roll Hall of Fame, Guitar Center's Hollywood Rock Walk, and earned a Lifetime Achievement Award at the NAACP Image Awards. In 2002, Spin voted Parliament-Funkadelic No. 6 of the 50 Greatest Bands of All Time.
Over the past decade, Clinton has continued to play sold-out shows across the globe, while a countless number of his songs have been licensed for film and television. Currently, he is compiling new and old songs for an exclusive online-only release, fighting for artist rights through the P-Funk Initiative (a bill drafted with Congressman John Conyers Jr. to protect against copyright and royalty theft), and blogging about these issues on his website, FunkProbosci.com. Clinton also continues to support the youth through the Mother's Hip Education Foundation, and through donations to the Barack Obama Green Charter High School in Plainfield, New Jersey.
MySpace page:




Band webpage:
About Doo Doo Funk All Stars
Spawning from countless musical backgrounds and coming together for a common cause, The Doo Doo Funk All-Stars are breathing new life into the music scene throughout the globe. The collaborative core group consists of Dookie Green (Tony Ozier) as the frontman on keys, vocals and instrumentation. Band members include Tyrone Hendrix and Dennis Dove on drums, Errick Lewis on bass, Steveland Swatkins on keys and talkbox, with vocals from Etta Ward, Nafisaria Scroggins, and Michael Whitmore. Collectively, the All-Stars have shared the stage and worked with the top funk/soul/r&b/hip-hop acts, including The Wu-Tang Clan, India Arie, Bernie Worrell, Average White Band, Al Green, and The Foreign Exchange. Backed by a smooth sound lent by years of combined musical experience of all the band members, a globally-aimed ambition, and a level of talent and skill necessary to begin a movement, the Doo Doo Funk All-Stars work tirelessly to shed light on this unique style of music with a truly uncommon approach. Their motivation is not just to create quality, funky music, but to resurrect the genre and display what funk is meant to sound like. Through intergalactic travels and staggering combined creativity The Doo Doo Funk All-Stars are a breath of fresh air to funk fans and music lovers everywhere.
Map & Directions
Tags for this Event:
Property > Crystal Ballroom & Lola's Room
Related content (tags):