& Lola's Room
1332 W. Burnside
Portland, OR 97209
(503) 225-0047
crystal@mcmenamins.com
Crystal Ballroom Birthday!
Hot Buttered Rum
Sassparilla
Ashleigh Flynn
Red Wanting Blue
Floating Pointe
The Blackberry Bushes
Poison Waters
Mimi Naja
2 p.m. Property tour; 3 p.m. Music begins; 6 p.m. Beer Tasting; 7 p.m. Interview with Red Wanting Blue |
$10 advance, $10 day of show for Crystal Ballroom music; other music free |
All ages welcome for Ringlers and Ballroom music; 21 & over for Al's Den, Lola's Room, and Property Tour
Buy Tickets
Tickets on sale now!
About Crystal Ballroom Birthday!
Birthday Schedule of Events
Subject to change, with the addition of more happenings…
Crystal Hotel (21 & over only)
2 p.m. · Property tour with McMenamins Historian Tim Hills
Crystal Ballroom (all ages welcome)
7 p.m. 'til late · Hot Buttered Rum · Sassparilla · Ashleigh Flynn
$10 advance/at the door
Crystal Brewery (21 & over to taste)
4 p.m. 'til 7 p.m. · Tours and ale sampling
Ringlers Pub (All ages welcome)
3 p.m. 'til 6 p.m. · Blackberry Bushes
Al's Den (All ages welcome 'til 5 p.m.; then 21 & over)
3 p.m. · History tour ends; grab a drink at the bar while you wait for…
3:30 p.m. · "Showtime! At the Crystal" – Joe Kregal, a native Portlander, talks about the powerful, incendiary R&B performances (and great behind-scenes details) he witnessed at the Crystal in the early 1960s, by such legendary artists as James Brown, Jackie Wilson and Ike & Tina Turner.
5 p.m. · (21 & over) Performance by Portland's finest (and funniest) drag star, Poison Waters
7 p.m. · (21 & over) Mimi Naja (of Fruition) with Brad Parsons
Lola's Room (21 & over)
4 p.m. 'til 7 p.m. · McMenamins ales, wines and spirits tastings
4 p.m. 'til 6 p.m. · Floating Pointe
6 p.m. · Limited-Edition Beer Tasting
7 p.m. · Interview with the Tour Band
7:30 p.m. · Great NW Music Tour presents… Red Wanting Blue
About Hot Buttered Rum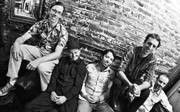 Initially formed as an acoustic string band, seven years of constant touring has transformed Hot Buttered Rum into a plugged-in, percussive powerhouse that wows critics and fans alike. Their left-coast rock reveals an access to jazz, country, and world music that few groups can match. While the band's music belies simple categorization, its songwriting and stage chemistry delights listeners at every turn.
Hot Buttered Rum's story is one of evolution. The "high altitude bluegrass" era captured on their first studio album, In These Parts, found the band enjoying success at such diverse stages as the Newport Folk Festival, Bonnaroo, Grey Fox, High Sierra, Wakarusa, and the Telluride Bluegrass Festival. Along the way, the group shared the stage with some of today's most accomplished artists, including Phil Lesh, Bela Fleck, Ben Harper, and Nickel Creek's Chris Thile. In 2006, acoustic pioneer Mike Marshall produced Hot Buttered Rum's second studio album, Well-Oiled Machine, and captured the sound of a hard-touring band charting its course along the highways and byways of American music.
The continued expansion of Hot Buttered Rum's sound and writing found a home in Live in the Northeast. More electric pickups made their way to the stage, along with an increased focus on songwriting. As the band developed a heavier sound, fans and press began to describe them as a rock band with acoustic instruments. It therefore came as no surprise when, following the departure of mandolinist Zac Matthews, the other founding members Aaron Redner (fiddle and mandolin), Bryan Horne (upright bass), Nat Keefe (guitar), and Erik Yates (banjo, guitar, woodwinds, and resophonic guitar) joined forces with Everyone Orchestra conductor and drummer Matt Butler.
The new lineup has recently emerged from San Francisco's Mission Bells Studios, where they recorded Limbs Akimbo under the watchful eye of producer Tim Bluhm (The Mother Hips). Featuring guest appearances by Jackie Greene (Skinny Singers, Phil Lesh and Friends) and Zach Gill (ALO, Jack Johnson), the album marks the beginning of a new creative phase. Limbs Akimbo now signals the arrival of a highly matured, impressively listenable, stirringly rocking, and pleasantly poppy sound. Proving himself a forceful producer, Bluhm has struck an impressive balance between highlighting the multi-instrumental, cross-genre elements of the band's sound while avoiding the contemporary trappings of music that is complex and different merely for the sake of complexity and difference. The result is beautifully paradoxical: a tremendous, minimalist pop album full of hints, teases, and cameos of the band's complex musical personality.
In "Something New," Keefe recites the familiar wedding adage "something old, something new, something borrowed, something blue." And right there, in a nutshell, is Limbs Akimbo: an album that is both an elegy and reincarnation of Hot Buttered Rum's past sound, that borrows heavily from the rock pantheon while sprinkling in just a little of everything else.
About Sassparilla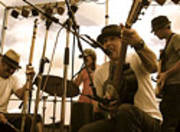 Sassparilla was fermented in the bold-dank regions of Chicago and Pittsburgh and spewed onto the sidewalk of Portland's 24th & Alberta from the mouth of a 5-gallon bucket, with homemade instruments in their clutches: a cigar-box guitar made from Granny's old jewelry box, a washtub bass given a severe beating with a stick, a polka dotted bucket drum kit with rusty break-drum & a hat-box bass. Adding to the mix is a smooth, lulling washboard's rat-tatting - articulated by a man named "Sweet Pea'" and a melodic and blustery fiddle/harmonica duo that dances and interjects like a muscular horn section. With passion, fury, speed, hustle and emotion, the whiskey rains like hellfire, the fingers fly over resonators, and this sextet muster their collective will to never play like cowards.
The result is a one-of-a-kind concoction of homemade, punk-infused, Portland blood-jug holler music.
About Ashleigh Flynn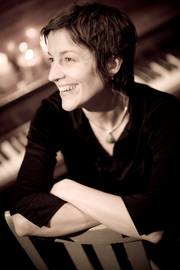 Ashleigh Flynn's finest album, American Dream, is alive with stories about down-and-outers, young and old, all still hopeful, as is Flynn, that they can achieve the American Dream.
From Kentucky, Ashleigh Flynn grew up foot stomping along the Ohio River as the steamboats and barges made their way to the muddy Mississippi. An electrifying performer blessed with unbridled charisma and the voice of angel, Flynn has released two previous full-length studio efforts, Chokecherry (2002) and Ashleigh Flynn, self-titled (1999). The Village Voice regards Ashleigh as "A darling of the NW Americana scene", writing: "Flynn adds a smoky soulful voice ... marrying styles such as bluegrass to pop."
Flynn has traveled near and far, touting her tunes, and amassing new fans in markets all over the US & Europe - including month long "up and comers" residencies at The Living Room and Pianos in New York City, and Toad in Cambridge, and a few trips across the pond.
About Red Wanting Blue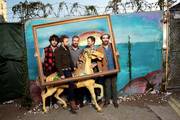 Led by singer-songwriter Scott Terry, Red Wanting Blue is proudly based in Columbus, Ohio, but might as well be America's local band. For years, the group had been hiding in plain sight as Terry went about logging thousands of miles on the road throughout the nation's heartland, making fans the hard way - one at a time.
With only the aid of word of mouth, hard work and perseverance, Red Wanting Blue has established an exceedingly loyal following in and around the Midwest where the band regularly fills clubs normally reserved for bigger names.
Terry's passionate and poetic songs, anchored by his powerful baritone, are the kind of tunes that could only have been written by a man who has lived this kind of life on the road. It's these songs and Terry's moving delivery of them that knocks 'em dead, but leaves 'em talking. Most importantly, it keeps 'em coming back for more. Traveling with Terry are band mates Mark McCullough (Bass Guitar, Vocals), Greg Rahm (Keys, Guitars, Organ, Vocals), Eric Hall Jr. (Guitars, Lap Steel, Mandolin, Banjo, Vocals) and Dean Anshutz (Drums, Percussion, Glockenspiel), who together build the unshakable rock powerhouse that has helped bring Red Wanting Blue to nationwide attention after all of this time.
Red Wanting Blue's upcoming studio recording From The Vanishing Point (Jan. 10th, Fanatic Records) is a coming-of-age album for the band and its first to be recorded for a label after several self-released records. Picking up where its autobiographical previous release These Magnificent Miles left off, From The Vanishing Point is the answer to those whose heads have been turning to ask, "Who is this band?" The album sheds some of Red Wanting Blue's small-town sensibilities as it evolves into the world-class rock n' roll outfit that audiences have believed in for years and marks an official move to the national stage for a band that will always remember where it's from.
Press Quotes:
"...enduringly bright, promising and wonderful." - Blurt
"...delivered with such conviction that you don't doubt it for a second." - Performing Songwriter
"...sums up everything anyone is trying to say in pop music today..." - The Aquarian
"...often stunning, always inviting, and shows a band you can trust in full flower." - Foxy Digitalis
"I've already played it seven times in a row, and it looks like it'll go an eighth... ninth, and most likely fifteenth time before I'm done here." - The Front Loader
"We're talking some seriously high caliber musicians folks. One song in and I was hooked. They proceeded to blow me away song by song." - Quirky New York Chick
"I've made them an exception to my no-majors rule because this album is damn good." - Berkeley Place
About Floating Pointe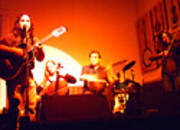 Floating Pointe currently plays their music around Portland as an acoustic trio with singing, guitars, and a viola, or sometimes as a very electronic, guitar heavy six-piece band.
"Sweet melodies and layers of sound you can almost taste. From acoustic to synth, rock groove to bedside sleepytime."
About The Blackberry Bushes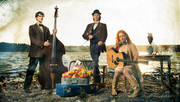 The Blackberry Bushes are a Northwest Alt-folk String Band. The Bushes' innovative acoustic sound draws from the deep roots of American traditional music to create a rich patchwork that shares threads with artists like Gillian Welch and David Rawlings, Sean Hayes, and Crooked Still. Jes Raymond's joyful singing and songwriting and is supported by carefully constructed soundscapes that feature the virtuosic fiddle of Jakob Breitbach. A longtime Northwest favorite, the band has developed into a national act, with recent tours across the US and Europe. Their live show is joyous and vibrant with an intention to move the audience in their hearts and out of their seats.
Jes Raymond first started singing in a church children's choir in her hometown of White River Junction, Vermont. Her parents were avid bluegrass fans, but it was in North Carolina where she was a music major at UNC that she found her own love for the "mountain sound". She picked up a used guitar, and has followed it wherever it has led. She is the recipient of the Jackstraw Productions Artist Award and the Seattle City Artist Award.
Jakob Breitbach first learned to play the fiddle when he was 3 years old with a paperback copy of "The Hobbit" and a wooden spoon. At 8 years old he was called onstage to play a tune with the grandfather of bluegrass, Bill Monroe. Jakob earned his degree in Jazz Violin from Cornish College of the Arts and continues to study with his mentor Paul Anastasio. In 2008 he toured with The Asylum Street Spankers out of Austin, TX.
"Their blend of traditional Bluegrass and Folk elements with more contemporary sounds has an appeal not seen since Nickel Creek or The Be Good Tanyas." (Joseph Kyle; The Big Takeover)
The Blackberry Bushes Stringband has performed at The Wintergrass Festival in Bellevue, WA; The Oregon Country Fair; Northwest Folklife; Swallow Hill Music Association, Yosemite's Strawberry Music Festival, North Carolina's Shakori Hills Festival, Berkley's Freight and Salvage and hundreds of other venues across the United States and Europe. It is a rare magic to artfully fuse elements from many genres into a sound that retains distinct threads of sonic color.
Daredevil, delicate, and like their thorny namesake, rooted and growing, growing, growing.
About Poison Waters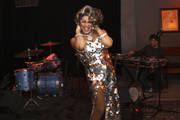 Poison Waters is not just a personality, Poison Waters is an experience. Hundreds of thousands have enjoyed the one of a kind entertainment and dynamic presence that only Poison Waters can provide. Over two decades young, the Poison Waters experience continues to grow and update itself with our ever changing times, while holding tight the unique qualities that this Community Leader has become synonymous with: Dedication, Passion, Humor, Joy and Positive Light!
Warm and welcoming, quick witted and savvy........Poison Waters is an experience you'll not soon forget!
Map & Directions
Tags for this Event:
Music:
Americana
Blues
Alternative/Indie
Rock
Singer/Songwriter
Property > Crystal Ballroom & Lola's Room
Related content (tags):