30340 SW Boones Ferry Rd
Wilsonville OR 97070
Phone: (503) 427-2500
Fax: (503) 427-2519
Contact Us
Boone's Ferry Autumn Ale Fest
Music from Water Tower
Saturday, November 2, 2013
2 p.m. 'til 10 p.m.; music at 7 p.m. |
Free admission; tasting mug $8, includes two tasting tokens; additional tokens $1 each |
All ages welcome; 21 & over to drink the ales
About Boone's Ferry Autumn Ale Fest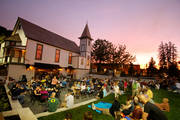 As the summer months get further behind us and the weather gets chillier and wetter, heartier and bigger beers start to be what people thirst for. With this in mind, we will be convening the first Saturday in November at McMenamins Old Church & Pub in Wilsonville to celebrate the harvest season. Ten beers that are perfect for the season will be offered up just for your drinking pleasure. The ten autumn beers consist of two from the Old Church Brewery and the other eight from eight other nearby McMenamins Breweries. These brewers will all be on hand to share their knowledge and insights on their craft and answer any queries you may have. There will be judges at the fest to impart their will and determine the best beer of the bunch. The winning brewer will be awarded the Boone's Ferryman Oar as a trophy to display in their brewery for the year.
The fest will run from 2 p.m. 'til 10 p.m. A commemorative $8 glass mug is required to taste the festival beers and includes 2 tasting tokens – additional tasting tokens cost only $1 – one token for a 4-ounce taste or three tokens for a full mug. At 7 p.m. free live music will be played in the Old Church until the end of the fest. Amazing food specials that pair perfectly with these autumn-styled beers will be available for purchase. This will be the beginning of an enjoyable autumn tradition for years to come.
Beer Menu

Old Church Oktoberfest
Style: Lager
Old Church Brewery
Mark Goodwin
Our annual Oktoberfest Lager is a clean, medium-bodied lager dominated by malty sweetness and a bready, biscuit-like aroma. The use of German Munich, Vienna and Pilsner malts provide a complex mouthfeel along with a layered aroma. This beer has been lagering since the beginning of March.
Malts: German Pilsner, German Munich, German Vienna, Briess Carapils, Crystal 15L, German Caramel Munich 120L
Hops: Santiam
OG: 1.062 TG: 1.011 ABV: 6.6 IBU: 23 SRM: 12
Buzz Words: Malty, Caramel, Sweet, Lager
Roggenbier
Style: Ale Old
Church Brewery
Nathan Whitney
Roggenbier is a medieval ale usually made from a grain bill of about half barley malt and equal portions of wheat and rye malts. This beer is mildly hopped, which allows for the rye portion of the grain bill to dominate the palate. You'll notice a cloudy haze that the Germans call "naturtrüb" as this beer style was popular before modern filtration practices were implemented. Prost!
Malts: Best Pilsen, GWM Rye, GWM C120, Baird's Carastan, GWM Chocolate
Hops: Crystal, Perle Yeast: Weihenstephan Weizen
OG: 1.049 TG: 1.006 ABV: 5.55 IBU: 23 SRM: 16
Buzz Words: German, Spice, Rye, Fall
Lord Of The Wood Imperial Pumpkin Ale
Style: Imperial Ale
Crystal Brewery
Dan Black, Mark Goodwin
This brew was aged for three months in a fresh Edgefield Distillery Three Rocks rum barrel and then cellared for a year. Hand-chopped organic pumpkins were roasted and mashed into the grain during brewing as well as in the kettle. Clear orange with an off-white lacey head and strong rum spice nose, you will hardly notice the high alcohol content. Eight pounds of pumpkin per keg provide the color and meatiness while carefully chosen spices provide the seasonal backbone of the beer.
Malts: German Pilsner, Caramunich 40L, Flaked Barley
Hops: Golding, Brewers Gold Yeast: German Kolsch
Adjuncts: 100 pounds of fresh organic pumpkin from Lauer Boer Goat Farm in Oregon, fresh Ginger, Clove, Nutmeg, Cinnamon, Vanilla, Oak chips
OG: 1.075 TG: 1.010 ABV: 9.5 IBU: 15 SRM: 6
Vicar's Knickers Esb
Style: Extra Strong Bitter
Cornelius Pass Roadhouse Brewery
Chris Oslin, Brady Romtvedt
Vicar's Knickers ESB hosts a multitude of malt complexity while abstaining from unnecessary sweetness. Gracious additions of Golding hops give this delicious ale a bright nose and uplifting finish that will have you asking for another!
Malts: Golden Promise, Maris Otter Pale, Flaked Barley, Honey Malt, Cara Munich 40, Brown
Hops: Chinook, Golding
OG: 1.059 TG: 1.012 ABV: 6.06 IBU: 41 SRM: 9
Buzz Words: Bright, Balanced, Heavenly
Red Leaf IRA
Style: India Red Ale
John Barleycorns Brewery
Tim Proctor
Brew styles change with seasons just like leaves on a tree. As the year turns from summer to fall, and fall to winter, beers tend to get heavier. This India Red Ale's deep, rich amber color comes from caramel and roasted barley. Slightly sweet malt flavors are perfectly matched and balanced with layers of hop bitterness and floral citrus aromas.
Malts: Marris Otter Pale, Wheat, Bonlander Munich, Crystal C75, Midnight Wheat
Hops: Simcoe, Chinook, Cascade
OG: 1.072 TG: 1.014 ABV: 7.48 IBU: 60 SRM: 16
Buzz Words: Moderately Bitter, Hoppy, Slightly sweet
Barrel-Aged Chocolate Covered Cherry Brown
Style: Brown Ale
West Linn Brewery
Jacob Wilson
Did everybody give chocolate-covered cherries to their grandma for presents or was it just me? Don't get me wrong, I enjoy one here and there, but grandma? She seemed to eat them exclusively. The older she got, the more she ate. So this one goes out to all the grandmas--past, present and future. A complex grain bill creates a backdrop of chocolate and slight nuttiness but the chocolate emerges when the cacao nibs get added to the boil. All of these flavors come together with the addition of 42 pounds of fresh cherry at the tail end of the fermentation. So grab a brew, watch an episode or two of The Golden Girls, and celebrate grandmas everywhere.
Malts: Pale Ale, Flaked Barley, C15 & C120 Crystal, Chocolate, Brown
Hops: Nugget, US Golding
OG: 1.048 TG: 1.010 ABV: 4.90 IBU: 26 SRM: 17
Buzz Words: Chocolate, Cherry, Grandma
Imperial Parson Brown
Style: Brown Ale
Old St Francis School
Michael "Curly" White
The Parson Brown has become a winter standard at OSF the last five years, but this year we decided to enhance the batch: More malts, hops, flavor and goodness! The mellow toffee malt flavors combine well with a light roast character. More hops, especially of the floral varietal, bring a nice roundness to the beer. Earthy and floral aromas give in to a taste of piney hops that combines a slight bitter and sweet flavor. Higher in alcohol than most other brown ales, Imperial Parson has slight warmth at the back of your drink and warms your soul when shared with good friends. This particular Parson Brown may be just what you are looking for to take a stroll through a winter wonderland.
Malts: GWM Pale, GWM Munich, CaraMunich 40L, Flaked Barley, Baird's Brown, GWM Chocolate
Hops: Chinook, Cascade, Sterling, Amarillo, Santiam
OG: 1.080 TG: 1.016 ABV: 8.25 IBU: 53 SRM: 15
Buzz Words: Malty, Full-bodied, Warming
Hibernator Doppel Bock
Style: Lager
Concordia Brewery
Matt Carter, Dave Kosanke
Our newest release is just in time for cold weather and rainy days: Hibernator. Massive malt flavor and aroma shine throughout this winter lager. We used German lager yeast and treated our water to capture the essence of Munich. Prost!
Malts: Best Light Munich, Best Pilsen, Briess Aromatic, Best Carmel Malt II, Melanoidin, Bairds Crystal 135/165
Hops: Crystal
OG: 1.072 TG: 1.020 ABV: 6.71 IBU: 20 SRM: 18
Buzz Words: Crisp, Malty, Strong
Black Adder
Style: Stout
Fulton Brewery
Ryan Mott
This concoction is an alternative version of this year's Black Widow. Like Black Widow, Black Adder is deep black and full of robust notes afforded by generous amounts of black malt, roast malt, crystal malt and licorice root. Next comes the twist: it's then dry hopped and aged with Mosaic Hops that have been smoked over apple wood. There is a lot going on here; try and pick out each individual flavor as this limited-edition brew floods your senses.
Malts: Premium Two-Row, Vienna, Crystal 40L
Hops: Smoked Mosaic, Centennial, Crystal, Simcoe
OG: 1.065 TG: 1.008 ABV: 7.35 IBU: 56 SRM: 6
Buzz Words: Moderately Bitter, Robust, Rebellious
Lord Snow Imperial Stout
Style: Imperial Stout
Edgefield Brewery
Matt Bergfield, Bruce Loux, Drew Phillips, Will Gaither, Curtis Brenton
Black as a crow, this strong, dark beer was brewed with wintergreen and peppermint candies to give it a hint of the chill of winter, but its massive, thick body and warming strength help to ward off that chill. A huge supporting cast of dark malts--including 150 pounds of rolled oats to add a smooth mouthfeel--provide a great depth and complexity of flavor accentuated by the herbal, faintly sweet undertones of wintergreen and peppermint. Grab a pint and bundle up, winter is coming….
Malts: Premium 2 Row, Vienna, Rolled Oats, Crystal 120, Extra Special Malt, Roast, Chocolate, and Black malts
Hops: Goldings
Adjuncts: Peppermints, wintergreen leaves
OG: 1.087 TG: 1.022 ABV: 8.38 IBU: 39 SRM: 39
Buzz Words: Strong, Dark, Stark
About Music from Water Tower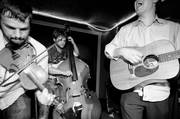 Hailing from Portland, the Water Tower Bucket Boys perform their hard-driving, soul-saturated traditional and original music with tight vocal harmonies and powerful instrumentals. The energy from their lightning stage performances will literally plow through you as you are transcended to another place and time.
The Water Tower Bucket Boys got their start busking on the street corners of Portland and enlivening local square dances. Honing their sound as a solid dance band, playing up and down the West Coast, as well as in the east, the boys have perfected their unique style, drawing from classic bluegrass, old-time, and country songs. Their original repertoire, heavily influenced by blues and country, distinguishes them from other string bands. This one-of-a-kind sound has been influenced and shaped by almost every genre of American music. Just like the traditional songs, their originals works will take you on an entertaining roller-coaster of emotions, while still maintaining that high-lonesome integrity. Whether busking on the streets of downtown Portland or traveling around the world, their infectious love of the music spreads far and wide.
video:




website:
Map & Directions
Tags for this Event:
Events:
Beer, Wine, and Spirits
McMenamins Celebrations
Property > Wilsonville Old Church & Pub
Related content (tags):