Relax in style amid the legends
112 N. Tower Ave.
Centralia, WA 98531
Local: (360) 736-5164
Elsewhere: (866) 736-5164
Contact Us
17th Annual Olympic Club Brewfest
Whiskey Pass to the World!
12 noon 'til 11 p.m.; music at 6 p.m. |
Free admission; $1 and $2 for samples |
All ages welcome; 21 & over to drink the ales
About 17th Annual Olympic Club Brewfest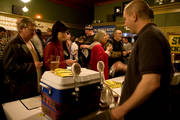 How's about some history, a lot of beer, "the world's best baked beans" and more beer? Sounds good, right? Well it is.
In one of its most popular events of the year, the historic 1908 Olympic Club hosts their annual brewfest every Spring, in which our McMenamins' Washington brewers along with guest brewers and importers gather together to pour their finest.
In addition to soaking up the atmosphere of one of McMenamins' most legendary establishments – with its history of railway bootlegging, captured train robbers, secret call buttons, subterranean tunnels, rumored hauntings and more – beer enthusiasts can also tour the Olympic Club brewery, relax in the outdoor seating area, play a round or two of pool and enjoy specials from the open-pit barbecue, including bratwurst, tri-tip steak and burgers with those famous baked beans.
Schedule

Brewfest · 12 noon 'til 11 p.m. · Punch cards: $10 for 10 punches (1 punch for a taster; 4 for a pint)
Whiskey Pass · 4 p.m. 'til 8 p.m. · $2 token per sample
Jackstraw · 6 p.m. 'til 8 p.m.
Sassparilla · 9 p.m. 'til 11 p.m.
Take the Train!
Take the train and return the same day, or stay late for the music and return the following day. Two-for-one Amtrak vouchers are available at all McMenamins. See the Amtrak Schedule for complete train times.
From Portland to Centralia, take the 8:30 a.m. or 12:15 p.m. train and return on the 7:11 p.m. train, or return the next day on the 9:11 a.m. or 1:06 p.m. train.
From Seattle to Centralia, take the 9:30 a.m. or 11:25 a.m. train and return on the 7:46 p.m. train, or return the next day on the 10:01 a.m. or 1:46 p.m train.
• • •
Overnight Brewfest Package
The Olympic Club is sold out but we've partnered with Holiday Inn Express. Enjoy the Olympic Club's annual Brewfest and leave the driving to them.
Overnight stay for 2 at the Holiday Inn Express
Shuttle service to and from the Olympic Club Brewfest
Full hot breakfast
Pool and hot tub, free Wi-Fi
Brewfest rates start at $139, based on double occupancy.
Book at hiexpress.com, using Group Code OBF.
• • •
Participating McMenamins Breweries
McMenamins on the Columbia
Vancouver, Wa.
Brewer: Matt Freeland
Smoked Oak Two Fingers Scotch Ale
Hints of peat and sweet malt caress over your palate, the full flavors of a smooth scotch in an easy drinking brew. Ordering by the digit originated in American saloons in the Old West (1830s to 1920), where you would order whiskey by the width of the barman's finger. The rule doesn't work with pints, but as a nod to the ways of old, just order a pint of two fingers and let the light scotch flavors refresh you. At 6.71%, this will keep you warm from the inside without the burn of a scotch neat.
Malts: Golden Promise, Vienna, Victory, Special Roast, Roasted Rye, Kiln Amber
Hops: Brewer's Gold, US Golding
OG: 1.067 TG: 1.015 ABV: 6.71% IBU: 17 SRM: 17
McMenamins Queen Anne
Seattle, Wa.
Brewer: Brian Lawrence
Solar Flare
A unique golden ale with a twist. This beer starts with a combination of high-quality Pilsner and Pale malts, which provide body as well as balance. The use of Tettnanger hops in addition to lemon, lime, orange, grapefruit and ginger create an interesting yet not overpowering spicy and citrus flavor.
Malts: Pilsner, Pale
Hops: Nugget, Tettnanger
Special ingredients: Lemon, lime, orange, grapefruit, ginger
OG: 1.050 TG: 1.008 ABV: 5.42% IBU: 30 SRM: 3
Mill Creek Brewery
Mill Creek, Wa.
Brewer: Charlton Fulton
Hop Flood IIPA
There's a massive downpour coming. Before a pint of this Imperial IPA touches the lips there is a whirlwind of citrus and floral aromas that seductively caresses the nose. But once this hop ambrosia goes down it releases a torrent of intensely hoppy flavors from every direction. The finest malted grain and a true cornucopia of hop flowers are used to make this hefty bronze-colored brew. Take a break from the regular IPA and taste the Hop Flood!
Malts: Pale Ale Malt, Optic Malt, 20L Crystal Vienna, Oat Malt, Crystal Rye
Hops: Zeus, Centennial, Mosaic, Citra, Simcoe, Cascade
OG: 1.070 TG: 1.007 ABV: 8.13% IBU: 82 SRM: 7
Six Arms Brewery
Seattle, Wa.
Brewer: Kyle Jungck
Decadence Porter
If you're in the mood for something sweet slightly heavy and full of rich flavor, the Decadence Porter is the perfect choice. Loaded with thick chocolate and caramel notes and topped off with a vanilla bean in the keg, this desert of a beer couldn't possibly be more decadent!
Malts: Pale, 2-Row, Munich, Wheat, C-60, Chocolate
Hops: U.S. Goldings
OG: 1.052 TG: 1.013 ABV: 5.05% IBU: 31 SRM: 11
East Vancouver Brewery
Vancouver, Wa.
Brewer: Tega Chijavadze
Madeleine's Special Pilsner
A Bavarian-style lager that is clean, refreshing and crisp. Lagers take time to ferment and mature, but we think you agree that the wait is more worth it.
Malts: Superior Pilsner, CaraMunich 40,
Hops: Perle, Sterling
OG: 1.047 TG: 1.007 ABV: 5.17% IBU: 13 SRM: 2
Spar Brewery
Olympia, Wa.
Brewer: Kyle Jungck
Open Air IPA
This new look at an old favorite was made with The Spar Café's famous artesian water and features a very flavorful new hop - Mosaic. You can first take in this hop with its tropical fruity aroma as you bring the beer to your mouth. Next, you can taste it as it follows this richly malty, light-bodied beer. Finally, the moderately bitter fruitiness lingers begging you for more.
Malts: Marris Otter, C-40, Vienna, Malted Wheat
Hops: Nugget, Mosaic
OG: 1.060 TG: 1.010 ABV: 6.45% IBU: 55 SRM: 3
Old Church Brewery
Wilsonville, Ore.
Brewer: Mark Goodwin
Sean Bomb Irish Red Ale
This is a malt-forward beer that has a fresh bread and sweet malt aroma, a red garnet hue with hints of brown and orange hidden within and an off-white lacey head. On first sip you experience, a balanced roast and creamy character and it ends with a smooth clean mouth feel.
Malts: Marris Otter, Caracrystal Wheat, Caramunich 40L, Rolled Oat, Roast Malt
Hops: Golding
OG: 1.058 TG: 1.013 ABV: 5.8% IBU: 24 SRM: 14
Olympic Club Brewery
Centralia, Wa.
Brewer: Kyle Jungck
Red Headed Ruby
We have taken one of our most popular standards and spiced it up with ginger to create Ruby's red-headed stepchild. This ale is light, crisp, tangy and refreshingly fruity. Great Western Premium 2-row, Oregon-grown, processed raspberry purée and fresh ground ginger are used to craft this unique version of an old favorite. Cheers!
Malt: Premium 2-row Malt
Hops: Nugget
Fruit: Raspberries
Special ingredient: Fresh ginger
OG: 1.039 TG: 1.005 ABV: 4.39%
Participating Guest Breweries
Elliott Bay Brewing Company
Seattle, Wa.
Fauntleroy Imperial Stout
This imperial stout has an inky black color, brown lacy foam and a robust aroma. The beer is characterized by complex malt sweetness with hints of port and dark fruit-like figs.
Malts: (all organic) Pale Malt, Pilsner, Caramel, Chocolate, Roast, Black
Hops: Chinook, Glacier, Ahtanum, Cascade
OG: 1.084 TG: 1.015 ABV: 8.90% IBU: 72
Organic Demolition Ale
This is our house version of imperial pale ale, a ramped up version (higher alcohol and hops) of India Pale Ale that has grown in popularity throughout the country and now has its own category in major competitions. This beer won a bronze medal for the American strong ale category in the 2003 Great American Beer Festival.
Malts: Pale Malt, Pilsner, Wheat, Roast, Black, Caramel
Hops: Northern Brewer, Chinook, Magnum, Simcoe, Amarillo, Cascade
OG: 1.068 TG: 1.012 ABV: 7.25% IBU: 90
Loowit Brewing Company
Vancouver, Wa.
Vandalia Summer Ale
Crisp and golden, this refreshing beer is made with 42 pounds of raspberry. Not too sweet, not too tart, Vandalia Summer Ale features a light and pleasant berry flavor that captures the essence of summertime year-round.
ABV: 4.2% IBU: 25 SRM: 4.3
Shadow Ninja IPA
Swift and silent, full of flavor, this skilled, shadowy master of IPAs will take you by surprise yet honorably leave your palate intact. Aggressive late hop additions tempered with stealthy, fleeting bitterness make Shadow Ninja IPA a formidable and respectable beer.
ABV: 6.8% IBU: 49 SRM: 8
Diamond Knott Brewing Company
Mukilteo, Wa.
Slane's Irish Style Red
Ah, the Slane's! Our Irish-style spring seasonal! Seriously, we don't need to risk upsetting anyone of Irish decent to tell you that this beer is a delicious treat. Named in honor of our founder's grandfather, this ale has a sweetish, caramelly aroma with a very tiny hint of roasty smokiness imparted by the chocolate malt. Loads of caramel malt gives this beer a beautiful red hue. Munich malt and flaked barley make for a big, malty, full-bodied middle which drops of into a dry, crisp finish.
Malts: 2-Row Pale, Munich, Caramel, Chocolate, Flaked Barley
Hops: Galena, Willamette
OG: 1.054 TG: 1.011 ABV: 5.4% IBU: 30
India Pale Ale
Are you looking for a palate busting, tongue numbing, melt-the-enamel-off-your-teeth super, super hoppy Northwest IPA? Well then, this probably ain't your beer...move along, move along. Instead, we have been working since 1994 to make our flagship IPA a perfectly balanced blend of significant hoppiness with a sturdy malt backbone. Our IPA is very hop-forward with aromas of grapefruit and cedar as well as resinous bitterness imparted by several additions of Galena and Columbus hops. A simple but expertly designed grain bill compliments the hops by imparting subtle caramel and malt characters.
Malts: 2-Row Pale, Munich, Carapils, Caramel
Hops: Galena, Columbus
OG: 1.054 TG: 1.006 ABV: 6.2% IBU: 40
Mt. Tabor Brewing Company
Vancouver, Wa.
P5 Pale Ale
Named for Mileage Post 5 or P5 stone marker erected in 1854 that's located in Mount Tabor, our flagship pale ale is on the slightly hoppier side then most but that's what make it true to its NW roots.
ABV: 5.4% IBU: 49
Longest Day Stout
Some days just don't go the way you planned, but good things come from it none the less. Darker and roastier than our normal stout, this beer has a slightly hoppy finish.
ABV: 6.2% IBU: 71
Scuttlebutt Brewing Company
Everett, Wa.
Scuttlebutt's Tripel 7 Belgian Style Ale
Very light in body but heavy in strength of alcohol, Scuttlebutt's Tripel 7 is an honest model of deception in the finest Belgian tradition. Delicate clove and white pear flavors are evident when the beer is young. If you're able to try one with a year or two of age, complex apricot flavors emerge. Only here for a short time of the year, so it's not to be missed.
ABV: 9% IBU: 10
Scuttlebutt's Earthy Blonde
This empowered Blonde believes in a healthy lifestyle. This beer is infused with Rooibos Tea, a product that claims significant health benefits. Not being your average tea drinkers, Scuttlebutt's brew crew infused a house favorite with the tea to explore the health benefits in a more desirable media.... The health claims published all over the web advertise Rooibus as an anti-inflammatory, filled with anti-oxidants, assisting in prevention of heart disease, cancer and diabetes, beneficial in the delay of age-related brain deterioration, contributing to healthy teeth and bones, aiding those struck with asthma, potentially helps fight HIV, stimulates hair growth, and heroically helps the liver to regenerate. Scuttlebutt Brewing Company doesn't endorse these claims but we are fond of the flavor from this little red bush. This light ale is svelte in body, allowing for some kind of healthy activity post-consumption. Herbaceous, earthy flavors complement the Wheat and Vienna malts used in the Blonde. The Tettenager finishing hops complete the experience, lending a bold citrus note in the finish.
ABV: 4.5% IBU: 17
Fishtail Brewing Company
Olympia, Wa.
Organic Amber
Medium bodied with an appealing amber hue. Its organic pale, Munich and crystal malts create a gentle sweet character. This beer has a zesty aroma and flavor with a great balance.
Hops: Organic Millennium, Organic Bravo
OG: 1.055 TG: 1.016 ABV: 5% IBU: 22
Monkfish Belgian Style Triple
Brewed using Pale malt, Honey malt, aromatic malt, Belgian candy sugar and Styrian Golding hops and Belgian Abbey yeast. Monkfish has a sweet malty flavor and a subtle hop aroma, while providing fruity and spicy esters, imparting an excellent complexity to this medium-bodied beer.
ABV: 9% IBU: 32
Dick's Brewing Company
Centralia, Wa.
Dick Danger Ale
Our flagship beer. A large percentage of black malt gives this distinctive ale its dark brown/black color and that slightly roasted flavor. Magnum hops provide a backbone of bitterness and large additions of Mt. Hood hops later in the boil come right through in the finish. The result is a highly drinkable, non-intrusive dark ale that defies style guidelines and leaves you wanting more. Available in 12 oz. and 22 oz. bottles.
OG: 1.053 TG: 1.010 ABV: 5.2%
Dick's Silk Lady
This is a light and refreshing Belgian-style ale. The mash consists of a small quantity of Munich and caramel malts for a delicate body and pale color. A fair amount of top-quality wheat malt gives this beer its crispness and drinkability. It is hopped sparingly for minimal bitterness and mellow hop flavor and aroma. We ferment with a classic Belgian yeast strain, which gives the beer unique fruity esters. Available in 12 oz. bottles.
OG: 1.048 TG: 1.008 ABV: 5%
Burnside Brewing Company
Portland, Ore.
Burnside Oatmeal Pale
Burnside Oatmeal Pale is brewed using copious amounts of Crystal, Galena and Fuggle hop varietals. This is a clean dry pale ale with low bitterness and lots of hop flavor. We have chosen to add 75 pounds of Bob's Red Mill rolled oats to increase body and give our Pale a sweet creamy finish. Burnside Oatmeal Pale, along with all Burnside beer, is unfiltered. This requires an increased time commitment, but pays dividends in the depth, character and flavor profile of our offerings.
ABV 5.6% IBU 44
Spring Rye Beer
A bright and refreshing Roggenbier brewed with 60% rye and 40% pale malt, coriander and Bullion hops. This ale is a perfect transition from the hop and malt heavy beers of winter to the light and more crisp of summer. Spring rye is viscous and bold from the large amount of rye malt but drinks bright and refreshing from the combination of the Bullion hop variety and the clean spiciness of the coriander seed.
ABV 5.5% IBU 21.5
Double Mountain Brewing Company
Hood River, Ore.
The VAPORIZER Dry-Hopped Pale Ale
Featuring Challenger hops from the Yakima Valley and our house Pilsner malt from British Columbia, The Vaporizer is light-colored, alluringly hoppy and supremely tasty. The dry-hopping makes this one sing.
ABV: 6% IBU: 50
DIRTY DEEDS Anniversary Alt
Co-owner Charlie Devereux created this brew to celebrate another year of Double Mountain doings, as is his tradition. It's a unique, dark copper-colored ale, full of spicy hops and just a touch of smoky/toasty character from 100 lbs. of barley that was smoked at Podnah's Pit in Portland, using cherry wood from brew master Matt Swihart's orchard.
ABV: 6.5% IBU: 55
• • •
About Whiskey Pass to the World!
If you prefer spirits to beer, you'll enjoy the Whiskey Pass to the World! - sample from a huge variety of whiskeys from all over the globe.
$2 token per sample · 21 and over
Bourbon/American Whiskey
Colonel E.H. Taylor Single Barrel
Four Roses Single Barrel
Bulleit 10 Year
Sam Houston American Straight
Knob Creek Single Barrel
Edgefield
Hogshead
White Dog
White Owl
Monkey Puzzle
Scotch
Johnnie Walker Gold
Highland Park 15 Year
Ardbeg 10 Year
Glenlivet 15 Year French Oak
Balvenie 14 Year Caribbean Cask
Tennessee
Jack Daniels Single Barrel
George Dickel No. 12
Canadian Whiskey
Crown Royal Maple Finished
Royal Canadian
Pendleton 1910
Irish
Greenore 8 Year Single Grain
Slane Castle
Slieve Foy Single Malt
Connamara Peated Single Malt
Rye
Bulleit Rye
Whistlepig Rye
Rittenhouse Rye
Templeton Rye
Japanese
Yamazaki 12 Year
Hibiki 12 year
Map & Directions
Tags for this Event:
Events:
McMenamins Celebrations
Beer, Wine, and Spirits
Property > Olympic Club
Related content (tags):