3702 S.E. Hawthorne Blvd.
Portland, OR 97214
Pub: (503) 467-7521
Movie Line: (503) 249-7474 x1
Contact Us
Willamette Riverkeeper, Patagonia, and REI present
Wild & Scenic Film Fest
11 films including
"Rock the Boat"
with live music by
Flat Rock Stringband
Thursday, December 6, 2012
5:30 p.m. doors; 6:15 p.m. live music; 7 p.m. films |
$8 student/youth, $10 adult advance tickets at Portland REI; $12 adult at door |
All ages welcome
Join Willamette Riverkeeper, Patagonia, and  REI for the 2012 Wild & Scenic Film Festival!
Don't miss this outstanding evening of inspiration and entertainment, all while supporting a worthy cause- a clean and healthy Willamette River! 
Considered one of the nation's premiere environmental and adventure film festivals,the Wild & Scenic Film Fest is a call to action. Enjoy award-winning films that illustrate the Earth's beauty, the challenges we face, and the work communities are doing to protect the environment.
Featuring 11 invigorating films including the exclusive premier of Wild & Scenic's People's Choice Award Winner: Rock the Boat a story about Los Angeles and the little river that could, with cops in helicopters, civilians in kayaks, and fish stranded on concrete.
And there is more...
LIVE music beginning at 6:15 p.m. from Flat Rock String Band
FREE entry into the RAFFLE drawing with your festival ticket! Everyone will have a chance to win prizes from Patagonia, REI, Keen, Osprey and more!
Wear or buy a Willamette Riverkeeper t-shirt and receive an additional raffle ticket!
About "Rock the Boat"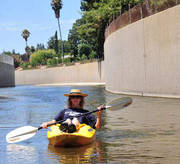 On July 25th, 2008, a dozen intrepid Angelenos took to their boats and kayaks and embarked on an ambitious and absurd mission to navigate the entire length of the Los Angeles River.
Rock the Boat follows this controversial kayaking expedition down the cemented-in L.A. River, and looks at how the transformation of Los Angeles from a "dream city of endless possibility" to the nightmare sprawl it is today arose from our habit of using, managing and re-imagining nature in a single-minded quest for more.
Whether dealing with droughts and water shortage, or fires, or floods, one lesson is clear: our urbanization has reached critical mass.
How do we transform our city landscapes to actually benefit the environment?
How do we manage our natural resources to create livable, sustainable cities in our immediate future?
These are some of the questions the film grapples with, all the while looking at Los Angeles as both a model of American urban technology and home to a new environmental awareness.
video:




website:
About Flat Rock Stringband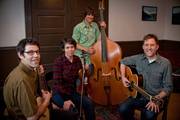 The Flat Rock Stringband plays Old-Time American stringband music. Originating before the commercial recording industry, before electricity, radio, and mass media, Old-Time music is rooted in a time when people made their own entertainment.
This tradition has continued through the ages much in the same way. It is not so much a kind of music that people perform as a kind of music that people socialize to. It's a way to turn a living room into a dance hall or a way to enliven a gathering of friends or family.
As much of a tune session between friends as a band, we play the music in the manner that we imagine the old-timers must have: to renew themselves after a day of work, to ennoble the joys of the day or to sweeten its troubles, and to just kick back and enjoy the evening.
While the sky unleashes on us Portlanders for six months straight every year, we're rocking out in living rooms, rental halls, and pubs with fiddles and banjos, dancing, playing tunes, and enjoying each other's company.
Map & Directions
Tags for this Event:
Movie Types > All Ages
Property > Bagdad
Related content (tags):