Saloon & Hotel
836 N. Russell St.
Portland, OR 97227
Saloon: (503) 282-6810
Hotel: (503) 335-8900
Contact Us
Satori Bob
Dave Lindenbaum
Sunday, December 16, 2012
7 p.m. |
Free |
21 and over
About Satori Bob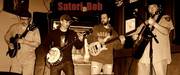 Satori Bob is a fluid acoustic ensemble that currently features composer, vocalist, and guitarist John Baumann, with Devin Newman on banjo, Russ Wilbanks on guitars and sound tapestries, and Jeff Langston on bass. Satori Bob has toured throughout the East Coast, Colorado, and Wisconsin, and is now based in Eugene. The band has played a wide array of bars, outdoor venues, private parties, coffeehouses, and benefits. Their first CD, Strangely Familiar, brings together influences ranging from John Prine to Tom Waits.
John Baumann has been performing for over 20 years, fronting bands, duos, trios, and traveling widely as a solo singer/songwriter. John writes and performs original compositions, and draws from a collection of eclectic cover material, including great writers and performers like Tom Waits, Bob Dylan, John Prine, and Jerry Garcia. John's original music ranges from slow, intimate ballads to gypsy-inflected fast waltzes to upbeat country/folk melodies. John formed Satori Bob in the wilds of northern New York state and has shepherded its evolution through the years. John and Satori Bob are currently plotting to achieve cult-like status in the Pacific Northwest.
Devin Newman was born and raised in Woodstock, NY months after the famed music festival twisted the mind and psyche of a generation. His parents intended to go, but the traffic was terrible. Devin has been playing various instruments since an early age, enjoying percussion, saxophone and stringed instruments. Part of various musical groups through the years, Devin Newman has played jazz on an aircraft carrier, sea shanties with the Skeptical Ministers, saxophone with the Motown Wall of Sound, and has been playing guitar and banjo with John Baumann for the greater part of 20 years. His banjo playing is non-bluegrass and unconventional, and inspired by Tony Furtado, Tom Waits and Bela Fleck. Pushing the traditional boundaries of music is a constant hope and thrill.
Russ Wilbanks has been writing and performing music professionally for 30 years. A singer, songwriter, guitarist and instrument builder, Russ has carved a life out of the music industry against all odds and remains enthusiastic and inspired. Starting with clubs at the age of seventeen, and progressing to Concerts, Festivals, and Shows, Russ has played hundreds of gigs as a side man, front man and dedicated member of collaborative projects. Currently residing in Eugene, OR, Russ is playing with Satori Bob, The Last Drags, Japple monkey and as a solo act under his own name. Building and playing guitar, singing his songs and supporting other musicians is his life and it shows!
Jeff Langston has been playing bass and guitar for over 20 years. He studied bass as a performance major at Berklee College of Music. Jeff is currently a member of the group Antony and the Johnsons. The band's 2005 release entitled 'I am a Bird Now' won Britain's prestigious Mercury Prize. Music from the album featuring Jeff's bass playing was used in the movie 'V for Vendetta'. The group has performed in renowned venues around the world including Carnegie Hall, La Salle Pleyel, and the Royal Albert Hall. The band recorded at Abbey Road studios for a taping of the television series 'Live at Abbey Road' (UK). Other TV appearances include The Late Show with David Letterman, Jonathon Ross (UK), The Culture Show (UK), and as a featured artist on Canal Plus (FR). The group's most recent full length release entitled 'The Crying Light' (2009) debuted on the European Billboard charts at no.1, and was named by Spin Magazine as one of the 20 best albums of the year. Both with the Johnsons and as a freelance bass player, Jeff has had the privilege to record and/or perform with many wonderful artists including Lou Reed, Boy George, Rufus Wainwright, Marc Almond, Shawn Colvin, Phoebe Snow, Roger McGuinn, and many more.
Map & Directions
Tags for this Event:
Property > White Eagle
Related content (tags):