3702 S.E. Hawthorne Blvd.
Portland, OR 97214
Pub: (503) 467-7521
Movie Line: (503) 249-7474 x1
Contact Us
"cortandfatboy is dead: The Final Episode"
8 p.m. doors; 9 p.m. show |
$6 per person |
21 and over
Buy Tickets
Tickets on sale now!
About "cortandfatboy is dead: The Final Episode"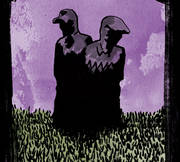 They say all good things must end. Well, so do the mediocre things. Pretty much everything ends, really. It's kind of a dumb saying if you think about it.
The time has come for Cort Webber and Bobby Roberts to turn the lights out on the almost decade long-run of their comedy and pop-culture talk show. "cortandfatboy is dead" is their final episode, recorded live on-stage at the Bagdad Theater, home to seven years worth of Midnight Movie screenings, featuring titles such as The Empire Strikes Back, The Iron Giant, ALIENS, Raiders of the Lost Ark, Fight Club, The Muppet Movie, Enter the Dragon, Who Framed Roger Rabbit, and the annual homegrown celebration of all things Dude, Cinco De Lebowski.
"cortandfatboy is dead" will feature regular guests Ryan Fleming of DigitalTrends.com; filmmaker/writer David Walker (who will be screening his latest short, The Day They Ran Out of Bullets); Live Wire Radio host Courtenay Hameister; gossip columnist Byron Beck; creator of The Legend of Bold Riley, Leia Weathington; stand-up comedian Jim Willig, an original presentation from The Sabertooth Vampire creator and Oregonian film critic Mike Russell; as well as surprises and special guests from the show's eight-year long existence.
Doors will open at 8 p.m., and at 9 p.m., the audience will witness the beginning of the end of Portland's only pop-culture podcast hosted by a squinty, stabby madman, and an excitable, Kangol-capped Hobbit thing.
cortandfatboy website:
Map & Directions
Tags for this Event:
Property > Bagdad
Related content (tags):