Come have fun in school... for once...
5736 N.E. 33rd Ave.
Portland, OR 97211
Local: (503) 249-3983
Elsewhere: (888) 249-3983
Contact Us
Special Preview of our New Guestrooms
at Kennedy School
Featuring a reading by author
Brian Doyle
with live music by
Jake Ray
and more
Thursday, December 20, 2012
5 p.m. 'til late |
Free |
All ages welcome
About Special Preview of our New Guestrooms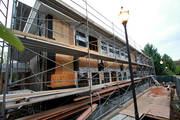 Event Schedule
5 p.m. 'til 9 p.m.
New guestrooms open for viewing
7 p.m. 'til 7:45 p.m.
Brian Doyle reading in the gym
7 p.m. 'til 11 p.m.
Jake Ray playing in the gym
We've been talking up our 22 new guestrooms for months now – and today's the day we let you all in to have a look! The rooms become open to guests who reserve them on December 21.
Set in a newly constructed building set just behind the main hotel, these 22 new guestrooms are each inspired by a book (including one by the featured speaker, Brian Doyle), chosen by Mike McMenamin. Each room will have its own bathroom and a king-sized bed, plus lots of light and original artwork by our staff of artists.
After (or before) checking out the new building and rooms, stop by the Gym to hear Portland author Brian Doyle read from one of his works and listen to the live music of Jake Ray.
While you're visiting, try one or two of our specialty cocktails, based on the authors or books, available in all of the bars onsite.
Maybe
Maybe there could be an alternative reading list, after all the typical books required by the school have been read and salted away. Maybe it's a list compiled by the janitor who has become something of a legend over the years by spreading around this particular list of books with strange words of encouragement like, "Do not read any of these books as they might be too much for you at this time," or "If you're not of sound mind..." and things of that sort. He then might go into a strange dance and give you a wink while he sweeps down the hallways. Maybe there is a remote and separate wing of the school where things aren't quite as they should be. It could be the English wing and maybe it's where the janitor holds impromptu readings and discussions and there is where, just maybe, great things can begin....
- Mike McMenamin
A Box of Rain, Robert Hunter
The Compleat Angler, Sir Izaac Walton
A Confederate General from Big Sur, Richard Brautigan
The Farthest Shore, Ursula K. Le Guin
Garcia: An American Life, Blair Jackson
Golf In The Kingdom, Michael Murphy
The Great Good Place, Ray Oldenburg
The Greater Trumps, Charles Williams
Ireland, A Novel, Frank Delaney
Jayber Crow, Wendell Berry
The Keep, Jennifer Egan
Left Out in the Rain: Poems, Gary Snyder
Little Chapel on the River, Gwendolyn Bounds
Lord of the Rings, J.R.R. Tolkien
Mink River, Brian Doyle
The Mystery of Golf, Arnold Haultain
The Night Circus, Erin Morgenstern
One Hundred Years of Solitude, Gabriel Garciá Márquez
Paris Was Yesterday, Janet Flanner
The Philosopher's Stone, Colin Wilson
Ramona series, Beverley Cleary
Returning to Earth: A Novel, Jim Harrison
The Riddlemaster of Hed, Patricia A. McKillip
The River Why, David James Duncan
The Secret Life of Bees, Sue Monk Kidd
Sometimes A Great Notion, Ken Kesey
Stagecoach and Tavern Days, Alice Morse Earle
A Thatched Roof, Beverly Nichols
Tropic of Capricorn, Henry Miller
The Wee Free Men, Terry Pratchett
Winter's Tale, Mark Helprin
About Brian Doyle
Brian Doyle recently penned his own biography thusly: "Brian Doyle is, in order, a dad, a dad, a dad, a husband, the editor of Portland Magazine at the University of Portland, a guy who tries to be a decent son and friend and brother, and a writer who recently committed the sprawling epic Oregon novel, Mink River."
To this, we would add that he is the author of ten books, including The Grail, with its lengthy but descriptive subtitle, "A year rambling & shambling through an Oregon vineyard in pursuit of the best pinot noir wine in the whole wild world." His essays have been published in Best American Essays and Best American Spiritual Writing anthologies, and received the Award in Literature from the American Academy of Arts and Letters, all the while he continues to make Portland his home.
About Jake Ray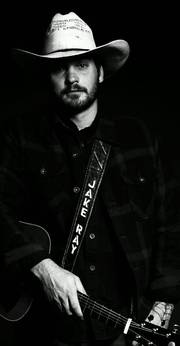 Singer songwriter Jake Ray has never stayed in one place long-but when a broke down truck left him stranded in Portland, OR he quickly found himself warmly welcomed into the vibrant music scene, playing a well rounded mix of mostly his own songs and a few covers of the music that has inspired him through the years. In traditional country style, his songs tell personal stories of heartbreak, hope, pain and redemption soaked with whiskey and the struggles of getting by. He has a way of taking you on an incredible journey with his lyrics and music-from the moments of rich, soul-touching sadness to the up beat rockabilly numbers where you are transported back in time to some roadside Honky Tonk dancing all your cares away.
Jake Ray - guitar/vocals
Tim Acott - bass
Paul Brainard - pedal steel
Ian Miller - lead guitar
Kevin Major - snare drum
Website:




Facebook page:




YouTube page:
Map & Directions
Tags for this Event:
Events > McMenamins Celebrations
Music > Americana
Property > Kennedy School
Related content (tags):