Come have fun in school... for once...
5736 N.E. 33rd Ave.
Portland, OR 97211
Local: (503) 249-3983
Elsewhere: (888) 249-3983
Contact Us
History Pub Monday at Kennedy School
"From The Dalles to Astoria: Re-remembering Punjabis of early 1900s Oregon"
Monday, November 26, 2012
7 p.m. |
Free |
All ages welcome
A Presentation by historian Johanna Ogden and cultural anthropologist Bruce LaBrack.
Johanna Ogden, an independent historian, will highlight the 1905-1915 Punjabi population of the Columbia River, their formation of the radical Ghadar party in Astoria and its role in the Indian independence, and offer thoughts on the silencing of their story.
Bruce LaBrack will provide the larger context of Punjabi communities on the West Coast, and legal and extra-legal proscriptions that impacted their lives.
Both speakers will offer context and precedence on anti-Sikh violence post 9/11, including last summer's Wisconsin Sikh Gurdwara shootings.
Dr. La Brack, Professor Emeritus, School of International Studies, University of the Pacific, Stockton, is a cultural anthropologist who has conducted over thirty-five years of research on the impact of the South Asian Diaspora outside Punjab, primarily in North America, but also in East Africa, England, and India. He has published extensively on overseas South Asians, particularly Sikhs/Punjabis in the United States and Canada, and is the author of ethnographic study, The Sikhs of Northern California: 1904-1975.
About History Pub Monday at Kennedy School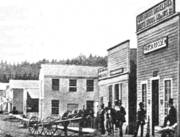 Join us for beer and history, sponsored by the Oregon Historical Society, Holy Names Heritage Center and McMenamins, in which you'll hear lively local or regional history while you enjoy a frosty pint or two of handcrafted ale.
Map & Directions
Tags for this Event:
Events > History
Property > Kennedy School
Related content (tags):