& Lola's Room
1332 W. Burnside
Portland, OR 97209
(503) 225-0047
crystal@mcmenamins.com
World's Finest (Album Release Party)
The BellBoys (reunion show, featuring members of Fruition)
Simon Tucker Group
DJ Kelbel
Live painting by Eyeluminate
Also featuring guest appearance by members of the Quadraphonnes
Monday, November 26, 2012
7 p.m. doors, 8 p.m. show |
$5 at the door |
21 and over
About World's Finest (Album Release Party)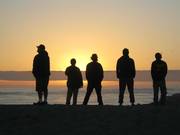 A rowdy pile of all their favorite music, World's Finest is creating a genre all their own in the Northwest music scene. Blending reggae, ska, funk and bluegrass into a raucous show, this four piece Portland party band is poised and ready to make dance floors fill up and get down. With combined performance experience totaling well over 20 years, World's Finest is a crew of musicians hungry to get their music out to the masses. Members Chris Couch (guitar), Dan Hurley (banjo), Evan Malfer (upright bass) and Mike Apodaca (drums) bring the party with them every time they step on stage.
Having just wrapped up their debut release entitled Pattern, the band is ready to hit the Northwest hard in the coming year. Look for World's Finest all over Portland, the Northwest and beyond as they blow up festivals and rage late night parties, morning sets, club sets, campfires, house parties and whatever else party they can get themselves into.
About The BellBoys (reunion show, featuring members of Fruition)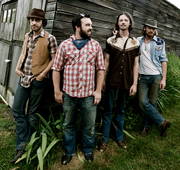 When you listen to The Bellboys, it's hard to know if they're rural outlaws or city boys with beards, and it turns out they're a bit of both. The Portland, Ore.-based Americana folk-rock group lets its Idaho roots show in timeless songwriting, tight, grizzly harmonies and classic, tasteful guitar leads that are all energized by countless hours playing the streets and packed venues within Portland.
In the fall of 2010 The BellBoys released their debut album, I'll Be Here All Night, showcasing their Americana folk-rock sound with shreddin' guitar work and passionate harmonies. I'll Be Here All Night offers eleven original songs by The BellBoys' own Jay Cobb Anderson and Brad Parsons, plus Mike Winter, whose lyrics explore life with gritty honesty. Filling out their sound is Keith Simon on upright bass and Tyler Thompson on drums with backup vocals.
As a testament to The BellBoys' spot-on performance abilities, the band recorded all tracks for I'll Be Here All Night in just two days. The album was recorded by Matt Stegner at Blackout Studios in Seattle, and was mixed and mastered by Erick Jaskowiak, a Nashville-based engineer, mixer and producer for multiple Grammy-nominated artists. Already, fans are fawning over the infectious groove of "Somethin' In My Mind," the twangy tension of "Caroline," and the billowing swagger of "All My Love." The band also released a self-titled EP in 2009 while busking in rain, sunshine and snow in Portland.
Riding the wave of raw energy that its members produce, the band's recorded sound is as pleasing as its live performances. In little more than a year, The BellBoys have drawn crowds at venues including Portland's Doug Fir Lounge and Mt. Tabor Theater, Seattle's Tractor Tavern, Oregon's Mountain Stomp Festival, and Boise's Knitting Factory while touring throughout Oregon, Washington, Idaho, Montana and California. The group has also shared the stage and collaborated with The Clumsy Lovers, Four on the Floor, The Shook Twins, Baby Gramps, The Villains, Fruition, Flomotion and Taarka.
website:




Facebook:
About Simon Tucker Group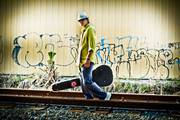 For some it's the virtuosic guitar skills. For other it's the voice: at once gritty and growling, in an instant smooth and sweet. For still more, it's the masterfully crafted songs. Any way you look at it, it's agreed: Simon Tucker is the artist you will never forget once you've heard, and his career shows more promise than any 'undiscovered' artist in recent memory.
Simon is a lifetime musician, starting with piano at 6 years of age, and switching to guitar at 11. He formed his first band at 13 years old and has consistently had a group and a solo act in the works in the 15 years since.
Through the years of practice and work, and a dose of natural talent, Simon developed a voice of his own. His songs show influence from The Beatles, J.J. Cale, and traditional blues and gospel. His skills as a guitarist are now on par with the likes of Clapton, Page, even Hendrix, some of his most obvious guitar influences.
About Also featuring guest appearance by members of the Quadraphonnes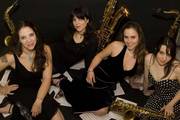 The Quadraphonnes sax quartet brings to the ear a tantalizing sound filled with funk grooves and soaring solos. These four women, sometimes six with bass and drums, bring to the stage a powerful and rare show with music ranging from arrangements of Tower of Power to Eric Dolphy. Not your average band! Currently they perform in clubs around Portland, as well as presenting educational concerts in local schools. The Quadraphonnes have been featured on local radio stations KMHD 89.1 and 91.5 KBOO, the Portland Jazz Festival, Mt Hood Jazz Festival, Portland International Film Festival, North American Saxophone Alliance, Portland Blues Festival, Portland Rose Festival, appeared as guests with The Lily Wilde Big Band, Candye Kane, the Mambo Queens, Felina's Arrow and Voodoo BBQ as well as being awarded the 2010 Regional Arts Commission (RAQ) Grant for Artists. The Quadraphonnes also incorporate rhythm section on select performances with Leah Hinchcliffe on bass, and Ward Griffiths on drums. All six members have their degrees in music and perform and teach regularly in the Portland area.
Instrumentation
Mary Sue Tobin- Soprano and alto saxophone
Michelle Medler- Tenor saxophone
Mieke Bruggeman- Baritone saxophone
Chelsea Luker- Soprano and alto saxophone
Sometimes performing with:
Leah Hinchcliff- Bass
Brandy Keehn- drums or Ward Griffiths- drums

Discography
Live on KMHD 2008
Music to Watch Girls By 2009

Hear "Georgia" and "Cry Me A River" on Portland's 89.1 and 91.5
website:
Map & Directions
Tags for this Event:
Music:
Americana
Jazz
Property > Crystal Ballroom & Lola's Room
Related content (tags):