Saloon & Hotel
836 N. Russell St.
Portland, OR 97227
Saloon: (503) 282-6810
Hotel: (503) 335-8900
Contact Us
Pheasant
Brothers Young
City Squirrel
Thursday, November 15, 2012
8:30 p.m. |
Free |
21 and over
About Pheasant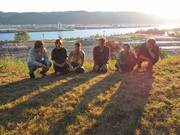 From its roots in lead singer Matt Jenkins' lone guitar to the dynamic 5-piece combo they are now, Pheasant has always been about the songs. Through their early lineup changes, the songs have remained as the beating core-have expanded and evolved into the tightly-orchestrated folk/pop tunes they are now. With the latest addition of trumpets and keys, Pheasant is ready to make you explore the junction where Bob Dylan and Isaac Brock met, where you find yourself wearing your father's jacket, where sincerity is the least ironic thing. But don't be surprised if you feel the need to dance too. Pheasant is simple and alive, is raw but refined, is rock but not without the soul.
Myspace Page:




Facebook Page:
About Brothers Young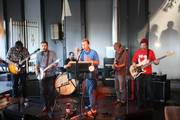 The Brothers Young is a band which features three actual brothers, actually named "Young." The group, formed by Dustin, Michael and Dillon, with the encouragement of their elder brother Ritchie Young (frontman of transcendental chamber-folk combo Loch Lomond), brings a darker timbre than Ritchie's haunting falsetto. Like three Cains to Ritchie's Abel, the Brothers often sing in a baritone unison, of world-weariness, caution and betrayal—sometimes bursting into open-ended Gregorian harmonies. Supported by the drumming of Levi Cecil, the guitar-playing of Trevino Brings Plenty, and Travis Girton on bass, this Portland band has spent the last three years crafting deceptively simple songs layered with vocal-rich melodies. Friendly Guest E.P. is their latest release from the group.
Brothers Young:




Facebook Page:
Map & Directions
Tags for this Event:
Music:
Rock
Alternative/Indie
Americana
Singer/Songwriter
Property > White Eagle
Related content (tags):