The 11th year of...
Miz Kitty's Parlour
Trashcan Joe
Russell Bruner
Underscore Orkestra
Amy Hotfield
Jetty Swart
Saturday, December 8, 2012
6 p.m. doors; 7 p.m. show |
$12 advance; $15 day of show |
21 and over
Buy Tickets
Tickets on sale now!
About Miz Kitty's Parlour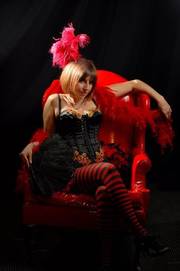 TRASHCAN JOE
Portland's Jazziest Trash-can Band!
RUSSELL BRUNER
Moustachioed Master of Dance!
http://swingtimepdx.com/news/russell-bruner-solo-burlesque
UNDERSCORE ORKESTRA
Mad Melange of Eastern Musical Influences!
http://theunderscoreorkestra.com/
AMY HOTFIELD
World's Hottest Hula Hooper!
http://www.hoopcity.ca/profile/AmyHotfield
JETTY SWART
Wild Woman of the Accordion!
https://www.facebook.com/jetty.swart
Taking the 21st century audience into the realm of the Alaskan Gold Rush, genuine Vaudeville acts and music in the spirit of true Americana, Lisa Marsicek aka Miz Kitty will be your seasoned and spirited guide for a night you will never forget!
Every month will bring bits, schtick and musical acts bound to astound, astonish and thrill you! Song & dance, comedy & theatrics, string bands, classical & eclectic; the outrageous & the delightful variety of acts combine to tickle and entertain.
Lisa Marsicek has been entertaining Portland audiences as the singing, clog dancing fiddler in the popular Flat Mountain Girls stringband for several years. She also plays fiddle with the Sassparilla Jug Band. Her Victrola & 78 RPM record collections have also been featured in the Portland Tribune.
About Trashcan Joe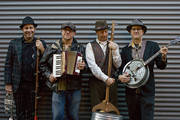 "Trashcan Joe is a marvel, a wonder that defies categorization in any sort of contemporary setting." Don Campbell, The Oregonian
Trashcanjo n. [trash kan jo] A banjo made out of a trashcan. Ideology based on maximum musical output from recycled minimum input. Coffee brewed in a trash can.
Soaring vocal harmonies and modern song writing set in a soundscape harkening to the early jazz era; Trashcan Joe has a unique sound with a broad appeal. The fact that the instruments are made from recycled and found objects is quickly lost to their stellar musicianship. It's no wonder they are a steadily working live band and have performed at events such as Pickathon, Burning Man, Oregon Public Broadcasting's Live Wire, The Northwest Folklife Festival in Seattle, Oregon Country Fair, and were the house band at the Candidates Gone Wild at the Roseland Theater.
Trashcan Joe also has soundtrack work on the resumé. They scored the music for the Aurora award winning OPB special Zig-Zag which explores the stories of several Portland area commuters. Later came the feature motion picture Lipstick and Dynamite, which chronicles the history of women's wrestling and includes TJoe music as part of the soundtrack. TCJ was well received at NYC's 2008 Tribeca Film Festival in the film "The Auteur." Most recently they licensed music for a TV commercial by American Family Insurance.
Cap'n James Cook is vocals and creator of the Trashcanjo, the Trashcan Bass, the Tuborgan, and the Can o' PA. The beloved founder has written more songs than you and your three best friends combined. He is a former member of the Wags, and current member of Ipanemia.
Jason Wells is vocals, cornet, zob stick, and lead extrovert. He is the composer of some of Tjoe's most memorable songs. While his cornet isn't actually made from a trash can, he claims to affect a "trashy style". A member of March Fourth Marching Band, and engineer of Trashcan Joe recordings, at his studio Audiowells.
Mike Danner is vocals, accordion, melodica, a tuborgan honey-voiced singer, and a slick jazz accordionist. Mike was featured on Oregon Public Broadcasting's Oregon Art Beat; performs solo and with his band Velvida Underground. He has an Accordion Crimes website that features duets with Portland's premier songwriters.
Yascha Noonberg is trashcan bass, and vocals. In his the band Calynco, he is the master of the steel drum. In Trashcan Joe he is the master of a much more refined instrument, the steel trashcan bass. A true musical alchemist, Yascha can turn garbage into gold at will. The owner of Starfish Studios, he records and teaches some of Portland's best musicians, all while making bubbling and gurgling noises.
Trashcan Joe is what you have, and that is more than enough – Joe
Myspace page:




Official Website:




Facebook page:
About Underscore Orkestra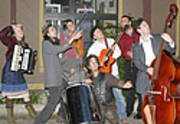 Portland-based Underscore Orkestra plays a blend of Balkan, klezmer, gypsy jazz and swing, with a repertoire consisting of both original and traditional material from fast bulgars and melodious waltzes to odd meters and swinging rhythms. Its instrumentation includes violin, accordion, guitar, banjo, clarinet, horns, flute, harmonica, bass, vocals and percussion. Each of the members comes from various backgrounds and musical disiplines from as far away as Russia and as close as our own Northwest. The Underscore Orkestra has been performing for the past 3 + years, touring all around the western U.S., Mexico and Guatemala and has been seen from intimate coffee shop setting all the way to huge outdoor festivals.
Map & Directions
Tags for this Event:
Music:
Americana
Blues
Jazz
Property > Mission Theater
Related content (tags):