Come have fun in school... for once...
5736 N.E. 33rd Ave.
Portland, OR 97211
Local: (503) 249-3983
Elsewhere: (888) 249-3983
Contact Us
Back to School: 15th Birthday Celebration
with live music by
Uncle B & Auntie E & J Dog
Red Light Romeos
The Marvins
World's Finest
Saturday, October 13, 2012
2 p.m. 'til 10 p.m. |
Free |
All ages welcome
Come out to help us party down with live music, food and drink specials, kids' silliness and more.
2 p.m.
Uncle B & Auntie E & J Dog
4 p.m.
Red Light Romeos
7 p.m.
The Marvins
8:30 p.m.
World's Finest
About Uncle B & Auntie E & J Dog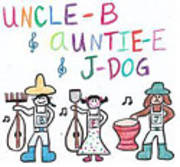 Uncle-B, Auntie-E, and J-Dog lived with friends and animals on their farm in Montana where they grew fruits and vegetables (eat them every day!) One day J-Dog told Uncle-B and Auntie-E about growing up on a farm in Oregon and hearing stories about a magical, musical instrument tree in that silly place. When winter came, Uncle-B, Auntie-E, and J-Dog decided to close up the farm in Montana and head west to gather some instruments up from the tree. They settled in Portland, OR where one of them teaches music in an elementary school, one of them is a scientist, and one of them is a professional musician and sells things. Sometimes they go back to visit their friends and animals on the farm in Montana and write songs around the campfire.
website:
About Red Light Romeos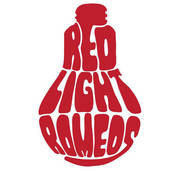 Acoustic classics from last century with 3-part harmonies, a wide variety of songs, and a great deal of muical talent and experience. Hits from bands like the Eagles, Crosby Stills & Nash, and Fleetwood Mac.
About The Marvins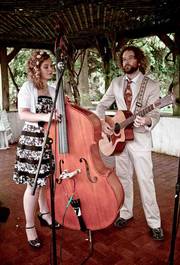 The Marvins have been an active force in the rebirth of the folk-rock scene in Detroit, MI. The singing/songwriting duo of Peter LeClair and Carmen Paradise have been at work for the last decade, and bringing their unique blend of various genres through the organic delivery of their acoustic instruments, honest lyrics and earthy voices. Whether it is influenced rock, pop, jazz, hip hop or bluegrass, all of their music has a way of coming out Marvins. With the release of their newest EP, "Waves of Strange," The Marvins invite their audiences into their homey sound that makes the listener feel like they have known them as family their whole lives.
About World's Finest

A rowdy pile of all their favorite music, World's Finest is creating a genre all their own in the Northwest music scene. Blending reggae, ska, funk and bluegrass into a raucous show, this four piece Portland party band is poised and ready to make dance floors fill up and get down. With combined performance experience totaling well over 20 years, World's Finest is a crew of musicians hungry to get their music out to the masses. Members Chris Couch (guitar), Dan Hurley (banjo), Evan Malfer (upright bass) and Mike Apodaca (drums) bring the party with them every time they step on stage.
Having just wrapped up their debut release entitled Pattern, the band is ready to hit the Northwest hard in the coming year. Look for World's Finest all over Portland, the Northwest and beyond as they blow up festivals and rage late night parties, morning sets, club sets, campfires, house parties and whatever else party they can get themselves into.
Map & Directions
Tags for this Event:
Events > Family
Property > Kennedy School
Related content (tags):