Meshell Ndegeocello - A Dedication to Nina Simone
Meshell Ndegeocello
Luz Mendoza (of Y La Bamba)
Wednesday, December 12, 2012
7 p.m. doors, 8 p.m. show |
$35 advance, $35 day of show |
21 and over
Buy Tickets
Tickets on sale now!
About Meshell Ndegeocello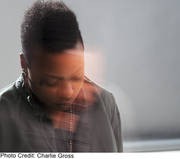 Canonized, marginalized or just scrutinized, Meshell Ndegeocello has given up trying to ex­plain herself. After 20 years in an industry that has called her everything from avant garde to a dying breed, what unquestionably remains is the fearsome bassist, prolific songwriter, and the creativity and curiosity of an authentic musical force. With that, she has earned critical acclaim, the unfailing respect of fellow players, songwriters and composers, and the dedica­tion of her diverse, unclassifiable fans.
"Pour Une Ame Souvraine" (For a Sovereign Soul), A Dedication to Nina Simone, is Meshell's tenth record, her second for Naïve. Produced by Meshell and guitar player Chris Bruce, this album is a labor of love, a reflection of Meshell's awe, affection, and gratitude for the pioneering work of a woman who refused to be owned by genre, industry, or expecta­tion. Meshell and Chris turned well and lesser known songs into new experiences, inviting collaborations by Cody ChesnuTT, Valerie June, Sinead O'Connor, Lizz Wright, and Toshi Reagon, and the results are intoxicating. While Nina Simone is no longer here to pass the torch, this album, not just a tribute but a transformation, clearly nominates Meshell as her heir apparent.
About her choice to record the music made famous by Nina Simone, Meshell says, "Nina Si­mone was unusual, unruly, unparalleled. She has an unmistakable voice and an unavoidable spirit - she's terse and angry and expressive of her despair and her joy and her sexuality. She is not an industry player, she was obviously difficult and volatile. She wanted success, was pressured to make hits, but her own sound was still irrepressible. She had things to say, she protested. She was a loud, proud black, female voice during a time when black female voices were not encouraged to make themselves heard."
Meshell Ndegeocello was born Michelle Johnson in Berlin, Germany and raised in Washing­ton DC. By the early 90's, she had landed in New York armed with a demo recorded in her bedroom, joined the Black Rock Coalition, and was soon signed to Maverick. Each of her al­bums have offered lyrical ruminations on race, love, sex, betrayal, God, and power, and she has simultaneously embraced and challenged listeners with her refusal to be pigeon-holed musically or personally. Meshell has been both celebrated and berated for her politically charged lyrics, sexual boundary crossing, and for choosing the road less traveled - a wind­ing adventure through her own musical ambitions rather than the industry formulas. Every­thing that once counted against her has emerged in her favor, earning her unusual artistic freedom, pride in her open identity, and longevity due to the integrity and artistic ambition of her recordings.
A bass player above all else, Meshell brings her signature warmth and groove to everything she does and has appeared alongside the Rolling Stones, Madonna, Alanis Morrisette, James Blood Ulmer, The Blind Boys of Alabama, Tony Allen, John Medeski, Billy Preston, and Chaka Khan. As for her own bass-playing influences, she credits Sting, Jaco Pastorius, Family Man Barrett, and Stevie Wonder. Meshell was the first woman to be featured on the cover of Bass Player magazine and remains one of few women who write the music and lead the band.
website:
About Luz Mendoza (of Y La Bamba)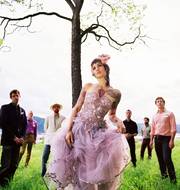 "... a collection of hazy, whispering ballads steeped in polarizing art-folk and sacred Mexican lore." -- Filter
"...doing Portland proud" -- Billboard
"Elena's voice floats like some kind of cirrus cloud over the oceanic psych-folk tones" -- The Tripwire
"...definitely one of the records you'll want to look out for this fall." -- Pop Tarts Suck Toasted
"Portland, Ore., quintet Y La Bamba makes fractured folk that sounds as if it comes from dog-eared diaries. The author is statuesque Luz Elena, the daughter of Mexican immigrants, whose vintage vocals seem to come from the 78-rpm era." -- Buzzbands.LA
"The Portland, Oregon, band mixes Devendra Banhart-influenced art-folk with hazy femme vocals and traditional Mexican sounds to weirdly entrancing effect" -- LA Weekly
"The songs were like mature lullabies, brooding and rich, playful but never lingering on the surface...It was difficult not to be seduced." -- The Stranger
"Lupon is a wide-ranging garden of styles, with gossamer folk and jangling indie-rock steeped in the influences of Mendoza's Mexican heritage. Her unearthly vocals-at times soft and frangible, at others hardily operatic-sound completely lost in time, like they're emerging from a dusty recording on an abandoned Victrola." -- Portland Mercury
"When you read about Y La Bamba, it's often a visual description--like an indie-pop Lady Gaga, tall-'n'-tattooed frontwoman Luz Elena has a steez that often overshadows her band's actual music. Which is a shame, because the group's sound has come a long way as of late. On the long-awaited debut full-length, Lupon, that point is underlined like 12 times, highlighted and circled with little hearts....it's physical proof that Y La Bamba is a lot more than a pretty face." -- Willamette Week
With Y LA BAMBA, Luzelena Mendoza draws from both her strict Catholic upbringing as an only daughter of a Mexican immigrant and a debilitating illness that led her to fall away from her faith, to create what LA Weekly calls "Devendra Banhart-influenced art-folk with hazy femme vocals and traditional Mexican sounds."
Mendoza's father immigrated to the Bay Area from the Michoacan region of Mexico after meeting her mother who had received her US citizenship as a teenager. Her father got a job at a southern Oregon sawmill and Luzelena would spend her childhood summers on a farm in California's San Joaquin Valley among peach, almond, and fig orchards. It was in these strong Mexican communities that she would soak up the melodies and the stories that were being told while, as she remembers it, "the men with tassel hats" strummed their guitars and sang their traditional folk songs in three part harmonies. "I remember singing along, mimicking my father's voice and dancing like a little wild child," she recalls. For Mendoza, this music was the only way she could relate to her father, and was a bright spot in a rough childhood.
In 2003, Mendoza traveled to New Zealand and India, in a quest for a deeper understanding of her spiritual growth as an active Christian, hungry for the tools to create a shift on this planet. During her trip to India, she contracted amoebic dysentery and giardia, causing her to suffer from insomnia, lose 60 pounds and fear her loss of sanity. "It shook me in ways I was not expecting, leading me to struggle with my prayer life and search for a healthy relationship with God, the universe, and with myself," says Mendoza of her condition (which was only complicated with a misdiagnosis). "I gave up on Christianity and what religion was starting to mean to me due to a natural awareness that was knocking on my door."
Upon her return to the US, she took in a white six-toed cat to keep her company as she fought to regain her physical, emotional and spiritual health. She christened her new feline companion La Bamba, a name that she incorporated into a moniker for her home recordings and performances at open mic nights in her new home, Portland. Bassist and vocalist Ben Meyercord caught some of Mendoza's open mic performances and the two quickly found a musical connection. In a whirlwind week that she said happened magically, Mendoza recruited Mike Kitson on drums and David Kyle on guitar. Luzelena played in an Ashland band with Kitson when she wanted a more quiet alternative to her early punk roots and Kyle was a musician she met online that shared her spiritual and eccentric philosophies. Intuition told her that she was going to meet the final piece in her musical puzzle and, sure enough, she stumbled upon accordion player Eric Schrepel playing the squeezebox at a puppet show.
With a raw songbook of home recordings under her belt and a new group of musicians to help Mendoza with her musical vision, Y LA BAMBA began to captivate audiences in Portland and tour stops around the US. Eventually, the quintet would attract the attention of The Decemberists guitarist Chris Funk, who offered his production skills for the band's first studio recording. Funk worked tirelessly to capture Y LA BAMBA's rustic tones, songs inspired by the traditional tunes of Mendoza's childhood, and her signature vocals that resemble the sounds spilling out of a 1930's Victrola. Dubbing the confidently stunning body of songs Lupon (after a nickname that Mendoza's father despised), Y LA BAMBA has emerged from the studio, ready to wow listeners everywhere. Lupon will be available during the fall of 2010 on Tender Loving Empire.
myspace:
Map & Directions
Tags for this Event:
Music:
Jazz
World Music
Property > Mission Theater
Related content (tags):