A truly remarkable destination.
2126 S.W. Halsey St.
Troutdale, OR 97060
Local: (503) 669-8610
Elsewhere: (800) 669-8610
Contact Us
Halfway to St. Patrick's at Edgefield
Tony Smiley
The Stomptowners
AnnaLee
The Barn Door Slammers
Shook Twins
Danny Boy O'Haley
Red Light Romeos
The Mighty Few
River City Pipe Band
Hanz Araki & Kathryn Claire
Jig Jam, The Druids, Irish Dancers & more...
Saturday, September 15, 2012
All day; music begins at 11 a.m. |
Free |
All ages welcome (except Winery)
** MUSIC SCHEDULE **
All ages and free unless noted 
11 a.m.: Hanz Araki & Kathryn Claire · Irish pipes & fiddle (Loading Dock)
1 p.m.: Irish Dancers (Loading Dock)
1 p.m.: Jig Jam (Little Red Shed)
1:30 p.m.: The Druids (Loading Dock)
2:30 p.m.: River City Pipe Band (Roving)
3 p.m.: The Mighty Few (Loading Dock)
3:30 p.m.: Red Light Romeos (Little Red Shed)
5 p.m.: Danny Boy O'Haley (Winery - 21 & over)
5:30 p.m.: Shook Twins (Loading Dock)
6 p.m.: The Barn Door Slammers (Little Red Shed)
6 p.m.: AnnaLee (Black Rabbit Restaurant)
7 p.m.: The Stomptowners (Winery - 21 & over)
8 p.m.: Tony Smiley (Loading Dock)
About Halfway to St. Patrick's at Edgefield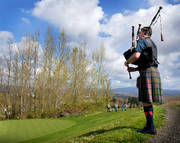 OK, we know, it's kind of a wacky idea - no one celebrates halfway to St. Valentine's Day, right? (Although, now that we think about it... nahhh...)
But, regardless, we love St. Patrick's Day and we love being halfway to it! So let's have some drinks, hear some music and have a full-on good time together. Because why not?
** Food & Drink Specials **
plus Irish-tinged revelry at all of our joints!
About Tony Smiley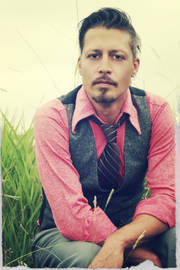 Since 2000, Tony Smiley has captured audiences with his unique beats. This musical savant loops his way through a unique genre of music that you won't find anywhere else. All with witty, engaging, and energetic stage presence. His cosmic dance of electric melodies mixed with world beats, Mongolian throat singing and beat-boxing have earned the Loop Ninja a cult like following who repeatedly embark on his musical journey. Creating each track with a raw, primal and pulsating connection between rich sounds and passionate lyrics.
The songs of Tony Smiley are a tantalizing ride through electro acoustic music that will cause your musical senses to rise. During the experience you can expect original soul bearing songs, improv crowd pleasers, and creative cover mixes. As he loops his way through a set he builds the audience's anticipation by using, keyboards, drum machines, guitars, tambourine, cowbell, vocals and beat box sounds through Boss Loop pedals. His songs are original, groove-laden works of art. The loop ninja will "completely make you a believer." (Andy Summers, guitar player for the Police)
In 2010, Smiley joined the ranks of his fellow loop artists, winning 3rd place in the National Boss Loop Contest in Hollywood. Judges included: Paul Youngblood (Boss US Director), Frank Gambale (Guitar player for Chick Corea), Andy Summers (Guitar player for The Police), Derek Murdock (Bass player for Kevin Eubanks, Tonight Show Band), Michael Molenda (Editor of Guitar Player Magazine). He continues to work with Roland/Boss running pedal clinics and performing for international ad campaigns.
Currently, Smiley can often be found composing and laying down progressive loops with hip hop roots in the Pacific Northwest; flying solo or playing with musical friends such as Redwood Son, Keegan Smith and MOsley WOtta. If you would like to experience the sounds of Tony Smiley follow him on FaceBook, YouTube, MySpace and Reverbnation or schedule a show.
website:




Facebook:
About Shook Twins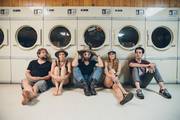 "A unique, personal music that lights up the stage with its joy and enthusiasm." Mason Jennings
Identical twins Laurie Shook (vocals, banjo, percussion and beatboxing) and Katelyn Shook (vocals, guitar and mandolin), are two thirds of the quirky folk trio, Shook Twins. Rounding out the trio, often referred to as the "third twin," is Kyle Volkman on bass. The Shook Twins intertwine gorgeous "twin" harmonies with an eclectic and eccentric blend of folk, roots, pop and fun. Jeff Rosenberg of the Willamette Week says, "Their songs are witty and well-built, the performances poised, the production adventurous. Recently transplanted to Portland, Shook Twins are the most exciting local folk act I've heard in ages. Strike that word 'local' and the sentiment still stands."
;
Originally from Sandpoint Idaho, the twins have been making music together since childhood. Playful, warm and lighthearted, a Shook Twins show percolates with the twin's infectious radiant energy. Pristine vocals layered on top of traditional stringed folk instruments, create lovely aural imagery of two women with one sound.
But don't be fooled. The Shook Twins are not your average folk trio. They have a few tricks up their sleeves. Laurie may drop a beat-box in the middle of a song, while Katelyn plays the guitar, glockenspiel, mandolin, and sings into a telephone and bocks like a chicken. Laurie plays wah-wah Banjo and loops various melodies and beats to make it sound like more than just two identical twin sisters. Meanwhile Kyle lays down the groove adding resonant bass lines to the mix. It's a refreshing romp filled with unexpected surprises.
This past year the Shook Twins have been touring behind their sophomore CD Window, released in April 2011, taking them throughout much of the Northwest. Along the way, The Shook Twins have shared the stage with artists including Ryan Adams, Mason Jennings, Laura Veirs, Carolina Chocolate Drops, The Fruit Bats, Michelle Shocked, JJ Gray and MoFro, Crooked Still, Jason Webley, The Head and The Heart and many more.
(band photo by Patrick Orton)
website:




Facebook page:
About Danny Boy O'Haley
Dan Haley, who has relocated from Vermont back to his musical home of Portland, reveals his Celtic side. A musician's musician, Haley has picked up some tasty Irish licks to share on guitar and mandolin.
About River City Pipe Band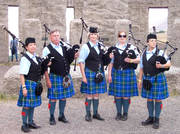 River City Pipe Band is a performance pipe and drum band. They exists to provide a supportive and constructive learning environment for its members to improve their craft through practice, performance, and individual and group competition.
Official Website:
About Hanz Araki & Kathryn Claire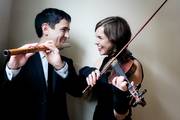 HANZ ARAKI: Flute player/singer Hanz Araki is the quintessential world music musician, performing a blend of traditional Scottish, Irish and English songs and instrumentals with fierce musicianship and an original approach. His journey began with traditional Japanese music and led to traditional Celtic, pop and rock. Channeling six generations of flautists, a cross-cultural tapestry is woven that never grows stale.
KATHRYN CLAIRE: Kathryn Claire has asserted herself in a new generation of traditionally-inspired musicians. Her violin-playing exhibits a technical grace which is matched only by her truly captivating voice and she possesses the rare ability to move seamlessly across genres. Her deep love and respect for traditional music has long been a driving influence and those roots can be heard in her own original music.
Map & Directions
Tags for this Event:
Events > McMenamins Celebrations
Music:
World Music
Americana
Property > Edgefield
Related content (tags):