A truly remarkable destination.
2126 S.W. Halsey St.
Troutdale, OR 97060
Local: (503) 669-8610
Elsewhere: (800) 669-8610
Contact Us
Garcia 3-Day Birthday Bash
Freak Mountain Ramblers
Garcia Birthday Band
Cats Under The Stars
Transcendental Brass Band
Joe Mishkin "The Balloon Guy"
All day; music starts at 1 p.m. |
Free (except golf tourney) |
All ages welcome (except winery)
** Schedule **
10 a.m.: Tie-Dye Golf Tourney
(9 a.m. check in at Distillery Bar)
12 noon: Transcendental Brass Band · Funky street band
(Roaming the property)
1 p.m.: Garcia Birthday Band · Grateful Jams
(Little Red Shed)
5 p.m.: Cats Under The Stars · More Jerry tunes!
(Winery; 21 & over)
6 p.m.: Freak Mt. Ramblers · Rockin' hill music
(Little Red Shed)
6 p.m.: Joe Mishkin "The Balloon Guy" & facepainter
(Roaming the property)
About Garcia 3-Day Birthday Bash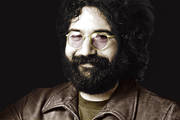 This annual Edgefield party celebrating the late guitarist for the Grateful Dead is always so much fun, we figured we'd spread the joy this year with not one, but three whole days of peace, love and happiness. And beer and free music and stuff.
Friday, 8/3
Rock Creek Tavern (Hillsboro, Ore.)
Get the party started with the tie-dyed goodness that is the Garcia Birthday Band (a.k.a., GBB), a group that was literally born to play this party.

Saturday, 8/4
Barley Mill Pub Block Party (Portland, Ore.)
This well-worn and comfy pub is renowned for its Garcia-inspired artwork, décor and tunes. Gather for live music by The Phoreheads & GBB along with food and drink specials, a tent in the closed-off street and more.

Sunday, 8/5
Edgefield (Troutdale, Ore.)
Finish out the weekend with the Bash itself! Music all day by the likes of GBB (of course), the Freak Mountain Ramblers, and others, along with a marching band, a tribute to the late McMenamins artist Joe Cotter, the annual Tie-Dye Golf Tourney, history tours and beyond.
Tie-Dye Golf Tournament: 9 a.m. check-in; 10 a.m. start • $25 per person; 20 holes of golf • Reservations required • All ages welcome
About Freak Mountain Ramblers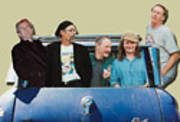 Portland's own Freak Mountain Ramblers bring a rollicking brand of rock 'n' roll, bluegrass, alternative country and country-blues to every show they play.
With a lineup including three members of the inimitable and notorious Holy Modal Rounders / Clamtones amalgamation of the '70s and '80s, Freak Mountain Ramblers has its roots in the underbelly of the alternative music scene that existed at that time, both in Portland and across the country. The Freaks have accumulated a loyal following in the Portland area by dependably creating beauty and bedlam at their live shows, and by producing CDs that successfully translate that energy and excitement to disc. Four lead singer/songwriters, each with a distinct character and approach to life and music, provide a dynamic show that packs the rooms with some of the most interesting music fans around.
The Freak Mountain Ramblers are veteran performers packing decades of experience. FMR members have been core musicians of the Holy Modal Rounders, Golden Delicious, the Clamtones, Richard Cranium and the Phoreheads, Prairie Dogs, Swingline Cubs, The Trail Band, and The Fly By Night Jass Band.
"... Freak Mountain Ramblers aren't your typical country western band. Not only have they chucked the slick yippie-ki-yay good looks of contemporary C&W singers for the haggard couture of mountain men, their lyrics have bizarrely warped the genre's storytelling. One song starts as a fable about two fighting neighbors and picks up speed until they have doused each other with gasoline. Strangely addictive and disturbingly fun, the song is sung in sweet tones and set to a galloping swing." – Portland Mercury
website:
About Garcia Birthday Band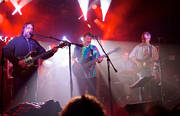 Garcia Birthday Band (GBB), based in Portland, Oregon, is a group of veteran musicians interpreting and celebrating the vast repertoire of the late Jerry Garcia and The Grateful Dead.
But this isn't a "tribute band!" Drawing on years of individual and shared experience, these players are able to craft and transform these tunes into something fresh and original. Solid chops, tight arrangements and fine harmonies all contribute to the band's musical travels and explorations of possibly the greatest and most diverse songbooks of all time.
Always sure to raise the roof and keep the dance floor rocking, hoppin' and shakin', the band's quickly growing "GBB Family" fan base finds the community spirit and kind vibes contagious.
Music-lovers with a wide variety of tastes enjoy this band's extensive playlist which includes classics from Bob Dylan, Smokey Robinson, The Beatles, Johnny Cash, Chuck Berry, Jimmy Cliff, Traffic, Dr. John, Merle Haggard, The Meters, Neville Brothers, Buddy Holly, Otis Redding, Warren Zevon, Rev. Gary Davis, Bruce Cockburn, and Peter Tosh, to name a few. If your musical tastes range from rock-and-roll, country, R&B, blues, bluegrass, folk, or Americana, you will dig this band. No need to be a Deadhead.
With musicians hailing from the likes of New Riders of the Purple Sage (NRPS), David Nelson Band, Kingfish, Cubensis, Buds of May, Ike Willis Band, Brothers Jam and LOOS3, this band is certain to provide high musical adventure!
Band Members:
Arthur Steinhorn (drums),
Scott Gillan (bass/vocals),
Justin Pacuska (guitar/vocals),
Peter Bach (guitar/vocals)
Adam King (keyboards/vocals)
website:




facebook:




video:




audio:
About Transcendental Brass Band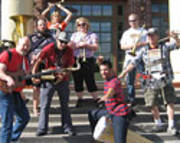 The Transcendental Brass Band is a west-coast take on the classic New Orleans Tradition: funky street bands for processions, parties, and parades. A rhythm section of tuba, drum line, and guitar form the funereal pyre, ignited by the incandescent holy trinity horn section of trumpet, trombone, and saxophone.
Although the fiery, consummately danceable result is the group's trademark, these flexible, trained professionals have sufficient depth and fluency to encompass many musical genres, from jazz to heavy metal, all the way to the most tender ballad. This, and the eclectic mixture of songs, from the Beatles to Mingus, has a wide, multigenerational appeal.
Check 'em out for yourself in these fan-made videos:
PRESS ACCOLADES:
"A touch of funk, a smidge of jazz, and some sprinklings of ska, hip-hop and freeform pop...Make sure your dancing shoes are broken in for this show." --The Oregonian
"In New Orleans, the Transcendental Brass Band could well be spotted on any given corner as street musicians- seven dudes blowing the kind of crazy, funked-out sound that provides the perfect soundtrack for swilling bourbon in the Big Easy. In Portland, they let 'em inside. Transcendental's sound harks back to the glory days of brass bands while providing funkadelic basslines to get asses shaking. It's a timeless sound, revamped into the present with an immediacy that makes it fresh as a steaming po' boy." -Willamette Week
About Joe Mishkin "The Balloon Guy"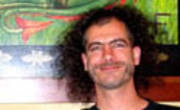 With his incredible balloons, his awesome juggling, his spirited music playing and his daring unicycling and fire juggling, Joe is sure to please your friends, your neighbors, your co-workers, your boss, and you, too!!
Map & Directions
Tags for this Event:
Events:
McMenamins Celebrations
Family
Music:
World Music
Americana
Blues
Groove/Jam
Rock
Property > Edgefield
Related content (tags):