"Eat, Drink, Film" presents
Strange Brew (PG)
6:30 p.m. doors; 8 p.m. film |
$8 per person: movie, Pint of Choice, and Samples |
21 and over
As part of Oregon Craft Beer Month, we're showing this classic beer film, eh?
Come as your best Bob or Doug McKenzie, or some other character from the film – like their beer-drinking dog, Hosehead.
What Else Is Up?
Thursday, July 5
"My First Oregon Brew Festival"
Mission Theater
Featuring a panel that will include Kurt and Rob Widmer, Art Larrance and others. Ask them questions about the early days of the Oregon Brewers Festival. McMenamins will also feature guest taps that night from Widmer, Cascade and BridgePort.We are planning lots of fun events for July, celebrating the craft brewing phenomenon that took off in Oregon 28 years ago.
•
Each week, all our McMenamins locations will offer happy hour prices all day, every day, on a certain brewing style. And make sure to stop by our onsite brewery to say hi to our brewers.
Week of July 1 • IPAs
We like 'em big 'n' hoppy here in the Pacific Northwest.
Week of July 8 • Fruit Beers
Everybody's favorite, Ruby, is one of our biggest sellers, while Purple Haze and Maid Marion have cult-like followings.
Week of July 15 • Wheat-style beers
Could be a hefe, an American wheat, a Bavarian weiss – all depends on the brewers' whim.
Week of July 22 • Copper Moon
This seasonal favorite is the ideal summertime beer – pairs well with sunshine or moonshine.
Week of July 29 • 50/50 Blends
Mix it up! Try a Rubinator or a Rubberhead – or invent your own 50/50 mix.
About Strange Brew (PG)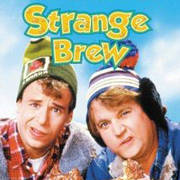 Something is rotten at the Elsinore Brewery. Bob and Doug Mackenzie (as seen on SCTV) help the orphan Pam regain the brewery founded by her recently-deceased father. But to do so, they must confront the suspicious brewmaster and two teams of vicious hockey players.
Map & Directions
Tags for this Event:
Events > Beer, Wine, and Spirits
Property > Mission Theater
Related content (tags):