Special Screening of "Red Tails" (PG-13)
7 p.m. |
$5 per person |
Minor with parent or guardian
A special screening of Red Tails followed by discussion about local Tuskegee Airmen depicted in film.
Mr. Ben "Flaps" Berry, an Aerospace Engineer and Tuskegee Airman, is a recipient of the Congressional Gold Medal of Honor. He is the original designer of the "Fly-by-wire" Flight Control System. Speaking as an expert, and author of the recently acclaimed book "Tuskegee Airmen," Mr. Berry will enhance the event by leading the "Red Tails Forum" on the film's historical signficance in today's world, just prior to the screening. A book signing will attend the opening of the screening. Books and materials will be availabe from Mr. Berry, Pearson Air Museum, Airway Science for Kids, and from the Seattle/Tacoma "Sam Bruce" Chapter of Tuskegee Airmen.
Special Screening of "Red Tails" (PG-13)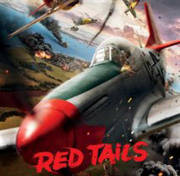 A crew of African American pilots in the Tuskegee training program, having faced segregation while kept mostly on the ground during World War II, are called to duty under the guidance of Col. A.J. Bullard.
imdb:




Portland African American Film Festival: