A truly remarkable destination.
2126 S.W. Halsey St.
Troutdale, OR 97060
Local: (503) 669-8610
Elsewhere: (800) 669-8610
Contact Us
Huck Notari
7 p.m. |
Free |
21 and over
About Huck Notari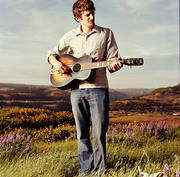 I grew up in the white mountains of New Hampshire. Quite a beautiful place. I lived there for some time and then caught a Greyhound one day out to Oregon. Big changes. Was hanging out with musicians and played some open mics around. Wound up in New Orleans miming on Royal Street as Charlie Chaplin and then soon joined a country blues and ragtime band, the Kitchen Syncopators, that featured Gill Landry (now with Old Crow Medicine Show), Woody Pines (touring with his own band) and Felix Hatfield (of Oz St. Fossils and Cardboard Songsters).
Later, I wound up in Portland and began writing songs on guitar and piano and released my first album, Highland in 2007 and Very Long Dream in 2009. I am usually joined by Karin Nystrom (also with What Hearts), who sings and plays snare drum, and Joel Shimmin, who plays a variety of guitars.
I've been playing around the Northwest and have toured a bit in Ireland. I'm workin' on my third record currently. It's hard to describe my music, but I generally refer to it as original country folk. Below are some quotes of what other folks think...
"Huck is one of the finest songwriters in America today - songs full of truth and peace - they do what songs ought to do" --Samantha Pardon, the Be Good Tanyas
"Huck is one of the best songwriters I have come across in a long while and Highland will be getting steady rotation on my music player for years to come. For fans of Neil Young, Paul Simon, Bob Dylan, and in general, any grassroots, rugged, hometown, folk music" --Michael Lynch
"I have always been a fan of subtle, beautiful, guitar. I came across Huck Notari the other day and I have to admit that I am very impressed. What is in the water in Portland?" --Paper Pistol, independent music ramblings
"Huck Notari is from Portland, Oregon and is about the closest thing to a troubadour we think we've heard in a long time. Huck Notari's songs are folk songs in the proper sense. Beautiful finger-picked melodies and lyrics that can effortlessly transport you somewhere else entirely. Huck Notari sounds timeless to us, like he could have recorded this album anytime in the past thirty years. Huck Notari has come out of nowhere and knocked us sideways with a wonderful, wonderful record." --the Mad Mackerel, a music blog
Map & Directions
Tags for this Event:
Property > Edgefield
Related content (tags):