A truly remarkable destination.
2126 S.W. Halsey St.
Troutdale, OR 97060
Local: (503) 669-8610
Elsewhere: (800) 669-8610
Contact Us
St. Patrick's Day Celebration at Edgefield
State & Standard
The Mad Maggies
Brongaene Griffin
Hanz Araki & Kathryn Claire
Seth & May
River City Pipe Band
Bob Soper Duo
Plus ballons & face painting for the kids!
All day; music begins @ 1 p.m. |
Free |
All ages welcome; 21 & over in the winery
Join us for a two day celebration of our favorite holiday! We'll have a heated tent with lots of room for revelry. Don't miss all the great beverage and food specials like Irish Stout, Irish coffees, Shepherd's Pie, Corned Beef & Cabbage, Irish Reubens, Dubliner Cheese Salad and more!
*** SCHEDULE ***
All events free and all ages welcome, unless noted
Watch for roving Leprechauns with candy!
Friday, March 16, 2012
4:30 p.m.: Cul an Ti @ the Loading Dock
5 p.m.: Whitethorn · 21 & over only @ the Winery
6 p.m.: River City Pipe Band · Roving the property 
7 p.m.: Johnny B. Connolly · 21 & over only @ the Winery
7 p.m.: The Strange Tones @ the Loading Dock
Saturday, March 17, 2012
11 a.m.: St. Patrick's Day Golf Tourney (10 a.m. check-in) · $25 per person @ the Pub Course
12 noon: Irish Dancers @ the Loading Dock
1 p.m.: Bob Soper Duo @ the Loading Dock
2 p.m.: Hanz Araki & Kathryn Claire @ the Loading Dock
2 p.m.: Bob Soper Duo · 21 & over only @ the Winery
2:30 p.m.: River City Pipe Band · Roving the property
3 p.m. 'til 6 p.m.: Balloons and Facepainters for the kids · Roving the property
3:30 p.m.: The Mad Yankees @ the Loading Dock
3:30 p.m.: Seth & May · 21 & over only @ the Winery
4 p.m.: The Mad Maggies @ the Little Red Shed
6 p.m.: Annalee (harpist) @ Black Rabbit Restaurant
6 p.m.: Brongaene Griffin · 21 & over only @ the Winery
6 p.m.: Angry Monks @ the Little Red Shed
6 p.m.: The Mad Maggies @ the Loading Dock
8 p.m.: State & Standard @ the Loading Dock
About St. Patrick's Day Celebration at Edgefield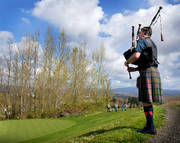 We do so love this particular holiday! At spots across the Pacific Northwest, we'll offer live music, bagpipers, McMenamins Irish Stout, Irish Coffee cocktails, leprechauns, Irish food specials and more.
Food and drink:
Irish Reubens
MacSleyne Irish Stew
McMenamins Irish Stout on tap
Irish coffees
See what's happening around our other locations...
About State & Standard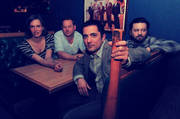 (formerly Men of the West)
The premier Celtic group on the West Coast. Hanz Araki, Kathryn Claire, Cary Novotny, Ezra Holbrook and Jules Holbrook round out this one-of-a-kind experience of pitch-perfect harmonies and blazing jigs and reels. Dancers and foot-tappers alike will be inspired by this world class group of musicians.
About The Mad Maggies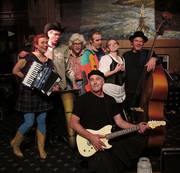 Hard to describe, easy to love! These SF Bay Area musicians kick up some dust with their own style of rowdy folk fusion. They swerve effortlessly from Celtic rock to ska, from Cajun to klezmer, from polka and swing to the high seas and beyond.
Members
Johny Blood: tuba
Adrian Gormley: alto, tenor and bari sax
Maggie Martin: accordion, vocals
Ian Luke: drums
Rhian Robinson: clarinet, tin whistle
Tim Sarter: bass guitar
Gary "GDub" Wium: guitars
About Brongaene Griffin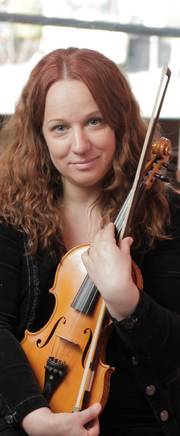 Brongaene Griffin's long-awaited debut CD is an exciting collection of "contemporary traditional" fiddle music. Based in Portland, OR, Brongaene is a well established NW area fiddler who has roots in Bluegrass and Old-Time and began focusing her playing on Irish music in the late 1990s.
The cat "theme" that runs through Griffin's recording is expressed in the CD title, the tune selection and in the poetry readings (charmingly rendered by the voice of fiddler Kevin Burke). Brongaene dedicates the whole album to feline welfare and at the same time allows her fiddle playing, accompanied by the collective and individual talents of both locally and internationally acclaimed musicians, to take the listener on a journey through her musical influences, the music of Ireland and America.
Guitarist Gerry O'Beirne, fiddler Kevin Burke and accordionist Johnny Connolly from Ireland are featured prominently on the recording as are Portland's Elizabeth Nicholson on harp, Jim Chapman on bouzouki and Bob Soper on djembe and fiddle.
Brongaene invited Gerry O'Beirne to also bring his invaluable production experience and skills to the project. Over the course of two years Gerry and Brongaene carefully crafted this heartfelt album, which was recorded at Big Red Studio in Portland, Oregon.
Having taken lessons from Kevin Burke while in her teens, Brongaene, as a young woman, moved to Ireland for several years. She learned from, and paid great attention to, the great fiddlers of that country and at the same time retained her broad, rich tones, underlining her Old-Time and Bluegrass beginnings.
About Hanz Araki & Kathryn Claire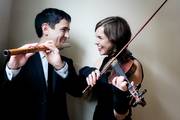 HANZ ARAKI: Flute player/singer Hanz Araki is the quintessential world music musician, performing a blend of traditional Scottish, Irish and English songs and instrumentals with fierce musicianship and an original approach. His journey began with traditional Japanese music and led to traditional Celtic, pop and rock. Channeling six generations of flautists, a cross-cultural tapestry is woven that never grows stale.
KATHRYN CLAIRE: Kathryn Claire has asserted herself in a new generation of traditionally-inspired musicians. Her violin-playing exhibits a technical grace which is matched only by her truly captivating voice and she possesses the rare ability to move seamlessly across genres. Her deep love and respect for traditional music has long been a driving influence and those roots can be heard in her own original music.
About Seth & May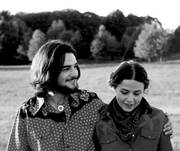 Michigan has, for some time now, been a deep resource for songwriters and roots musicians. Two favorites, Seth Bernard and May Erlewine, well-known to audiences as single acts, have been performing and recording together for almost six years.
Before they teamed up, each paid their dues traveling across the land playing their music and sharing stories with everyone they met. Now they are in constant demand playing festivals all over the country and at venerable folk institutions such as the Ark in Ann Arbor and Garrison Keillor's "A Prairie Home Companion."
Already seasoned songwriters with five solo records each and two duo albums to their names, Seth and May draw from a deep well of American folk, country, blues and soul music. May Erlewine plays guitar and violin and is a songbird reminiscent of Patsy Cline and Patty Griffin. Her songs have been recorded by artists across the country and sung in schools and places of worship. Samuel Seth Bernard has drawn comparisons to Woody Guthrie and Neil Young as a shape shifting folk rocker, community organizer, and communicator of ideas. They harmonize their voices and instruments beautifully, believing music can bring people together and proving so at every performance.
Like all the best folk musicians, they have the ability to get everyone's attention and still a room. With their band, they can captivate and electrify an audience and ignite a dance floor.
Seth and May's common belief in music to strengthen communities and to be a part of positive change has led to collaborations with numerous schools, farms and non-profit organizations. They partnered with best selling author and famed environemtalist Bill McKibben and contributed songs to the www.350.org movement for Climate Change action. They have also fostered the creation of the Water Festival, a series of events in the Great Lakes region dedicated to music and education about preserving water quality and universal access. The best way to find out what Seth and May are about is to listen to their music, either at www.earthworkmusic.com or www.sethandmay.com.
About River City Pipe Band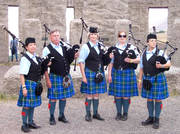 River City Pipe Band is a performance pipe and drum band. They exists to provide a supportive and constructive learning environment for its members to improve their craft through practice, performance, and individual and group competition.
About Bob Soper Duo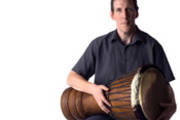 Bob Soper is counted among Portland's most astonishingly versatile multi-instrumentalists. He is most known for his role co-fronting the highly acclaimed music group String Migration. A rock and jazz drummer from a young age who also studied classical Indian music at the Ali Akbar College, he went on to learn the Irish fiddle, ultimately becoming one the Northwest's most sought-after players. Also an accomplished guitarist, bouzouki player and vocalist, he's been a member of some of the region's most beloved and successful ensembles, including the Irish bands C'l an T' and Grafton Street, as well as the old-time/country-blues group The Pagan Jug Band.
Map & Directions
Tags for this Event:
Events:
Holidays
McMenamins Celebrations
Music:
Americana
World Music
Property > Edgefield
Related content (tags):