4045 N.W. Cornelius Pass Rd.
Hillsboro, OR 97124
(503) 640-6174
Contact Us
Limited-Edition Beer Tasting
"The Unique Side of Beer"
Roadhouse Beer Invitational
6 'til 9 p.m. |
Limited-edition beer at happy hour pricing |
All ages welcome; must be 21 to drink
Join us for our second round of the Roadhouse Invitational, as we celebrate "The Unique Side of Beer."
Like your ales sweet or tangy or just a little different? Then this one is for you. Just think when we first made Ruby the masses thought we were crazy putting Raspberries in beer, but that was only the beginning, come see what our brewers are doing now in the name of unique!
We will feature a unique ale from our own Cornelius Pass Roadhouse brewers and three guest ales from other McMenamins brewers. We will compare the four choices, talk beer with the guest brewers and even award a people's choice award to the best brew of the night.
Featured Beers
Professor's Malted Milk Balls Porter
Cornelius Pass Roadhouse Brewery
First, it was the Nutter Butter cookies that fell victim to the Professor's twisted experiments. Then, when things were almost back to normal again, Nilla Vanilla wafers became the subject of experimentation, computation, and eventually mutation. Now the insanity continues with Professor's Malted Milk Balls Porter. A smooth porter brewed with pale chocolate and dark chocolate malts provides a luxurious base that accentuates the classic "malted milk" finish. So tip back your pint and relish this one-of-a-kind ale. Who knows, it just might wake up your inner mad scientist!
Crazy Christina's Caramel Corn Ale
Edgefield Hotel Brewery
Like a trip to the State Fair... with Weird Al headlining the big-top! This ale was brewed with generous amounts of flaked corn and caramel Vienna malt. The flaked corn gives the beer a nice creamy mouth feel and subtle sweetness, and the caramel Vienna malt lends flavors of caramelized sugar thus adds a wonderful hue to the ale. Hops predominantly known for their spiciness allow the beer to finish with a nice crispness.
Black Jack Russian Imperial Stout
Thompson Brewery & Public House
For all you inspiring pirates out there, here is my gift to you! What better to have with you as you cross the seas of the world than a pint of beautiful Russian Imperial Stout? As you dash about the deck of your mighty ship you will need strength and reward from a beautiful beer. Your black as night gift is filled with big warm notes of roast and black malts and flaked barley to smooth out your elixir. But what is this? There is more? We raided the lower deck that was filled with spices and food for your crew. Added some fresh vanilla bean, coffee and a hint of black peppercorn. A grand pirate such as yourself should never have an average beer, but one that makes you stand at the bow of your ship with pint raised high in the air as you conquer the world of the seas. Cheers!
Golden Graham Cream Ale
Crystal Hotel Brewery
Billed as a graham cracker cream ale, this beer pours a deep copper color with a thick creamy head and aromas of fresh baked cookies. Well balanced, with a delicious malt flavor complimented by subtle hints of vanilla, dried fruit and a touch of cinnamon. The fruity sweetness of the molasses kissed with cinnamon and vanilla, gives this ale the classic graham cracker flavor you loved as a kid, and now an enticing beverage you'll enjoy as an adult.
Featured Food
Pink Alaea Pretzel
Our full Imbrie Hall menu is also available
About Roadhouse Beer Invitational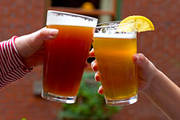 Join us to sample handcrafted small-batch beer from four different McMenamins breweries – and talk with the brewers and ask beery questions.
Map & Directions
Tags for this Event:
Events > Beer, Wine, and Spirits
Property > Cornelius Pass Roadhouse
Related content (tags):