4045 N.W. Cornelius Pass Rd.
Hillsboro, OR 97124
(503) 640-6174
Contact Us
Limited-Edition Beer Tasting
Roadhouse Session Beer Invitational
Wednesday, August 29, 2012
6-9 p.m. |
Limited-edition beer at happy hour pricing |
All ages welcome; must be 21 to drink
Session Beer – Let's keep it under 5% drink all day.
High Street Brewery
Osito Summer Session
In Spanish, Osito means little bear or teddy bear. Inspired by the flavor-packed but very drinkable Vienna style and high quality Mexican beers, this summer session beer is designed to bring tons of delicious flavor without tipping the scales in strength. Made with one third each of Pilsner malt, German Vienna malt, and German Munich malt and lightly hopped with all noble hop varieties, Osito the "Teddy Beer" is crisp and refreshing without being watery. This is the craft brewer's answer to high-end imported Mexican beers.
Malts: Pilsner malt, Vienna malt, and Munich malt
Hops: Perle and Santiam
OG: 1.050
TG: 1.007
ABV: 5.55%
IBU: 27
SRM: 5
Crystal Brewery
Organic Liquid Friend
(Organic Session Ale)
Say hello to my Liquid Friend… A friend indeed, this beer is meant to be enjoyed by the pitcher, with people you can stand to drink around. A gentle backbone of premium two-row barley and wheat malt set the stage, for a kiss of citrus trailing into a pleasant floral finish. A truly thirst quenching session ale to combat those blistering summer months. So belly up, and order a friend; and remember, "When you're drinking a Liquid Friend, you're never drinking alone!"
Malts: Organic 2-Row Malt, Organic Wheat Malt and Organic Munich
Hops: Amarillo, Galena, Crystal and Golding
CPR Brewery
Small Dog Session Lager
This crisp, moderately-hopped lager packs plenty of flavor without too much punch. The result is a thirst-quenching palette pleaser that you can enjoy all day long. Why run with the big dogs when you can drink beer on the porch!
Malts: Superior Pilsen, CaraVienna, Flaked Barley
Hops: Sterling, Cascade
OG: 1.038
TG: 1.005
ABV: 4.26%
IBU: 35
SRM: 3
Old Church Brewery
Cascadian Light Ale
This was brewed to be a light hoppy session beer. The name is derived from the Oregonian tradition of creating something new and laying namesake to it. Here in the land of Cascadia, we choose rain over sun for most of the year. So when the sun finally comes out, it is time to sit back and soak up some rays. Don't be afraid to imbibe in a few of these light ales with your feet kicked back and the sun hitting your face. Let the hops entice your nose while the smooth caramel malt and carbonation mingle on your tongue. Because you, yes you, you earned it.
Malts: German Pilsner, Munich Malt, Optic pale malt, Premium 2 row and Crystal 60L
Hops: Amarillo
OG: 1.051
TG: 1.013
ABV: 4.9%
IBU: 25
SRM: 5
About Roadhouse Session Beer Invitational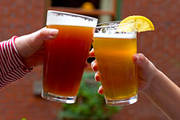 Join us to sample handcrafted small-batch beer from four different McMenamins breweries – and talk with the brewers and ask beery questions.
Map & Directions
Tags for this Event:
Events > Beer, Wine, and Spirits
Property > Cornelius Pass Roadhouse
Related content (tags):