4045 N.W. Cornelius Pass Rd.
Hillsboro, OR 97124
(503) 640-6174
Contact Us
Limited-Edition Beer Tasting
Roadhouse Winter Warmer Invitational
Death Star
The Commodore's Reserve Barley Wine
Parson Brown
Oo-La-La
Wednesday, November 28, 2012
6-9 p.m. |
Limited-edition beer at happy hour pricing |
All ages welcome; must be 21 to drink
Winter Warmer Invitational – Whatever you prefer to stave off the cold weather.
Featured food for the evening is "Chef's Buffalo Stew."
The Brews:
Death Star
from the Roadhouse
What happens when the brewers and distillers unite to harness the energy of the DARK STAR for their own sinister ends? Behold the DEATH STAR. Built from 1000 pounds of grain and capable of destroying palates in a single blast, this evil ale has an enormous malt body with notes of candied raisons and brandied figs. Its gigantic body allows it to focus beams of vibrant hoppiness so powerful your tastebuds will quake with pleasure. So raise your glass and yield to the dark side!
Malts: Premium Two Row, Optic Pale, Munich, Crystal 75L & 120L, Baird's Black, Carafa II, Flaked Barley
Hops: Centennial, Simcoe
OG: 1.21
TG: 1.035
ABV: 11.09%
IBU: 111
SRM: 30
• • •
The Commodore's Reserve Barley Wine
from the Lighthouse
A rich, full-bodied, smooth beer. The rich malt flavor has been complimented with an oak spiral that was soaked in Hogshead Whiskey, giving a wonderful addition of oak and whiskey flavors.
Malts: NW Pale, 2-Row, Vienna, C-40, Brown
Hops: Chinook, Cascade, U. S. Golding
OG: 1.098
TG: 1.016
ABV: 10.58%
• • •
Parson Brown
from Old St. Francis School
As the weather changes from brisk to chilly to downright freezing, the Old St Francis School Brewery believes the beer you drink should reflect these changes. The Parson Brown is a winter warmer-style brown ale that lets you enjoy the Wonderland that winter can be. Take a walk down the lane with sleigh bells ringing. Enjoy the glistening snow with the new bird singing a love song. Build a snow man in the meadow and pretend he is Parson Brown. Conspire by the fire – the dreams you will make knowing that you're with loved ones in a Winter Wonderland! If this time of year resonates with you, the wonder which is winter, grab a pint of Parson Brown and stroll around savoring the experience of winter. Full malt flavors with touches of toffee and nuts (chestnuts on an open fire, perhaps?) will please the palate. Yet unlike most brown ales the Parson has a hoppier kick. Floral, citrus hop flavor combine with earthy, mild aromas that leave a slight bitterness that dissipates quickly on the tongue as the pleasing malts come back for more. A fantastic pint of ale to warm your insides on a frigid winter's day! It makes you even warmer when a pint is shared with a friend or loved one! Cheers!

Malts: GWM Pale, GWM Munich, Flaked Barley, Franco Belges CaraMunich 40L, Baird's Crystal 70/80, Baird's Brown and Baird's Chocolate
Hops: Centennial, Nugget, Brewer's Gold, Cascade and Willamette
OG: 1.070
TG: 1.012
ABV: 7.5%
IBU: 72
SRM: 18
• • •
Oo-La-La
From Roseburg Station
Oo-La-La is a full-bodied Winter Warmer ale. A rich malty sweetness comes from a healthy dose of Pale Ale and Munich malts. Caramel-Munich, Crystal Rye and Roast Rye malts add a toasty caramel complexity with a zing of rye, and Blackprinz contributes to a deep, dark reddish-brown hue. Cascade and Citra hops counter the malt with tropical citrus flavor and aroma. Extra warmth comes not only from the 8% ABV, but also from select peppers added to each keg and aging on Rye Whiskey infused oak. All these flavors come together in a delicious dark ale that will excite your taste buds and take the chill out of winter.

Malts: Pale Ale, Rye, Crystal Rye, Roast Rye, Munich, Caramel-Munich, Blackprinz
Hops: Zeus, Cascade, Citra
OG: 1.075
TG: 1.013
ABV: 8.0%
IBU: 81
SRM: 21
About Roadhouse Winter Warmer Invitational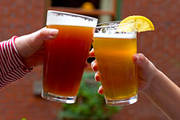 Join us to sample handcrafted small-batch beer from four different McMenamins breweries – and talk with the brewers and ask beery questions.
Map & Directions
Tags for this Event:
Events > Beer, Wine, and Spirits
Property > Cornelius Pass Roadhouse
Related content (tags):