Limited-Edition Beer Tasting
Heavy Weight IIPA
Wednesday, November 21, 2012
4 p.m. 'til beer is gone |
Limited-edition beer at happy hour pricing all night |
All ages welcome
Heavy Weight IIPA
The Heavy Weight Double IPA is just about as big as it gets. Coming in at an astounding 8.5% ABV the Heavy Weight packs an enormous hop punch. Bittered with High Alpha Nugget hops, a sharp yet floral bitterness will be the first thing that hits your senses. After the initial blow of hops comes a one-two punch of Centennial and Cascade hops. Twenty total pounds of hops went in to this behemoth of an ale. Three of those pounds coming in the form of pellet dryhops added directly to the fermenter.
After those hops have had a chance to sift through the entire batch of beer, the Heavy Weight was transferred into a bright tank to condition and become as crystal clear as it can be. Additionally, a rock-solid handful of Cascade whole flowers were added to each keg upon racking. If hops are what you love most about beer, hop into the ring with the Heavy Weight!
Malts: Superior Pilsen, Flaked barley
Hops: Nugget, Cascade, Centenial
OG: 1.078
TG: 1.012
ABV: 8.5%
IBU: 100 plus
SRM: 4
About Limited-Edition Beer Tasting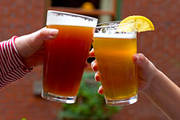 Join us once a month to sample a new, small-batch beer, handcrafted by one of our brewers.
Talk to the brewers, ask beery questions, enjoy happy hour pricing all night long on these limited-edition pints and more.
And when the beer is gone, it's gone.
Map & Directions
Tags for this Event:
Events > Beer, Wine, and Spirits
Property > Oak Hills Brewpub
Related content (tags):