4045 N.W. Cornelius Pass Rd.
Hillsboro, OR 97124
(503) 640-6174
Contact Us
St. Patrick's Day Celebration at Cornelius Pass Roadhouse
Celtic Curve
Andrea Wild and Broadside Johnnie
All day; music begins @ 5 p.m. |
Free |
All ages welcome
*** SCHEDULE ***
All events are free and all ages welcome
Listen for a roving bagpiper during your visit!
Saturday, March 17, 2012
1 p.m. 'til 8 p.m.: Tours & Tastings of "White Owl Whiskey" with Bart, the distiller @ the Distillery
5 p.m.: Andrea Wild with Broadside Johnny @ Imbrie Hall
8 p.m.: Celtic Curve @ Imbrie Hall
About St. Patrick's Day Celebration at Cornelius Pass Roadhouse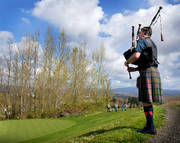 We do so love this particular holiday! As we celebrate the release of our newest whiskey, "White Owl," distilled right here at CPR, we'll offer live music, bagpipers, McMenamins Irish Stout, Irish Coffee cocktails, leprechauns, Corn Beef & Cabbage and more.
Food and drink:
Irish Reubens
MacSleyne Irish Stew
McMenamins Irish Stout on tap
Irish coffees
See what's happening around our other locations...
About Andrea Wild and Broadside Johnnie
A repertoire of Old Celtic Song, English Ballads, Irish Sing-Alongs and Rousing Sea Shanties performed with concertina, vocal harmonies and a good amount of native wit.
Andrea Wild
Andrea was born in Liverpool, UK and grew up with the sibling singing tradition emphasizing harmony and a cappella performance. With her brother, Straford, the two performed at various folk clubs in England. Their singing took them on travels from South Wales to the Isle of Skye gathering new material along the way. The siblings made their way to the United States and formed the band Both Wild. Andrea has performed solo and with Both Wild for many years throughout the US at numerous folk festivals and music venues. Andrea currently collaborates with singer and accordion player Brian Hart and Irish dancer Maldon Meehan in the trio, The Stomptowners and enjoys the duo formation with the concertina-playing burly pirate persona known as Broadside Johnnie.
Broadside Johnnie
Official registers record that Broadside Johnnie was first accounted for in Rochester, County Monroe, New York.
Broadside Johnnie matriculated in his spare time at Reed College, Portland. He completed the course of English Literature, not only for his love of the spoken word, but because most of the course books were in the library, and did not have to be purchased. He commenced into the real world with little more than strong lungs, a love of poetry and a sheep's skin to recommend him.
Within a fortnight after acquitting his bachelor's indenture, Broadside Johnnie apprenticed himself to the classical muse as a journeyman trouper in a touring Shakespeare company for a term of seven summers. Not satisfied with the opportunity to animate some of the most beautiful poetry the literary canon, Broadside Johnnie discretely courted the classical muse's older sister, traditional folk song. This consortium bred the adoption of a performing partner, a thirty-button English concertina.
Broadside Johnnie keeps his ears out for traditional ballads, airs, and sea shanties. The songs he selects for performance are distinguished by vivid imagery, well-paced dramatic narrative, or sly humor. Most often, he will master a song's melody and verses by listening. With these at his command, he directs his voice and fingers to translate the melody to his favorites keys on the concertina. Broadside Johnnie's adherence to the traditional canon not only solemnizes his veneration of the timeless themes of love and loss among common working people, but also remedies the prospect of suffering the consequences of copyright violation.
Map & Directions
Tags for this Event:
Events:
Holidays
McMenamins Celebrations
Property > Cornelius Pass Roadhouse
Related content (tags):