Masterclass: The Art of Film Accompaniment
2 p.m. |
$5 advance, $7 day of show, special $12 combo ticket (advance only) includes admission to Aida vs. Metropolis on February 10 |
Minor with parent or guardian
Masterclass: The Art of Film Accompaniment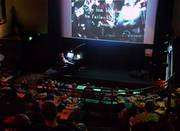 Educate yourself by coming to the launch of OTO's new public masterclass series on the lost art of silent film improvisation. Way before today's mega-budget films with Howard Shore and John Williams scores, silent films were accompanied live, with a pianist or organist creating the score on the fly. The accompanist's charge was to engage the film's story and visual atmosphere in real time, and no two nights ever sounded alike.
Pianist and insanely talented improviser Douglas Schneider will challenge students to create on-the-spot accompaniments to select scenes from Fritz Lang's "Metropolis," helping them hone their skills right in front of the audience!
Attending the film and the masterclass? Special $12 combo ticket (advance only) includes admission to "Aida vs. Metropolis" on February 10th. Don't miss it!
Website:




Facebook event: