5th Annual Zwickelmania
Saturday, February 16, 2013
11 a.m. 'til 4 p.m. |
Free |
21 & over to sample ales
About 5th Annual Zwickelmania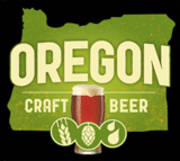 Featured Beers:
General Schwartz (Black Lager / Schwarzbier)
Farewell Kiss Barleywine (aged in Edgefield Pinot Noir barrel w/ Brett & Lacto added).
Food:
Pizza Squares
What the heck is a zwickelmania, you ask? It is a free event hosted by the Oregon Brewers Guild in which breweries throughout the state throw open their doors and let the public stream in! Not only that, it's President's Day Weekend, so why not make a trip of it? Stop by our brewery, where you can try a sample of handcrafted ale, chat with the brewers and have a look around.
During this once-a-year celebration, breweries across the state hold open-house style events that allow craft beer enthusiasts and novices alike the opportunity to get an up-close look at the state's thriving craft beer scene.
In honor of Zwickelmania, all Oregon McMenamins pubs will be offering a special when you fill a jar/growler.
$4.25 to fill a 1 quart jar
$8.50 to fill a 2 qaurt jar or standard McMenamin growler
Growler can be purchased at the regular price
This pricing will be good at ALL Oregon McMenamins on Feb. 16 from 11 a.m. 'til 4 p.m.
Here's a list of where we'll be pouring some special ales:
Portland – Crystal Brewery
Portland – Kennedy School Concordia Brewery
Salem – Thompson Brewery
Eugene – High Street Brewery
Bend – Old St. Francis Brewery
"Oregon is at the epicenter of craft brewing in the United States – craft beer production is up, 19 new breweries and brewpubs opened up across the state since last year, and Oregon beers garner medals at the world's top beer competitions," said Oregon Brewers Guild Executive Director Brian Butenschoen. "There's an excitement about the craft brewing scene here, and Zwickelmania offers the perfect opportunity to celebrate our beer culture by visiting some of the phenomenal breweries that call Oregon home."
From 11 a.m.- 4 p.m., participating locations will offer everything from brewery tours and beer & food pairings to brewer led discussions and beers samples. Additionally, the Oregon Brewers Guild will provide free shuttle buses in Portland, Eugene and Bend to ferry visitors among multiple breweries. Admission to Zwickelmania events and the shuttle bus service are both free.
Zwickelmania takes its name from the zwickel sample valve on beer conditioning tanks. This sample port is an essential tool in the brewing process and allows brewers to take quality control samples during the fermentation process.
Zwickelmania has become one of the most anticipated beer events of the year and promises to keep growing. The first Zwickelmania event in 2009 featured 15 breweries. By contrast, this year more than 67 breweries across the state will be hosting events and 20,000 attendees are expected for the President's Day weekend event.
Visit the Oregon Brewers Guild website for a complete list of participating breweries and shuttle bus schedules.
Map & Directions
Tags for this Event:
Events > Beer, Wine, and Spirits
Property > Crystal Ballroom Property
Related content (tags):