& Lola's Room
1332 W. Burnside
Portland, OR 97209
(503) 225-0047
crystal@mcmenamins.com
Okkervil River
Titus Andronicus
Julianna Barwick
8 p.m. doors, 9 p.m. show |
$18 advance, $20 day of show |
All ages welcome
Buy Tickets
Tickets on sale now!
About Okkervil River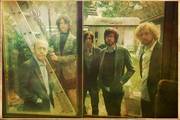 "The goal was to push my brain to places it didn't want to go. The idea was to not have any idea --to keep myself confused about what I was doing," frontman Will Sheff says about Okkervil River's newest album. "I produced it myself so that I could extend the songwriting process all the way through to the very last second of recording, so the songs would never really stop changing." The resulting record, I am Very Far, is a startling break from anything this band has done before. By turns terrifying and joyous, violent and serene, grotesque and romantic, it's a celebration of forces beyond our control.
When Okkervil River released their breakthrough Black Sheep Boy in 2005, Uncut wrote that "Sheff's novelistic lyrics and the dexterous blend of country, folk and nervy indie-rock suggest a band approaching the peak of their powers." A New York Times piece on their 2007 follow-up The Stage Names (and its companion album The Stand Ins) echoed, "Sheff writes like a novelist," and Pitchfork called him, "One of the best lyric writers in indie rock." But on I am Very Far, Sheff emerges not only as a songwriter of the highest caliber, but a producer and arranger of singular vision. Abandoning the tidy conceptual arcs of Okkervil River's previous albums, I am Very Far is a monolithic, darkly ambiguous work, one that doesn't readily offer up its secrets.
Work on I am Very Far started in early 2009, after a year spent on the music of others. Sheff contributed vocals to The New Pornographer's album Together, wrote a song for Norah Jones' The Fall, produced an upcoming album for Brooklyn-based Bird of Youth, and helmed the Roky Erickson record True Love Cast Out All Evil, for which his album notes received a GRAMMY nomination. "I'd never worked with Roky before and never produced someone else's record before. It was a life-changing experience," Sheff recalls, "When it was over I felt both completely drained and completely inspired." Immediately upon wrapping up work and leaving Erickson's company, Sheff drove to his home state of New Hampshire for lengthy isolated writing sessions. "I wanted to go back home and re-start writing again, like I'd never written a song previously," he says, "and I wanted the music and lyrics to be both completely wedded together and a little bit beyond my control. I kept trying to write from the state of mind of someone who had just been born, that feeling of being very young and being aware of not existing before a certain moment, which is a feeling I remember having as a kid."
Sheff emerged from the writing process with 30 or so songs, which he narrowed down to 18. In contrast to Okkervil River's usual practice of holing up in one studio for months on end, he opted for a series of short, high-intensity sessions, each in a different location, each employing completely different methods than the one before it. For songs like "Rider" and "Wake and Be Fine," Sheff gathered together a massive version of Okkervil River --two drummers, two pianists, two bassists, and seven guitarists, all playing live in one room-- and led them on a week of live-in-the-studio marathon session, performing a single song obsessively over and over for as many as 12 hours to capture just the right take. Songs like "Show Yourself" and "Hanging from a Hit" were worked out in improvisational sessions with the core band, minimally recorded to 8-track tape, and then re-structured and re-written in the editing process. For the strange science-fiction parable "White Shadow Waltz," Sheff self-recorded the entire song and then had Okkervil River re-record every instrumental track on top of that. After basic-tracking was done, Sheff overdubbed the songs with the band's largest instrumental palette to date --not only choral elements and orchestral colors like strings, tympani, tuba and bassoon, but also file cabinets thrown across the room, unreeled rolls of duct tape, and, on "Piratess," a solo created out of a fast-forwarding and rewinding boombox. Finishing the record from home, Sheff constantly edited and reworked the album, reinventing the song structures, re-recording vocals, re-writing until the very last minute, reshaping even the tiniest of details, ultimately creating an album that plays not only as a lush, seamless epic, but also as the most deeply personal effort of his career.
What can listeners expect? Richer and weirder than The Stage Names and deeper and moodier than even Black Sheep Boy, I am Very Far is dense, fragmented, opaque. A reverie of uncertainty, it feels at once disorienting and oddly familiar, threatening and friendly. Okkervil River have thrown away all maps and compasses but they continue to chart their way, unblinking, toward destinations unknown.
website:
About Titus Andronicus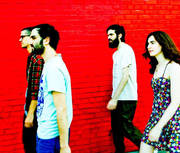 In March of this year, XL Recordings released Titus Andronicus' epic second album THE MONITOR. The band's leader, Patrick Stickles, introduced the album at that time with a letter to the media. It is below, in its original glory.
You should know however, that since its release, it's been heralded as one of 2010's top albums, and the critics fell immediately in love with it.
Dear distinguished members of the press,
The New Jersey indie rock band Titus Andronicus has recorded a new album, a follow-up to our 2008 (2009?) release, The Airing of Grievances. This new album, The Monitor, will see release thanks to our friends at XL Recordings on March 9th, 2010, the 148th anniversary of the Battle of Hampton Roads, wherein the U.S.S. Monitor and the C.S.S. Virginia entered into their epic struggle off the coast of Virginia.
The Monitor is more or less a "concept album" - that is to say, it uses the American Civil War of 1861-1865 as an extended metaphor for the concerns addressed in a somewhat linear narrative. In said narrative, our hero leaves his humble birthplace of New Jersey - the oppressive and stifling qualities of which were discussed ad nauseam about one album ago - for the greener pastures of Boston, Massachusetts. His thesis - "the enemy is everywhere" - is put to the ultimate test as he pontificates on the topics of regional identity, emotional anesthetization, and the heavy yoke of trying to live decently in indecent times. All the while, he is forced to wonder whether said American Civil War was truly won or lost, or even completed. Will he find the supportive environment and like-minded compatriots he dreams of? Or will he be forced to leave his newly adopted home in ideological disgrace? What does it mean to be an American in 2009 anyway? Who are our so-called "friends" and how actually friendly are they? Is it necessary, or even a good idea, for an indie rock album to ask these sorts of questions? The Dark Knight, Curb Your Enthusiasm, and The Taming of the Shrew also fit in there somewhere.
The Monitor was recorded during August of 2009, under the watchful eye of producer and engineer Kevin McMahon (who oversaw our first album, among others), at his studio - Marcata Recording - in New Paltz, NY. The usual suspects from the world of Titus Andronicus were all in attendance, as well as an all-star cast of luminous friends (members of Ponytail, Wye Oak, Vivian Girls, Hold Steady, etc.) and a generous assortment of colorful New Paltz locals. The aforementioned Kevin McMahon also did the mixing during September and October, and Greg Calbi did the mastering (so chosen because he is the only person alive who can claim involvement in both The Chemistry of Common Life by Fucked Up and Bat Out of Hell II: Back Into Hell by Meat Loaf) in early November.
So what does all this sound like? It has long passages of ambient drones, blazing saxophone, pianos homages to "A Charlie Brown Christmas," complete marching drumlines, Thunder Tube solos, fourteen-minute Billy Bragg knock-offs, backwards liturgical pieces, bombastic country duets, garbage cans hit with tambourines, choirs of angels with bromantic faces, probably too many spoken word interludes lifted from cassette tapes, and, of course, the hissy-fit punk songs and off-key warbling we have come to expect from Titus Andronicus. Did I mention that this record is sixty-five minutes long? Because that's kind of important. Through and through, it is a wholehearted and potentially ill-advised grab for some sort of imaginary brass ring, the sound of a band desperate for success and defiantly unafraid of failure. That was the idea, at least.
Blah blah blah Springsteen blah blah blah beer blah blah blah beard blah blah blah Shakespeare yadda yadda yadda Seinfeild blah blah blah Conor Oberst in a vat of acid blah blah blah books.
The Monitor will be available as a compact disc or as a double vinyl LP, both with gorgeous artwork by Nolen Strals, vocalist of Double Dagger and co-author of the recently published textbook, Lettering and Type, or in regular old MP3 format, featuring no gorgeous artwork at all.
It is our dearest hope that you will find favor in our latest effort, and that the next year will find us the toast of the indie rock world. If not, well, that is okay, too, for we punks believe that the tree falling in the forest does make a noise, and of all those unheralded falling trees, we want to be the loudest. Hear us, or don't, at yr discretion and/or own peril.
Yr friend,
Patrick
About Julianna Barwick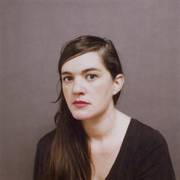 Julianna Barwick's experimental soundscapes are in part informed by her experience growing up in Louisiana and Missouri, singing weekly with her church congregation and school choirs. Her loop-based compositions replicate the soaring textures of a large choral group using only her voice, a loop station and some occasional instrumentation. Barwick starts her songs quietly, usually with a single refrain, and then builds the pieces up until she's created a complicated, weaving sonic architecture. Her extraordinary range and vocal technique propel the music into a variety of different emotional spaces, from feverish to tranquil.
Julianna Barwick's music has been reviewed in Time Out New York, Time Out Lisbon, The New York Times, and The Village Voice, among other publications. Her music has also been featured as "Best New Music" on Pitchfork, which also gave her latest release, 2009's Florine EP an honorable mention for an album of the year. She has recently performed at the Abrons Art Center, Bowery Ballroom, and has toured throughout the US and Europe. In 2007 she released her first record, "Sanguine," which is being released this year in vinyl format on M'Lady's Records.
Map & Directions
Tags for this Event:
Music > Alternative/Indie
Property > Crystal Hotel
Related content (tags):