Ben Darwish and McMenamins present
Notes From The Underground
featuring The Damian Erskine Project
Film footage during break: : Chick Corea Electric Band, Bern Switzerland, April 1986
hosted by Ben Darwish
(ticketed through Cascade Tickets)
Wednesday, February 23, 2011
8 p.m. doors, 8:30 p.m. show |
$5 in advance, $5 day of show |
21 and over
Buy Tickets
Tickets on sale now!
This monthly series presents "jazz without borders" -- some of the most exciting and innovative music you'll hear -- in the colorful and intimate atmosphere of the historic Mission Theater.
The Portland jazz scene is world class and deserves your attention. Curated and hosted by Ben Darwish, "Notes From The Underground" focuses on music with improvisational aspects, typically classified as jazz, but with influences spanning the entire musical spectrum. At set breaks, enjoy classic jazz films projected on the big screen. It's a unique once-a-month night of music that will blow your mind without breaking your wallet.
Check out this Oregonian article for a glimpse of host Ben Darwish and the vision behind Notes From The Underground.
This event is sponsored by KMHD, Jazz Society of Oregon, Oregon Music News and Ninkasi Brewing
About featuring The Damian Erskine Project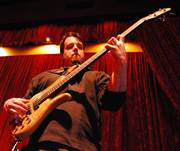 Bassist/Composer Damian Erskine has released what promises to be one of the most exciting recordings of 2010. The CD, titled So to Speak, is the most recent release from this master bassist from the West Coast. If the last name rings a bell, it should: Damian is the nephew of legendary jazz drummer Peter Erskine, to which he credits much of his influence and musical path. Damian spent much time on the road as a young man with Uncle Peter, and had a front row seat to many masters of the bass to which he credits his love for the instrument. The new recording features eight new original Erskine compositions. From the powerful opening track "Inside Out" to the rhythmic tour de force titled "Kaluanui," Erskine does not disappoint. One listen to his bass technique and approach on the track titled "Light" and you will be hooked. Erskine is a master of his craft. If you love the legends of the bass guitar, sit back and take in the next generation - Here he is!
"Damian has such a refreshing and individual bass style. I thought of Jaco, Linley Marthe, Richard Bona and others but he certainly has his own voice and is someone who, make no mistake, it's time you checked out. But this is not just a record for bassists. This is simply a great record." - NoTreble.Com
While not touring, Damian hones his chops with some of the best jazz and Latin musicians the West coast has to offer. Damian is known for his ability to fit into any musical situation and his extraordinary reading and improvising skills. Damian has played in the studio or on the stage with the likes of • Peter Erskine • Teri-Lynn Carrington • Gino Vannelli • John Ellis • Shawn Pelton • Sveti w/ Marko Djordjevic • Luis Conte • Brandon Ross • Les McCann • Jeff Lorber • Vardan Ovsepian • Charmaine Neville • Jessy J • Luis Perdomo • Tony Furtado • Kate Schutt • Bobby Torres • Alan Jones • Patrick Lamb • Dan Balmer • Klezmocracy and many others as well as being featured on the GospelChops.com Shed Sessionz Vol. 1 DVD. Whether playing as a sideman or with his own group, he is known for his rock solid bass work, virtuosic solos and thoughtful chordal abilities.
Ben Darwish
In 2003, he won the Jazz Society of Oregon Young Musician scholarship. He was the winner of the 2008 Downbeat Award for Outstanding Big Band Performance. His second Trio album, "Ode To Consumerism", was nominated for Album of the Year at the 2010 Portland Music Awards, the only jazz album in its category. In late 2009, the Ben Darwish Group was invited to audition at Jazz At Lincoln Center for the Rhythm Road: American Music Abroad program. Although they weren't chosen as finalists, Darwish used this experience to develop an educational presentation on the history of Jazz that he will be presenting in several schools in the Portland area. Most recently, he was the winner of the 2010 ASCAP Young Jazz Composer Award for his composition "Under The Bright Red Sky".
Lineup for Damien Erskine Project
John Nastos, sax
Ben Darwish, piano
Damian Erskine, bass
Reinhardt Melz, drums
website:
About (ticketed through Cascade Tickets)
McMenamins is switching ticket companies! Tickets for all ticketed McMenamins events put on sale on or after December 16, 2010, are available through Cascade Tickets, not Ticketmaster. Shows that went on sale before December 16 will remain on Ticketmaster all the way to the day of show.
Cascade Tickets offers tickets through their website, (855) CAS-TIXX and McMenamins ticket outlets (Crystal Ballroom, Bagdad Theater, Edgefield Gift Shop and East 19th Street Cafe in Eugene, Ore.).
For more information about this ticketing transition, please visit our FAQ page.
Map & Directions
Tags for this Event:
Music > Jazz
Property > Mission Theater
Related content (tags):