An escape into the extraordinary
3505 Pacific Ave.
Forest Grove, OR 97116
Local: (503) 992-9533
Elsewhere: (877) 992-9533
Contact Us
Grand Lodge 92nd Birthday!
Cooper and The Jam
Freak Mountain Ramblers
Will West & The Friendly Strangers
John Bunzow
Tony Smiley
Mr. Ben
Steve Bradley & Scott Akers
Joe Mishkin "The Balloon Guy"
Face Painter
All day! |
Free live music |
All ages welcome
About Grand Lodge 92nd Birthday!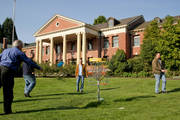 We're throwing ourselves a ragin' all-ages, daylong party! We'll have free live music in the afternoon and evening, as well as food and drink specials. Book a room for the night to live it up and then lounge.
** Schedule **
2 p.m. 'til 5 p.m. • Face Painting and Joe "Balloon Guy" Mishkin
4 p.m. 'til 7 p.m. • Distillery and Winery tastings in the main Lodge hallway
Compass Room
2 p.m. 'til 3:30 p.m. • Mr. Ben (kids music)
4:30 p.m. 'til 6:30 p.m. • Freak Mountain Ramblers
7:30 p.m. 'til 10 p.m. • Cooper and The Jam
Garage Door
5:30 p.m. 'til 7:30 p.m. • Steve Bradley & Scott Akers
8 p.m. 'til 10 p.m. • Will West & The Friendly Strangers
Pat's Corner
7 p.m. • John Bunzow
Ironwork Grill
10 p.m. • Tony Smiley
About Cooper and The Jam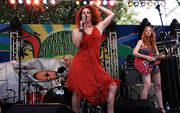 Fresh on the scene, Cooper brings a fiery spirit and a massive voice to the turn table. She performs with a power and tenacity that is difficult for most young women to muster. Backed by her extraordinary 11-piece soul band, this firecracker knows how to put on a show.
In March 2011, Cooper packed up her VW van in Portland, Oregon, and made the quest to Nashville, Tennessee. The flame haired songstress had paid dues playing in bands, acting in local productions, and bar-tending at a seedy rock'n'roll strip club. It was time to take a shot at her life time dream of recording her songs and forming a road band in music city. After months of knocking on doors, typical hard luck, and sleeping on an air mattress in an old '60s hotel room, Cooper finally got someone to pay attention to her music and her talent. She began working with a producer and started writing the record she has always wanted to make, a soulful assortment of Motown style ballads and funky upbeat dance tunes sprinkled with rock-and-roll guitars and rich harmonies
She saved her pennies flipping cheeseburgers and popping beer caps at a popular honky tonk bar and formed two bands on each side of the country. The Jam, complete with horn sections, and back up singer/dancers is a collective of over 20 musicians that back her touring adventures. Her music is as big and bold as her ambition, and her performances rock the house.
Cooper played her first show in Nashville opening for the Queen of Rock and Roll herself, Wanda Jackson, at a birthday bash held for fashion icon Manuel. Her music caught the ear of music industry notables and she recorded her full length album, Motown Suite, at The Tracking Room (as seen on ABC's new hit drama Nashville), one of Nashville's top recording studios
On Record Store Day 2013, Cooper performed on both sides of the country in one day. She Pulled a cross-country stunt that included 21 musicians, 2 planes, 2 record stores, and a lot of balls. Most recently Cooper and The Jam opened for Legends Mavis Staples and Robert Plant at the Waterfront Blues Festival in Portland, Oregon.
Cooper's 7-inch single, "Cooper Live at the Historic Star Theater," was selected as an official Record Store Day release, and the buzz has begun to spread as far as Japan, that this indie artist has something special. Cooper is a bright new talent that draws from the past and paints the future with a fresh and unique style.
About Freak Mountain Ramblers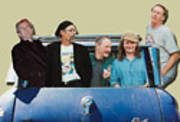 Portland's own Freak Mountain Ramblers bring a rollicking brand of rock 'n' roll, bluegrass, alternative country and country-blues to every show they play.
With a lineup including three members of the inimitable and notorious Holy Modal Rounders / Clamtones amalgamation of the '70s and '80s, Freak Mountain Ramblers has its roots in the underbelly of the alternative music scene that existed at that time, both in Portland and across the country. The Freaks have accumulated a loyal following in the Portland area by dependably creating beauty and bedlam at their live shows, and by producing CDs that successfully translate that energy and excitement to disc. Four lead singer/songwriters, each with a distinct character and approach to life and music, provide a dynamic show that packs the rooms with some of the most interesting music fans around.
The Freak Mountain Ramblers are veteran performers packing decades of experience. FMR members have been core musicians of the Holy Modal Rounders, Golden Delicious, the Clamtones, Richard Cranium and the Phoreheads, Prairie Dogs, Swingline Cubs, The Trail Band, and The Fly By Night Jass Band.
"... Freak Mountain Ramblers aren't your typical country western band. Not only have they chucked the slick yippie-ki-yay good looks of contemporary C&W singers for the haggard couture of mountain men, their lyrics have bizarrely warped the genre's storytelling. One song starts as a fable about two fighting neighbors and picks up speed until they have doused each other with gasoline. Strangely addictive and disturbingly fun, the song is sung in sweet tones and set to a galloping swing." - Portland Mercury
About Will West & The Friendly Strangers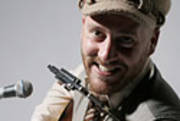 Carolina-born songwriter Will West performs with a rotation of acoustic musicians called The Friendly Strangers, featuring an array of fantastic Portland players on banjo, cello, mandolin, horns, percussion and other surprises.
Will West & The Friendly Strangers are fresh off the release of their new studio album called Take This Moment. Songs have been featured in KINK fm101.9 and KZME fm107.1 in the greater Portland area.
Carolina-born performer/songwriter Will West has called Oregon home since 2002. The son of a fiddle player, he cites bluegrass, delta blues and heavy metal music as some of his early influences. Now he finds inspiration in the amazing landscape of the Pacific Northwest.
West released his first album, Shine, in late 2006. Recorded with Rob Stoup (Imprints & Baseboard Heaters) at 8 Ball Studio in Portland, the album features Bob Soper (fiddle) and Noah Peterson (soprano sax).
His live performances continue to evolve and change. As a solo performer or with variations of a band, West pulls off fantastic acoustic guitar playing with smoothly delivered vocals and harmonica. Every show is an experience and it's all about the vibe...
"He incorporates rootsy, acoustic folk with a bluesy, almost hip-hop-like sense of rhythm. West is a funky, acoustic pop songsmith with a flare for lyricism and rich melodies." - Post & Courier (Charleston, SC)
"West's clean guitar and polished voice feel like warm sunshine through a car window." - Independent Weekly (Raleigh, NC)
"A favorite of those Delta Blues/Folk lovin' Types. Never performing a song the same way twice. This crooner is a storyteller with a soft touch. Check him out. " - Willamette Week
About John Bunzow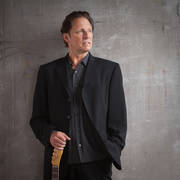 Portland, Oregon native John Bunzow has been called one of the finest writers and roots-musicians on the current music scene. Producer Pete Anderson (Dwight Yoakam, Meat Puppets, Steve Forbert) said he is "... without doubt the best artist I've heard in recent times." Chicago Tribune columnist Jack Hurst cites Bunzow with mixing "the rootsy with the revolutionary."
Bunzow's new CD, Darkness and Light, on Sideburn Records, was recorded live in a friend's basement studio. "I was itching to get back to my roots music," Bunzow says, "That's the vibe I wanted - all one-take vocal and guitar parts - just as they came down live. Just like we do out in the clubs."
John started playing professionally while attending the University of Oregon at Eugene, and following college; he spent 15 years playing clubs throughout the northwest United States. In the process, his fusion of roots rock and blues garnered an extensive fan following.The end result is that Bunzow's eclectic music is a melting pot of influences ranging from Dylan to Elvis Costello to Merle Haggard and Tom Waits.
About Tony Smiley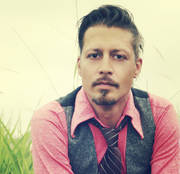 Since 2000, Tony Smiley has captured audiences with his unique beats. This musical savant loops his way through a unique genre of music that you won't find anywhere else. All with witty, engaging, and energetic stage presence. His cosmic dance of electric melodies mixed with world beats, Mongolian throat singing and beat-boxing have earned the Loop Ninja a cult like following who repeatedly embark on his musical journey. Creating each track with a raw, primal and pulsating connection between rich sounds and passionate lyrics.
The songs of Tony Smiley are a tantalizing ride through electro acoustic music that will cause your musical senses to rise. During the experience you can expect original soul bearing songs, improv crowd pleasers, and creative cover mixes. As he loops his way through a set he builds the audience's anticipation by using, keyboards, drum machines, guitars, tambourine, cowbell, vocals and beat box sounds through Boss Loop pedals. His songs are original, groove-laden works of art. The loop ninja will "completely make you a believer." (Andy Summers, guitar player for the Police)
In 2010, Smiley joined the ranks of his fellow loop artists, winning 3rd place in the National Boss Loop Contest in Hollywood. Judges included: Paul Youngblood (Boss US Director), Frank Gambale (Guitar player for Chick Corea), Andy Summers (Guitar player for The Police), Derek Murdock (Bass player for Kevin Eubanks, Tonight Show Band), Michael Molenda (Editor of Guitar Player Magazine). He continues to work with Roland/Boss running pedal clinics and performing for international ad campaigns.
Currently, Smiley can often be found composing and laying down progressive loops with hip hop roots in the Pacific Northwest; flying solo or playing with musical friends such as Redwood Son, Keegan Smith and MOsley WOtta. If you would like to experience the sounds of Tony Smiley follow him on FaceBook, YouTube, MySpace and Reverbnation or schedule a show.
About Joe Mishkin "The Balloon Guy"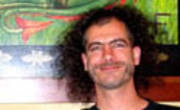 With his incredible balloons, his awesome juggling, his spirited music playing and his daring unicycling and fire juggling, Joe is sure to please your friends, your neighbors, your co-workers, your boss, and you, too!!
Map & Directions
Tags for this Event:
Events:
Family
McMenamins Celebrations
Music:
Americana
Blues
Groove/Jam
Alternative/Indie
Singer/Songwriter
Property > Grand Lodge
Related content (tags):